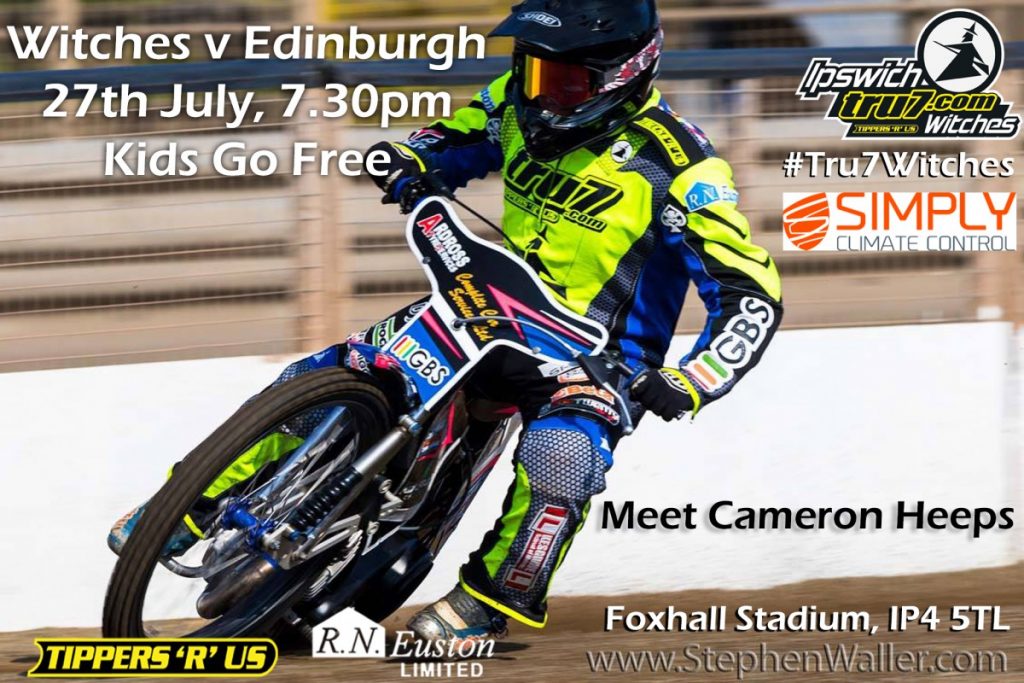 The 'Tru7.com' Witches face another test at Foxhall as they welcome third placed Edinburgh Monarchs in a Championship fixture this Thursday (7.30pm).
Ipswich went back to the top of the table for a few days last Thursday after overcoming the Newcastle Diamonds comfortably on home shale but the visit of the Monarchs is likely to be a tougher test. Danny King skippers the side as he continues to nurse a shoulder injury and reserve duo Nathan Greaves and Connor Mountain look to continue their good form as their averages continue to rise.
The visitors have meetings in hand over the Witches and sit third in the table after a good season so far. Popular Australian Sam Masters, who was part of Australia's World Cup team, leads the side and he is joined by USA World Cup rider Ricky Wells. Theo Pijper comes in to replace the injured Mark Riss at two.
The clash at Foxhall earlier this season was a cracker as the Witches came from behind to take a 50-39 win despite losing Greaves to injury early on. Rory Schlein and Masters produced some fine battles that night and it promises to be another entertaining affair on Thursday.
Team Manager Ritchie Hawkins says his side cannot drop their high levels at Foxhall against a strong Edinburgh side.
"Edinburgh look a strong team, they have some riders that have improved as the season has gone on and I fully expect a tough match," said Hawkins. "Even though we have been so good at home this season, we can't afford to ease off or let our level drop because as soon as we do someone will punish us, so we need to keep our high standards."
Hawkins says the key to maintaining the high level of performance is focus and believes everyone is working in the right direction this season.
"I think we are so confident and riding so well at Ipswich that we don't need to put any pressure on anyone as they are very good riders and we are a very good team so there is no need to put pressure on the performance. It's about making sure everyone is focused.
"I think overall we are a better side this year but we have got used to the track very quickly and everyone is working in the right direction. For me personally, from the start of last season to get to this point, it's something I have been working towards with the riders and perhaps we have got the right balance this season. We are doing a good job but that could change in speedway and we have to keep shape."
The boss says the visitors will come in confident mood but that his side are a better team since the last encounter in Suffolk.
"They will probably come with a bit of confidence from the first meeting here and we need to start quicker this time. We have improved since last time they came and are going quite nicely. As much as they will be a tough test and have a good team, we are a good team ourselves."
'Kids Go Free' to this meeting as the summer holidays begin and fans will have the chance to meet Cameron Heeps by the turnstile entrances at approximately 6.50pm.
Words: Henry Chard
Meeting Sponsor: Simply Climate Control
http://www.simplyclimatecontrol.com/
Ipswich 'Tru7.com' Witches:
1. Danny King (c) 8.88
2. Kyle Newman 6.14
3. Cameron Heeps 6.61
4. Justin Sedgmen 6.67
5. Rory Schlein 8.17
6. Nathan Greaves 4.65
7. Connor Mountain 3.18

Team Manager: Ritchie Hawkins
Edinburgh 'Parsons Peebles' Monarchs:
1. Sam Masters (c) 9.11
2. Theo Pijper 6.16
3. Ricky Wells 8.34
4. Max Clegg 4.89
5. Erik Riss 8.49
6. Josh Pickering 4.41
7. Mitchell Davey 3.03

Team Manager: John Campbell
Referee: B. Horley
Parade: Thursday, 7.30pm
Venue: Foxhall Stadium, IP4 5TL
Championship Table
| | | |
| --- | --- | --- |
| Team | Pl | Pts |
| Glasgow | 20 | 51 |
| Witches | 24 | 50 |
| Edinburgh | 21 | 47 |
| Sheffield | 20 | 43 |
| Redcar | 23 | 39 |
| Peterborough | 22 | 36 |
| Newcastle | 20 | 25 |
| Workington | 14 | 24 |
| Scunthorpe | 24 | 20 |
| Berwick | 26 | 11 |
Last five home results v Monarchs:
08.06.17 W50-39
22.09.16 W58-32
19.05.16 W48-45
03.09.15 W52-38
16.07.15 D45-45
Monarchs' last five:
CH Edinburgh 49-41 Newcastle
CH Edinburgh 53-39 Berwick
CH Edinburgh 52-40 Scunthorpe
CH Redcar 52-40 Edinburgh
CH Edinburgh 48-40 Ipswich