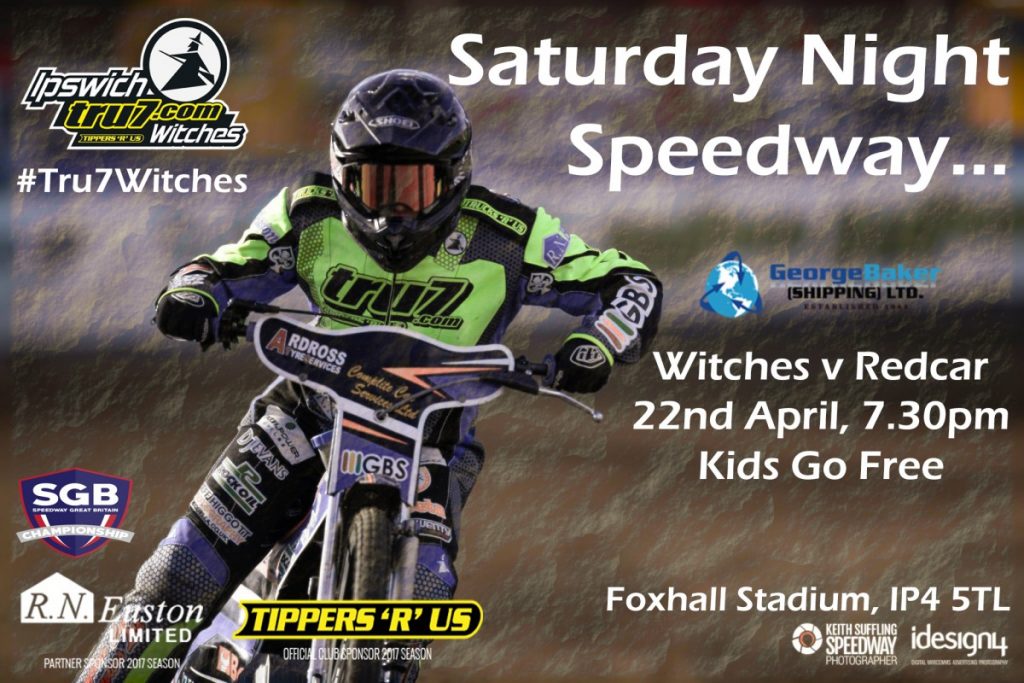 The 'Tru7.com' Witches entertain the Redcar Bears at Foxhall this Saturday in a Championship clash (7.30pm).
It has been a busy week for the Witches who visited Peterborough on Monday and took a point home after a narrow defeat. The Witches then visited Saturday's opponents on Thursday and went down to a heavy defeat as well as losing Nico Covatti to injury.
Covatti has suffered a broken wrist after Thursday's incident and Rider Replacement will be in operation for the Witches at number three. Sheffield's Josh Bates guests at number four as Cameron Heeps has failed to overcome his sickness bug. Kyle Newman is nearing a return to fitness but James Sarjeant continues to deputise at number two.
The Bears are likely to provide a stiffer test to the home side than in recent weeks with the all-action Jason Garrity at number one and Foxhall favourite Ben Barker making a return to Suffolk. Sheffield's Jack Parkinson-Blackburn guests at number seven for the away side with Ellis Perks in action for Rye House.
The Witches have a good record at Foxhall against the Bears, winning the previous five encounters in East Anglia.
Hawkins believes his side are in for a tough test but is hoping they can carry on their good form at Foxhall
"We want to carry on our home form but it will be a tough meeting," said Hawkins. "Ben and Jason won't roll over and worry about a bit of grip either, so there should be some exciting racing. It is one of the most exciting top two's in the league."
The boss says Barker may have a point to prove but will be welcomed back by the Ipswich fans on Saturday.
"We obviously didn't leave on bad terms with Ben and it would have been good to have him back in the side as he has been brilliant for Ipswich both years he has been with us. It will give him extra motivation but he is loved by the fans at Ipswich and I'm sure he will get a good reception."
Hawkins had his say on the recent criticism of the Foxhall track saying that although the surface was not perfect some opposing riders did not attack the track like other inexperienced riders on the night.
"You are going to have to deal with all conditions in speedway. The track wasn't perfect, it was better the first two weeks. A lot of the Peterborough riders didn't seem interested and when the most inexperienced rider goes out there and scores 11 it doesn't give the more experienced riders anywhere to go with their complaints. The track certainly wasn't made 'extra grippy' because Peterborough were in town, they are not good enough to worry about doing things like that."
As is always the case with Saturday night action at Foxhall, Kids Go Free to this meeting!
Words: Henry Chard
Meeting Sponsor: George Baker Shipping
http://www.georgebakershipping.com/
Ipswich 'Tru7.com' Witches:
1. Danny King (c) 9.57
2. James Sarjeant 5.66
3. R/R for Nico Covatti 7.49
4. Josh Bates (g) 4.89
5. Rory Schlein 7.17
6. Connor Mountain 2.00
7. Danyon Hume 2.00

Team Manager: Ritchie Hawkins
Redcar 'SG Petch' Bears:
1. Jason Garrity (c) 8.55
2. Coty Garcia 4.26
3. Charles Wright 6.59
4. Jonas B Andersen 6.30
5. Ben Barker 7.91
6. Richard Hall 3.53
7. Jack Parkinson-Blackburn (g) 2.00
Team Manager: Jade Mudgway
Referee: C. Gay
Parade: Saturday, 7.30pm
Venue: Foxhall Stadium, IP4 5TL
Championship Table
| | | |
| --- | --- | --- |
| Team | Pl | Pts |
| Glasgow | 4 | 10 |
| Edinburgh | 3 | 9 |
| Sheffield | 5 | 9 |
| Peterborough | 5 | 9 |
| Witches | 5 | 7 |
| Redcar     | 2 | 6 |
| Workington | 2 | 6 |
| Scunthorpe | 7 | 4 |
| Newcastle | 2 | 3 |
| Berwick | 5 | 0 |
Last five home results v Bears:
04.06.16 W61-32
30.05.15 W65-25
21.05.14 W41-34 (A-A after 12 heats)
10.08.13 W59-31
08.06.12 W46-44
Redcar in 2017:
CH Bears 54-35 Ipswich
CH Scunthorpe 44-46 Bears
KOC Bears 44-46 Peterborough
KOC Peterborough 49-39 Bears