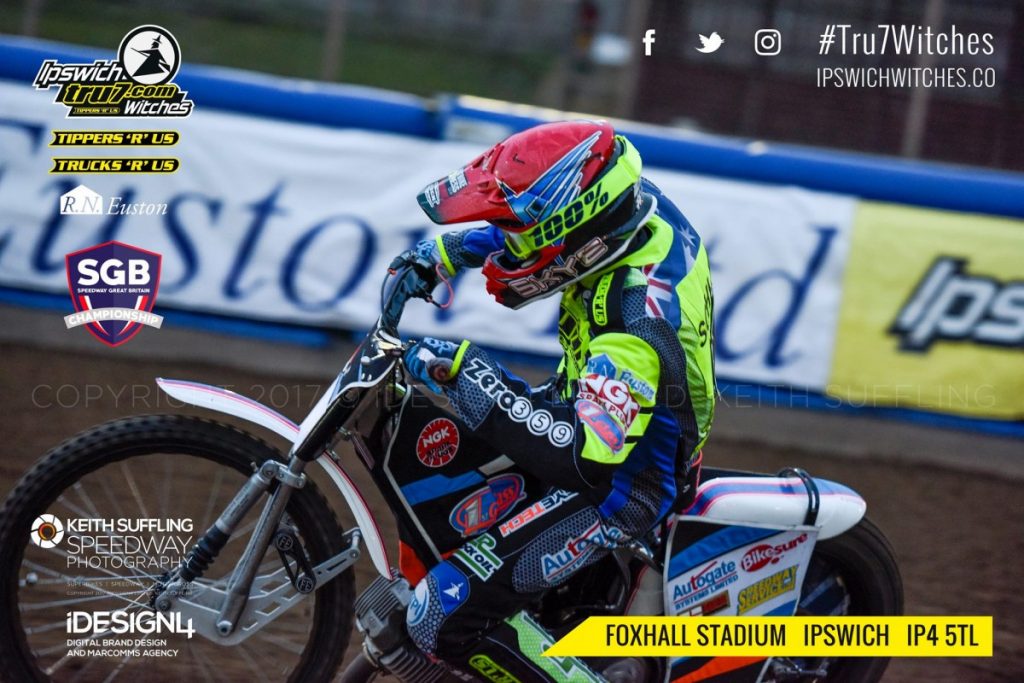 The 'Tru7.com' Witches take on the Scunthorpe Scorpions at Foxhall this Thursday in a Championship fixture (7.30pm).
The Witches can go joint top of the table again with a win over the Scorpions as they look to make it three wins on the trot after last week's win over Glasgow and success at Berwick. The home side will be delighted to be able to track seven full time Witches riders for the first time this season after completing the signing of Nathan Greaves to replace the injured Danyon Hume.
The away side endured a disappointing campaign in 2016 but decided to stick with the same seven in 2017 until a recent team change. The Scorpions have plenty of familiar faces at Foxhall as Lewis Kerr and Stefan Nielsen make their return to Foxhall having spent time with the Witches in the past. Ryan Douglas has a liking for the Suffolk surface and he is joined by Scorpions stalwart Josh Auty and Michael Palm Toft in the top five. Youngster Josh Bailey is at reserve as the away side will use rider replacement for the injured Carl Wilkinson.
The away side find themselves in mid table having raced the most meetings in the division so far and have not enjoyed too much success in Suffolk in recent years but they will take heart from a victory at Foxhall last season in the League Cup.
Team Manager Ritchie Hawkins is delighted to have a full complement of riders available to him as they look to continue their good form.
"We have got to carry on our winning run but it is going to be a really tough one again," said Hawkins. "Scunthorpe have a really good team around our place and we will need to be right on our game to take all three points.
"It will be the first time this season we have started with a full one to seven of full time Witches riders. That will be nice despite it not being the side we planned at the start of the year."
The boss says that Greaves will enjoy riding at Ipswich and was the strongest option available to sign.
"Nathan has got good pedigree in junior speedway and he did well finishing fourth in the British U21 Final. He has a bit more experience than others and he is another young British rider. We look forward to working with him and hopefully at Ipswich we can get his confidence back up as I think that took a knock last year. I think he will enjoy being part of the team which will help his performance.
"He is the strongest guy we could have got and he knows all of the tracks. Danyon was going well at home but away from home a lot was new for him. Connor (Mountain) has been finding it tough the last few weeks but he has just got to ride through it. He is learning and is very professional and is doing everything right to make it, it's one of those things that everyone goes through."
Hawkins believes that Kyle Newman and Justin Sedgmen will improve with every meeting.
"It was good for Justin and Kyle to get last week done and they have a meeting on the board now. Kyle is back at Poole now and said it took him a couple of riders to get used to Ipswich so I expect both of them to be settling in and improving over the next few weeks after good performances last time out."
Words: Henry Chard
Meeting Sponsor: Renzland Powergates
Ipswich 'Tru7.com' Witches:
1. Danny King (c) 8.44
2. Cameron Heeps 5.07
3. Justin Sedgmen 7.60
4. Kyle Newman 6.31
5. Rory Schlein 7.67
6. Connor Mountain 2.56
7. Nathan Greaves 2.27

Team Manager: Ritchie Hawkins
Scunthorpe 'Henderson Insurance' Scorpions:
1. Michael Palm Toft 7.55
2. R/R for Carl Wilkinson 5.80
3. Lewis Kerr 6.30
4. Ryan Douglas 5.89
5. Josh Auty 7.31
6. Stefan Nielsen 5.53
7. Josh Bailey 2.00

Team Manager: Dave Peet
Referee: M. Bates
Parade: Thursday, 7.30pm
Venue: Foxhall Stadium, IP4 5TL
Championship Table
| | | |
| --- | --- | --- |
| Team | Pl | Pts |
| Edinburgh | 8 | 20 |
| Glasgow | 7 | 17 |
| Witches | 9 | 17 |
| Redcar | 7 | 14 |
| Peterborough | 6 | 12 |
| Scunthorpe   | 10 | 10 |
| Sheffield | 5 | 9 |
| Workington | 5 | 8 |
| Newcastle | 4 | 6 |
| Berwick | 9 | 1 |
Last five home results v Scorpions:
11.08.16 W56-34
17.03.16 L41-48
30.07.15 W59-33
25.09.14 W57-35
24.04.14 W53-39
Scunthorpe's last five:
CH Scunthorpe 56-34 Berwick
CH Scunthorpe 37-53 Edinburgh
CH Berwick 42-48 Scunthorpe
CH Scunthorpe 44-46 Redcar
CH Workington 48-45 Scunthorpe