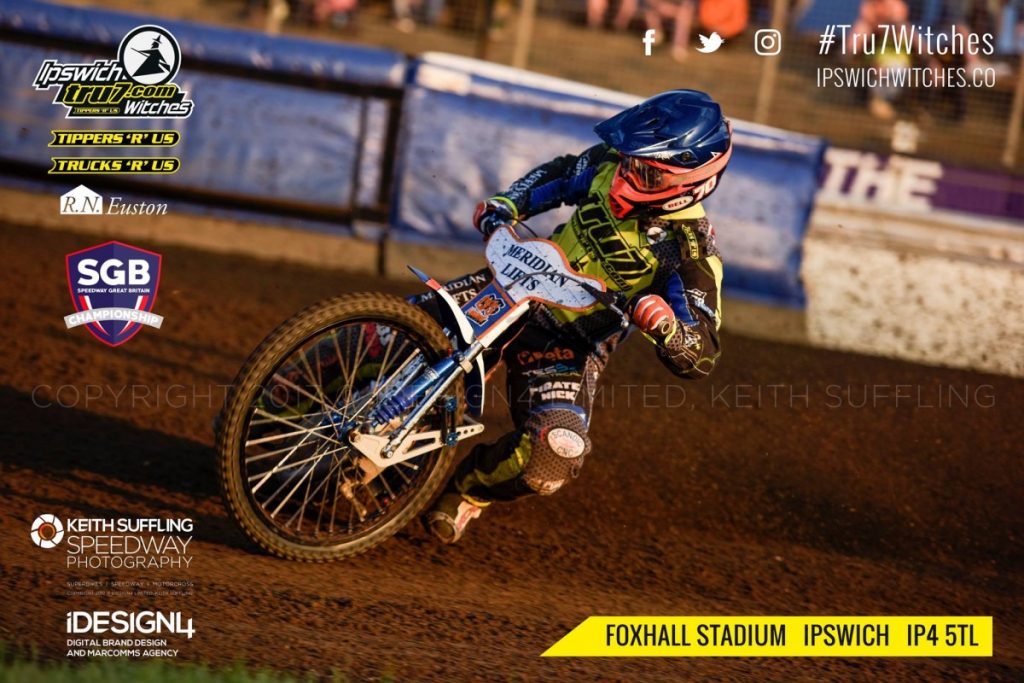 The 'Tru7.com' Witches welcome Sheffield Tigers to Foxhall on a rare Wednesday night home fixture in the Championship (7.30pm).
The Witches had a busy weekend with two away meetings in the north of the country, picking up a narrow win at Berwick on Saturday before suffering the smallest of defeats at Newcastle on Sunday and collecting a point for their efforts.
The home side will operate rider replacement in place of Justin Sedgmen, who is concussed after a heavy fall on Monday whilst riding for Rye House. Danny King has been declared fit to ride after aggravating a shoulder injury in a fall at Newcastle. The home side switch back to their home riding order for the meeting after tweaking it for last weekend's away meetings.
The Tigers were one of the pre-season favourites alongside the Witches and are well placed for a play-off spot, sitting fifth but with meetings in hand over the top four. Australian Josh Grajczonek leads the Tigers at number one whilst Kyle Howarth has enjoyed a good season so far, winning the British semi-final at his home track earlier in the season. They are joined by a successful Witches guest from earlier this season, Josh Bates. Josh Bailey guests for Rob Branford at reserve.
The sides met on the opening night at Foxhall in March with the Suffolk outfit running out 52-41 winners as Danny King recorded a maximum from five rides on the night.
Team Manager Ritchie Hawkins says there was a lot of positives from the weekend to build on this coming Wednesday.
"It is a very important meeting and we need to win and stop them from getting any points," said Hawkins. "They are contenders and it is important to carry on our home form. There were a lot of positives from the weekend even though a lot of people will look at the negatives but there was a lot of positives that we can build on this Wednesday."
Hawkins believes the previous meeting between the sides at Foxhall won't have any bearing this time around.
"It was the first meeting of the year when we raced them at home so I don't think it will have a lot of relevance to this meeting. They are a very good team and we will need to be at our best to get the win and we will try to win by more than six points."
The boss says that making the top four is the only aim at the minute, with the position not holding any significance.
"We only need to get into the play-offs. If we can get to the play-offs by finishing top of the league, then great but you don't get anything from it. If we make the play-offs, then dropping a point at Berwick and not getting a win at Newcastle won't mean anything. We just need to get into the play-offs. People saying that those points could cost us, we just need to make the top four, that is the aim."
Words: Henry Chard
Meeting Sponsor: Ipswich Sports Club
http://www.ipswichsportsclub.co.uk/
Ipswich 'Tru7.com' Witches:
1. Danny King (c) 8.88
2. Kyle Newman 5.88
3. Cameron Heeps 6.49
4. R/R for Justin Sedgmen 7.11
5. Rory Schlein 7.92
6. Nathan Greaves 4.59
7. Connor Mountain 2.86

Team Manager: Ritchie Hawkins
Sheffield 'Window Centre' Tigers:
1. Josh Grajczonek 9.31
2. Todd Kurtz 5.00
3. Lasse Bjerre 7.68
4. Josh Bates 6.49
5. Kyle Howarth (c) 7.94
6. Josh Bailey (g) 2.48
7. Nathan Stoneman 2.00

Team Manager: Simon Stead
Referee: C. Durno
Parade: Wednesday, 7.30pm
Venue: Foxhall Stadium, IP4 5TL
Championship Table
| | | |
| --- | --- | --- |
| Team | Pl | Pts |
| Edinburgh | 20 | 44 |
| Witches | 22 | 44 |
| Glasgow | 17 | 42 |
| Redcar | 19 | 35 |
| Sheffield | 16 | 33 |
| Peterborough | 18 | 28 |
| Newcastle | 17 | 25 |
| Workington | 12 | 21 |
| Scunthorpe | 22 | 20 |
| Berwick | 23 | 10 |
Last five home results v Tigers:
25.03.17 W52-41
08.09.16 W59-34
23.04.16 W51-39
23.07.15 L43-47
17.07.14 D45-45

Sheffield's last five:
CH Workington 44-46 Sheffield
CH Glasgow 55-37 Sheffield
CH Sheffield 51-42 Peterborough
CH Peterborough 45-48 Sheffield
CH Sheffield 51-41 Scunthorpe