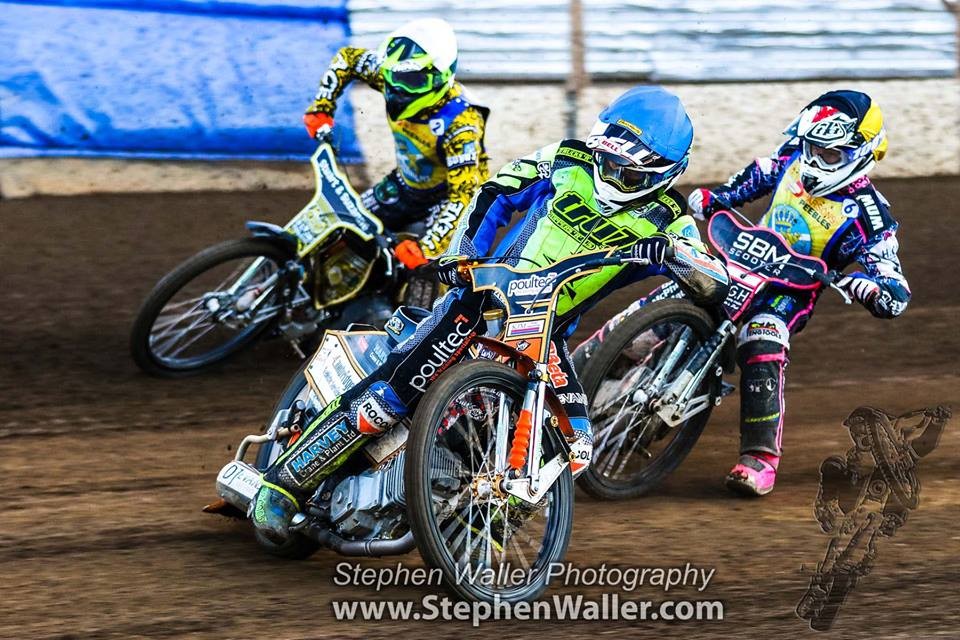 The 'Tru7.com' Witches complete their week with a visit to Workington Comets on Saturday in the Championship (7.00pm).
The two sides met at Foxhall on Thursday with the home side once again proving too strong on the night for the Comets, running out 52-41 winners. The Witches then made the trip Edinburgh on Friday but it was beaten by the weather despite remedial work that was done to the track before heat one.
The Suffolk outfit will be without Justin Sedgmen due to his shoulder injury and rider replacement will be in operation at number four for the Witches.
The home side face a busy schedule to fit in all of their remaining fixtures and the pressure is on to win all their home meetings to give them a chance of catching the top four. Craig Cook is absent as he competes in the GP Challenge and Sheffield's Josh Grajczonek deputises at number one. Tom Woolley guests again at number seven as he did at Foxhall on Thursday.
Similarly to Edinburgh it is not a place the Witches enjoy visiting, suffering a heavy defeat in the earlier visit this season. You have to go back to 2013 for the last Witches win at Derwent Park where Ben Barker led the side to victory and current witch Cameron Heeps scored 6+2 in a 47-43 win.
Team Manager Ritchie Hawkins says his side want to put on a better performance than last time but admits the pressure is less intense than last season going into the play-offs.
"We go everywhere with the boys wanting to win races and we want to put on a better display than we did earlier this season and if we get a victory that is great," said Hawkins.
"We don't need to be piling the pressure on the boys. If you think back to last season, we were piling pressure on the boys every meeting just to get into the play-offs. Last season every meeting was a pressure meeting from month to month and we got through the quarters and by the end we had probably peaked. At the moment, it is nice to not have that pressure on the boys and they can relax a bit before we get to the pressure meetings."
The boss believes his side are still not at their best and is hoping that fitness levels improve come the play-offs.
"We need to peak by the time you get to the play-offs and we are still not at our best so we are building up to that. Hopefully the injuries and niggles will improve and hopefully we will go into the play-offs with a better level of fitness as a team than we have been all season. "
Words: Henry Chard
Workington 'Thomas Armstrong' Comets:
1. Josh Grajczonek (g) 9.44
2. Mason Campton (c) 5.85
3. Ty Proctor 7.40
4. Matt Williamson 5.53
5. Thomas Jorgensen 6.80
6. James Sarjeant 3.62
7. Tom Woolley (g) 2.00

Team Manager: Tony Jackson
Ipswich 'Tru7.com' Witches:
1. Danny King (c) 8.88
2. Kyle Newman 6.29
3. Cameron Heeps 6.78
4. R/R for Justin Sedgmen 6.46
5. Rory Schlein 8.23
6. Nathan Greaves 4.63
7. Connor Mountain 3.18

Team Manager: Ritchie Hawkins
Referee: W. Dishington
Parade: Saturday, 7.00pm
Venue: Derwent Park Stadium, CA14 2HG
Championship Table
| | | |
| --- | --- | --- |
| Team | Pl | Pts |
| Sheffield | 26 | 64 |
| Witches | 28 | 59 |
| Glasgow | 24 | 56 |
| Edinburgh | 26 | 54 |
| Redcar | 28 | 49 |
| Peterborough | 25 | 37 |
| Workington | 20 | 31 |
| Newcastle | 24 | 31 |
| Scunthorpe | 26 | 24 |
| Berwick | 29 | 14 |
Last five results at Workington:
27.05.17 L38-54
13.08.16 L44-46
20.06.15 L44-49
21.06.14 L43-47
28.09.13 L40-50

Workington Comets Factfile
Main Sponsor: Thomas Armstrong Ltd
Team Colours: Blue and White
Race-Night: Saturday (7.00pm)
Website: www.workingtoncomets.co
Track Length: 364 metres
Track Record: 61.7 seconds, Richard Lawson (May 31, 2014).
Admission Prices
Adults: £16
Concessions: £13
Junior (5-15): £4
Infants (under 5): Free
Stadium Address
Derwent Park Stadium, Workington, Cumbria, CA14 2HG
Telephone: 01900-608071 (race-days only) 01900 813999 (Mon-Fri 9.00am-4.30pm)
By Train: The nearest railway station is Workington, which is on the Carlisle to Barrow line. If you are travelling to Derwent Park by rail, an overnight stay in Workington is a necessity followed by a train journey north to Carlisle on Sunday lunchtime.