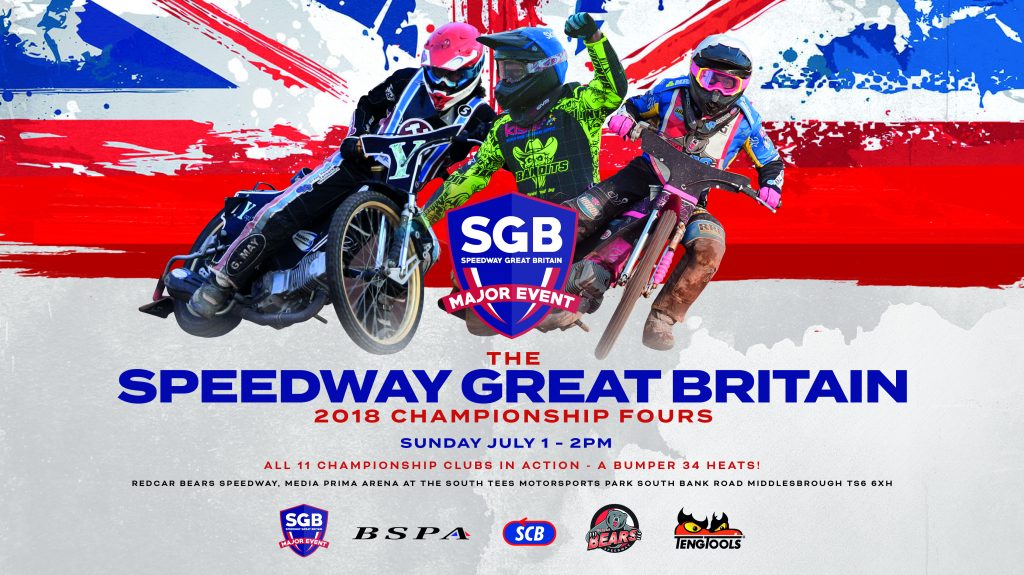 By Henry Chard
When and where
Speedway Great Britain Major Event
South Tees Motorsports Park: Sunday 1st July, 2.00pm
The teams
1 Lakeside: Nick Morris, Richard Lawson, Adam Ellis, Alfie Bowtell. No reserve.
2 Newcastle: Stuart Robson, Ashley Morris, Tero Aarnio, Matej Kus. Reserve: Matthew Wethers
3 Ipswich: Rory Schlein, Cameron Heeps, Nico Covatti, Danyon Hume. No reserve.
4 Scunthorpe: Coty García (g), Josh Auty, Jake Allen, Gino Manzares. No reserve.
5 Sheffield: Broc Nicol, Todd Kurtz, Charles Wright, Lasse Bjerre. Reserve: James Shanes
6 Redcar: Ben Barker, Thomas Jorgensen, Jonas B Andersen, Mikkel B Andersen. Reserve: Jordan Stewart
7 Edinburgh: Joel Andersson, Erik Riss, Mark Riss, Max Ruml. Reserve: Josh Pickering
8 Berwick: Aaron Summers, Nicolaj Busk Jakobsen, David Howe, Kevin Doolan. Reserve: Jye Etheridge
9 Glasgow: Chris Harris, Richie Worrall, Claus Vissing, Lewis Kerr. Reserve: Paul Starke
10 Workington: Ty Proctor, Dan Bewley, Rasmus Jensen, Mason Campton. Reserve: Kyle Bickley
11 Peterborough: Scott Nicholls, Ulrich Ostergaard, Michael Palm Toft, Bradley Wilson-Dean. Reserve: Ellis Perks.
Referee: G. Flint
The story
The 'Tru Plant' Witches foursome of Rory Schlein, Cameron Heeps, Nico Covatti and Danyon Hume head to Redcar on Sunday for the Championship Fours. It's a strong line-up for the Suffolk club although Danny King misses out due to injury and the Witches will have no reserve. It's a new venue for the Fours as it moves away from Peterborough to Redcar in 2018 after the Panthers won last year's event at the East of England Arena and Events Centre. The Witches won the event back in 2011 at Leicester as Kevin Doolan, Taylor Poole, Mat Tresarrieu, Lasse Bjerre and Morten Risager lifted the trophy and the current crop will be looking to add to the Witches' trophy cabinet on Sunday. The line-up is subject to change.
Team to watch
With injuries affecting many sides, the Glasgow Tigers will be pleased to have their top four riders fit and available on Sunday. Harris, Worrall, Vissing and Kerr is a strong foursome with plenty of experience and with Starke at reserve it shows their strength in depth.
The outsiders
The Peterborough Panthers have surprised many with their start to the Championship campaign as they sit on top of the table and last year's Fours winners will be keen to retain their title. Fresh from a win at Redcar last week, Palm Toft, Wilson- Dean and Nicholls will be confident heading into Sunday's event.
What happened last year?
The 'Tru7.com' Witches reached the final of the Championship Fours at Peterborough but could not make an impact at the last hurdle, finishing fourth as the hosts took victory.
Ipswich eased through to the final after a dominant semi-final performance saw them top the second semi-final by five points. After such a promising start to the afternoon the Witches could not replicate their earlier form in the final and finished a distant fourth.