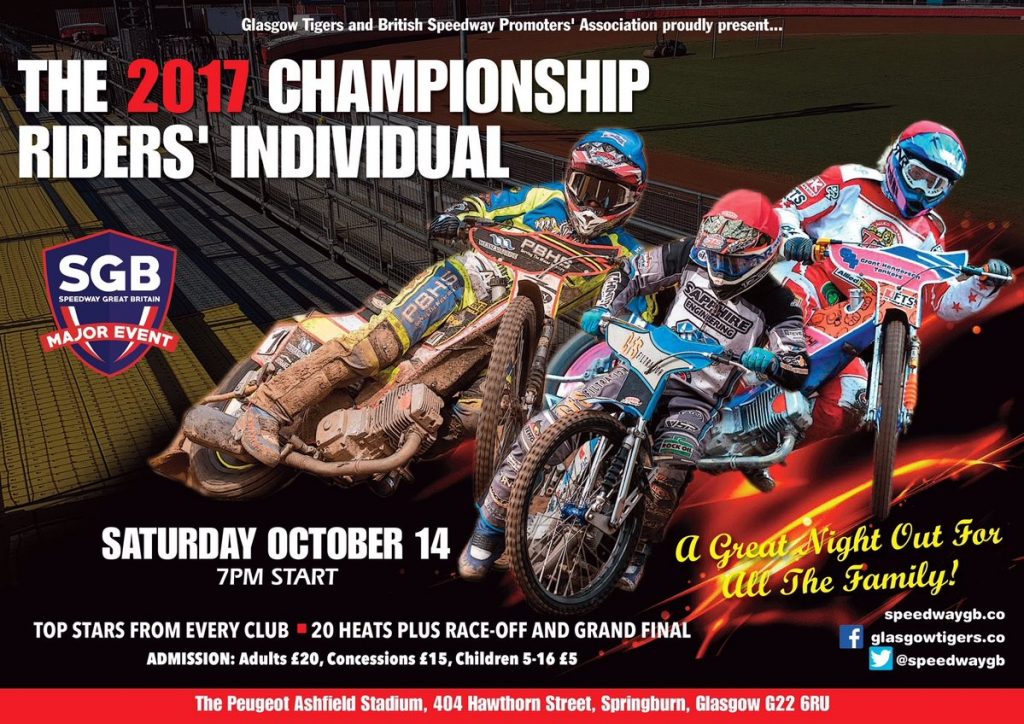 'Tru7.com' Witches captain Danny King completes a busy week in Scotland with the Championship Riders Individual event at Glasgow on Saturday (7.00pm).
The Witches skipper has been drawn at number five. The competition moves away from its familiar home at Sheffield to Glasgow in 2017 after Simon Stead won last year's title on home soil as the Witches' sole representative King exited at the semi-final stage.
King has scored well on visits to Ashfield this season, notching 12 in the narrow 49-43 defeat earlier this season. On his last visit, King picked up 10+3 in a 52-41 win for the Witches against the Tigers, which will give him confidence heading into Saturday's meeting.
16 riders from Championship clubs will compete over 20 qualifying heats with the top two riders qualifying directly to the Grand Final. The riders placed 3rd-6th will race in a semi-final, with the top two from that semi-final progressing to the Grand Final.
King said he is looking to go one better this year after finishing as runner-up in the competition back in 2014.
"It is a tough meeting and is something I have only done a couple of times at this level and I came second back in 2014 when I was at Newcastle, so it would be nice to go one better this year."
The skipper says that gating will be key on a track where there is not much passing.
"It is a tough track, there is not much passing there so gating will be key but I think it will be a good meeting."
The 2016 British champion says he is feeling good on the bike after a positive week results wise.
"It has been great and I feel back to my old self and I'm happy with everything so it would be nice to go up their tomorrow and get a win."
The Maidstone-born rider says it would be great for the Witches to have their own riders back for the Knockout Cup final but paid tribute to the guests who were vital in victory over Sheffield this week.
"It would be great to have our own team back but credit to the guests, they rode fantastically and they rode like they wanted to be a part of it."
Words: Henry Chard
DATE/ TIME
Saturday, October 14, 2017 @ 7.00pm
VENUE
Ashfield Stadium, 404 Hawthorn Street, Glasgow, G22 6RU Website: http://www.glasgowtigers.co
ADMISSION PRICES
Adults: £20.00
Concessions: £15.00
Children (aged 5-16): £5.00
PROGRAMME
£4.00
FULL DRAW:
1. Steve Worrall (Newcastle)
2. Aaron Summers (Glasgow)
3. Josh Auty (Scunthorpe)
4. Ricky Wells (Edinburgh)
5. Danny King (Ipswich)
6. Nick Morris (Berwick)
7. Chris Harris (Peterborough)
8. Jan Graversen (Sheffield)
9. Michael Palm Toft (Scunthorpe)
10. Craig Cook (Workington)
11. Richard Lawson (Glasgow)
12. Sam Masters (Edinburgh)
13. Richie Worrall (Glasgow)
14. Stuart Robson (Newcastle)
15. Paul Starke (Peterborough)
16. Jack Holder (Peterborough)