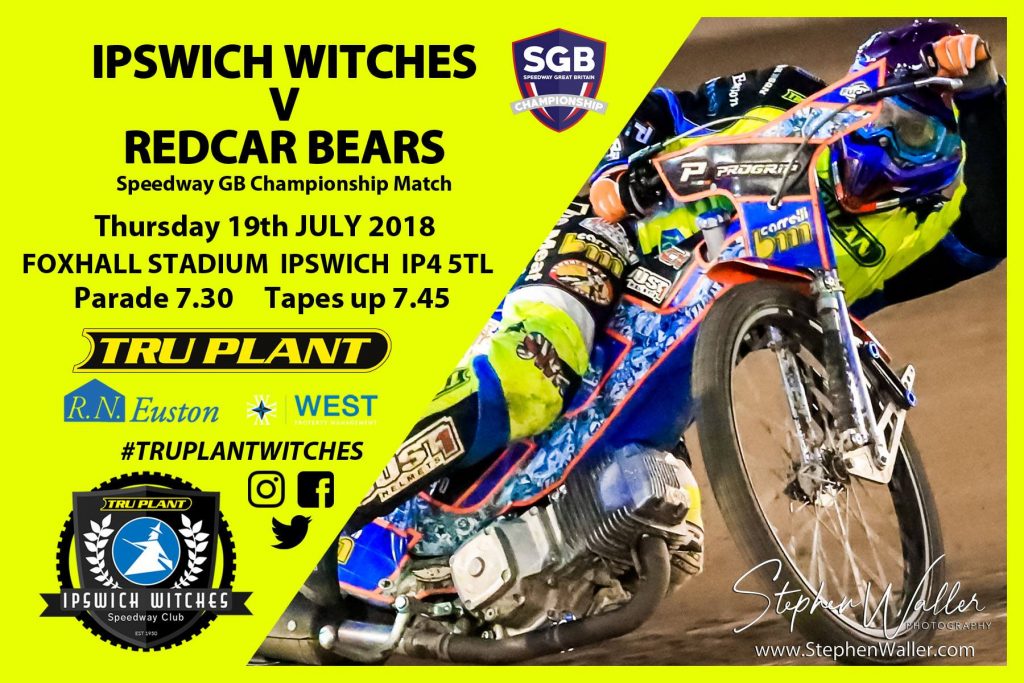 By Henry Chard
When and where
Foxhall Stadium: Thursday 19th July, 7.30pm
Home meeting sponsor
West Property Management – http://www.westpm.co.uk/
DJ Evans – http://www.djevans.co.uk/
The teams
Ipswich: 1. Rory Schlein 9.58 © 2. Cameron Heeps 6.46 3. Nico Covatti 6.64 4. Mark Riss 4.86 5. R/R for Danny King 8.89 6. David Wallinger 2.00 7.  Coty Garcia 4.00. Team Manager: Ritchie Hawkins
Redcar: 1. Ben Barker 7.74 © 2. R/R for Tobias Busch 5.14 3. Dimitri Berge 5.08 4. Jonas B Andersen 5.64 5. Thomas Jorgensen 7.31 6. Mikkel B Andersen 4.66 7. Jordan Stewart 4.00 Team Manager: Jade Mudgway
Referee: M. Breckon
Championship table
| | | |
| --- | --- | --- |
| Team | Meetings | Points |
| 1 Peterborough | 13 | 32 |
| 2 Lakeside | 11 | 25 |
| 3 Glasgow | 10 | 19 |
| 4 Berwick | 12 | 19 |
| 5 Workington | 9 | 17 |
| 6 Newcastle | 10 | 14 |
| 7 Edinburgh | 9 | 14 |
| 8 Sheffield | 11 | 13 |
| 9 Scunthorpe | 11 | 13 |
| 10 Ipswich | 8 | 11 |
| 11 Redcar | 12 | 9 |
The story
The 'Tru Plant' Witches host the Redcar Bears at Foxhall on Thursday in a Championship fixture. After a disjointed start to the season, the fixtures now come thick and fast as the race for the end of season play-offs hots up with Ipswich in action at least once a week from now until the end of the season. It's all change for the home side as they announced three new signings on Tuesday, subject to BSPA approval. In come Mark Riss, Coty Garcia and David Wallinger to replace Jonas Jeppesen, Connor Mountain and the injured Danyon Hume. Wallinger guested for the Witches last week at Edinburgh and comes in for Hume who suffered a badly dislocated shoulder last week in a crash. Garcia replaces Mountain at reserve as the management look to rack up more points from the reserves in home meetings. Riss replaces recent signing Jeppesen as the management look for more Championship experience at this moment in time. Cameron Heeps returns to the side following his mandatory lay-off period having sustained concussion in a crash at Sheffield earlier this month and returned in style for Wolves on Monday top scoring in their win over Swindon. The club await news on Danny King's injury and rider replacement will be used at number five. No more than three points will do for the Witches on home shale against the Bears as they look to get their season back on track and make a push towards the top four with their new-look side.
The opposition
It is fair to see that it seems unlikely that the Bears will challenge for the play-offs this season after a difficult campaign so far. Redcar have already lost three at home and are yet to pick up a point on their travels after six attempts and sit at the bottom of the table. Former Witch Ben Barker is at number one and is sure to entertain as he always does on track. The Bears will come to Foxhall with no pressure on their shoulders and take themselves off the bottom of the table.
One to watch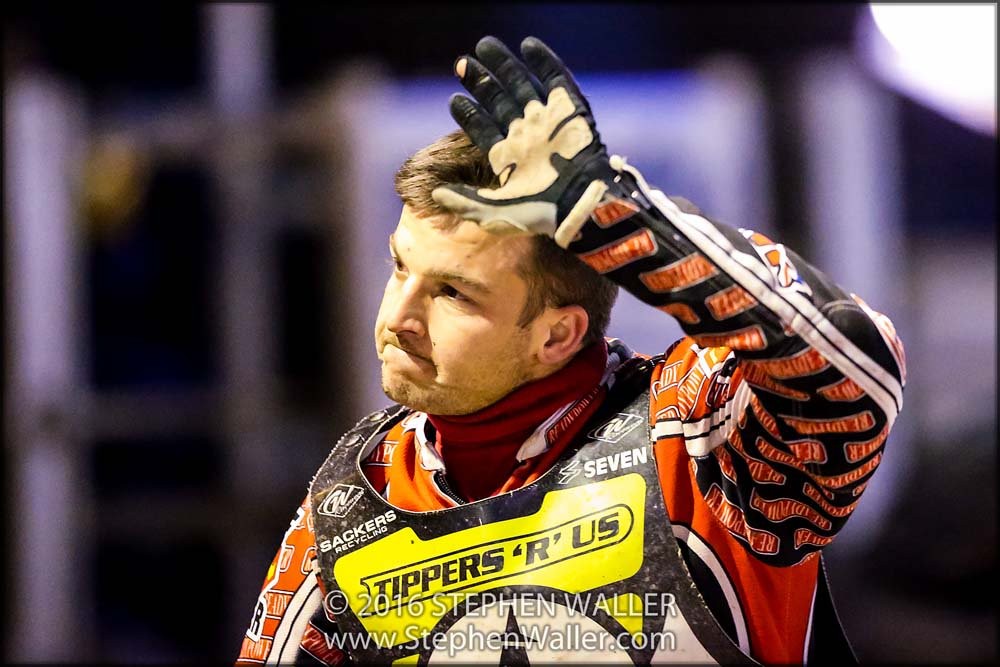 Barker is the clear threat to the Witches having spent 2013 with the club and returning to Foxhall in 2016. Barker always gives 100% out on track and is one of the sport's most entertaining riders and has represented Great Britain at World Cup level in the past.
From the boss…
'Tru Plant' Witches Team Manager Ritchie Hawkins previews Thursday's meeting.
"Danyon will be out for a few weeks and it is unfortunate for him to have another crash and another injury and we will see how quick his recovery period is but David comes in at reserve to replace him and his enthusiasm has really impressed us.
"It is no fault of Jonas whatsoever, he has come in and really impressed in two meetings. We had to get Mark signed up this week and get him in the team before someone else signs him up. Bringing Mark in should benefit us in the long term.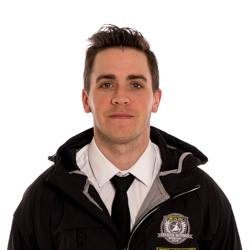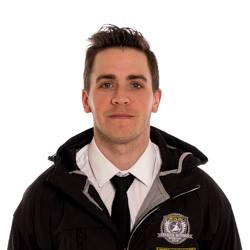 "It has been a difficult time and we know we need some fresh fit riders in the team. We need to get a win at home on Thursday and have that all sorted. Then hopefully next week we will go to Redcar with a full one to seven and that will give everyone a big boost to have a full team. We need to look at winning some meetings and actually enjoying ourselves.
"I have heard that our season is over every year in April from some sections of the crowd, it's a load of rubbish. You lose one meeting and it's over and it's rubbish, everyone is devastated on social media but it's alright because every season I have been managing we have turned it around and made the play-offs. Unless it's mathematically impossible I won't give up."
The form
There is no hiding away from the fact that these two teams are not in good form. The Witches have lost three on the bounce after defeat at Sheffield was followed by a home defeat to Workington and then a fruitless trip to Edinburgh, picking up more injuries along the way. The Bears are also looking for a much-needed win after they were thrashed at home by Edinburgh last week. Prior to that they had beaten Scunthorpe at home but were also defeated by Peterborough on home shale in recent times.
What happened last time?
The 'Tru7.com' Witches came out on top of a tight encounter at Foxhall last September as they beat Redcar 51-39 in the Championship.
With a top four spot in their sights the Bears started well and took an early lead after heat three, a lead they held until heat six. The home side then reeled off a string of 4-2's to give them a six point lead going into heat 12. The away side then hit a 4-2 to reduce the lead to four points with three to race. It was the home duo of Rory Schlein and Danny King that proved their worth once again as they hit 5-1's in heat 13 and 15 to put some gloss on the final score. King top scored with a 14+1 paid maximum.