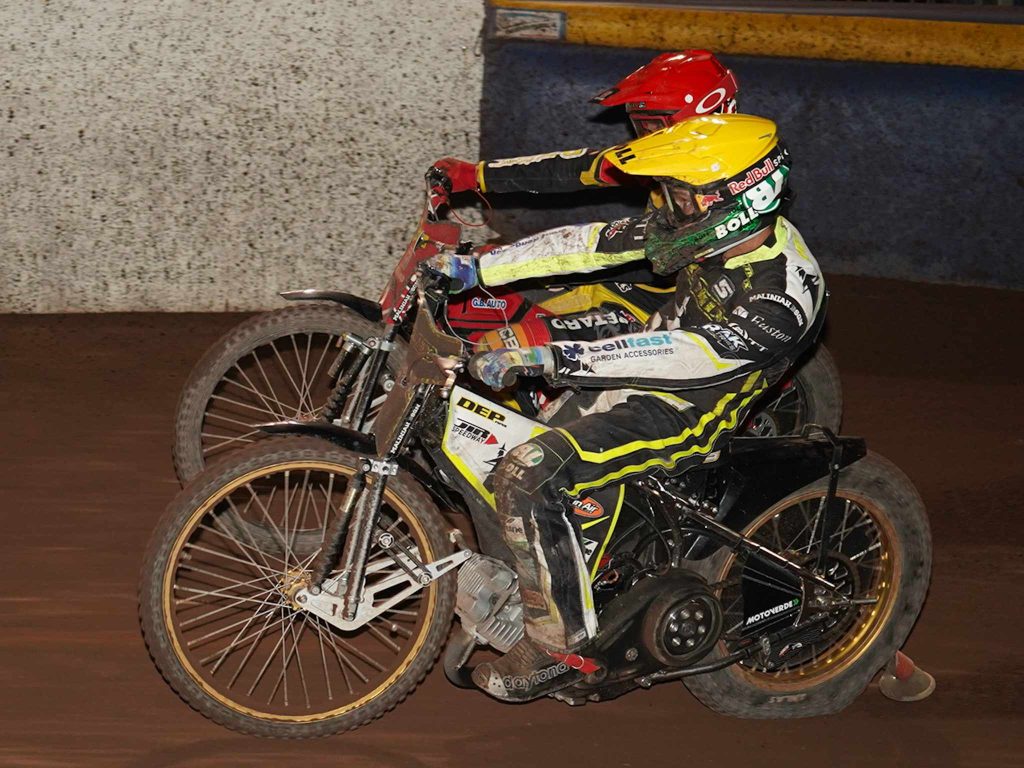 By Henry Chard
THE SCORES
SHEFFIELD 48: Max Fricke (G) 2+1, Kyle Howarth © 10, Chris Holder 9, Josh Pickering 11+1, Tobiasz Musielak 9, Kyle Newman (G) 4, Jason Edwards (RS) 3+2. Team Manager: Simon Stead
IPSWICH 42: Emil Sayfutdinov 9, Erik Riss 7, Danny King © 10, Danyon Hume 2, Jason Doyle 8+2, Keynan Rew 6, Joe Thompson (G) (RS) 0. Team Manager: Ritchie Hawkins
REFEREE: C. Ackroyd
KNOCKOUT CUP DRAW
QUARTER-FINALS
First Leg: Wolverhampton 46-20 Belle Vue. Second Leg: Belle Vue 54-36 Wolverhampton
First Leg: Ipswich 48-42 Leicester. Second Leg: Leicester 43-47 Ipswich
First Leg: Sheffield 58-32 King's Lynn. Second Leg: King's Lynn 34-56 Sheffield
First Leg: Ipswich 57-33 Peterborough. Second Leg: Peterborough 48-42 Ipswich
First Leg: Sheffield 54-36 Wolverhampton. Second Leg: Wolverhampton 52-38 Sheffield
FINAL
First Leg: Sheffield 48–42 Ipswich. Second Leg: Ipswich v Sheffield (14 Sep)
THE STORY
The Ipswich 'Tru Mix' Witches have a six-point deficit to overturn after a narrow defeat at Sheffield on Monday night in the first leg of the Knockout Cup final.
The visitors were without injured Rising Star rider Dan Thompson with his brother Joe guesting in his place. The hosts were missing Tai Woffinden and Claus Vissing through injury as Max Fricke and Kyle Newman deputised. The Suffolk side started strongly and were four points to the good early on, but the Tigers responded in some style and quickly turned the tie in their favour with five consecutive heat advantages to give them an eight-point lead. Ipswich battled hard in the latter part of the meeting to reduce the margin of defeat and leave the tie finely poised for the deciding leg at Foxhall on Thursday. Danny King top scored with 10.
Erik Riss won heat one from the gate and Emil Sayfutdinov momentarily got himself into second on the last lap but was beaten by Kyle Howarth on the run to the line as the visitors had to settle for a 2-4. Keynan Rew took victory in heat two, but it ended in a 3-3 as Joe Thompson couldn't hold off Jason Edwards for third and was passed on the last lap. King led heat three but couldn't keep Chris Holder behind him as the Tigers levelled with a heat advantage. The Witches went back in front in heat four as Rew took another win with Jason Doyle backing him up for a maximum to make it 10-14.
It was all square again after heat five as Sheffield hit a 5-1 and the home team then went ahead in heat six with rain falling as Howarth kept Doyle at bay to take the chequered flag in a 4-2. The heat advantages kept on coming for the Tigers as they recorded another 4-2 in heat seven. Heat eight was stopped as the visitors gated on a 1-5 as Howarth jumped the start and he received a warning but there was a nasty crash on the first turn of the re-run as Howarth and Riss got tangled and hit the fence. All four were called back for another go and it looked like being a 5-1 to the home team but Riss capitalised on a mistake from Edwards to split the Tigers pair, leaving the overall score 27-21.
Heat nine was stopped as Rew went into the air fence hard after trying to round Josh Pickering for a point on the third turn and he was excluded. The Tigers notched another 4-2 in the re-run, but skipper King stemmed the tide in heat 10 with a brilliant ride as he dived up the inside of Howarth at the end of the second lap to win a shared race. Sayfutdinov found his form in heat 11 with a convincing win with Riss picking up a point for a 2-4. Captain King produced the goods again in heat 12 as he held off Holder to pick up another three points in a 3-3 that left the score 39-33.
Tobiasz Musielak was a clear winner in heat 13 and was joined early on by Fricke but both Sayfutdinov and Doyle worked hard to relegate the Sheffield guest to the back for a 3-3 in a superb battle behind Musielak with all three riders swapping positions. The hosts gated on a 5-1 in heat 14 with Pickering and Newman at the front but Danyon Hume overtook Newman to limit the damage to a 4-2. Sayfutdinov won the final race of the night with Doyle third for a heat advantage to the away side, meaning a six-point defeat for Ipswich heading into the deciding home leg on Thursday.
REACTION FROM THE BOSS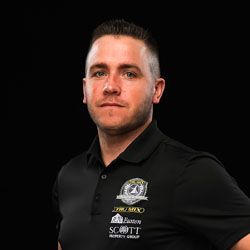 Ipswich 'Tru Mix' Witches team manager Ritchie Hawkins reflects on Monday's defeat at Sheffield.
"I was really pleased with the boys; we got a bit beat up with Erik and Keynan having crashes and we could have let it fall away but we stuck in there and come away six points down. At the halfway stage, six points isn't drastic and is certainly something we are confident in overturning.
"Danny did really well and carried on his good form and stepped it up with an important ride in heat 12. It was great to see Erik bounce back from a disappointing meeting last time out and then he bounced back tonight, picking himself up from the deck and showing great mental strength to carry on and score some vital points.
"Erik and Keynan are both sore, Keynan is suffering more than Erik at the moment, and I am sure they will be sore in the morning. We are confident they will be ok for Thursday, but we will know more in the morning.
"I think it was a meeting that provided everything which a cup final should. Nobody moaned about the rain, and everyone carried on and racing like that in the rain was brilliant to see. It leaves things evenly poised and exciting going into Thursday."
RIDER OF THE NIGHT
Captain King led from the front and top scored with 10, including two crucial race wins.
WHAT IT MEANS
Sheffield take a six-point lead into the second leg at Foxhall on Thursday where the winner of this year's Knockout Cup will be decided.
UP NEXT
The Ipswich 'Tru Mix' Witches host the Sheffield Tigers at Foxhall Stadium on Thursday 14th September in the Knockout Cup final second leg. Tickets can be purchased online in advance here and on the gate.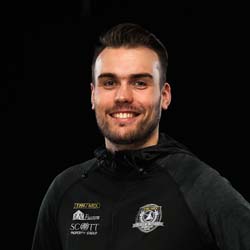 Digital Media Manager at Ipswich Speedway