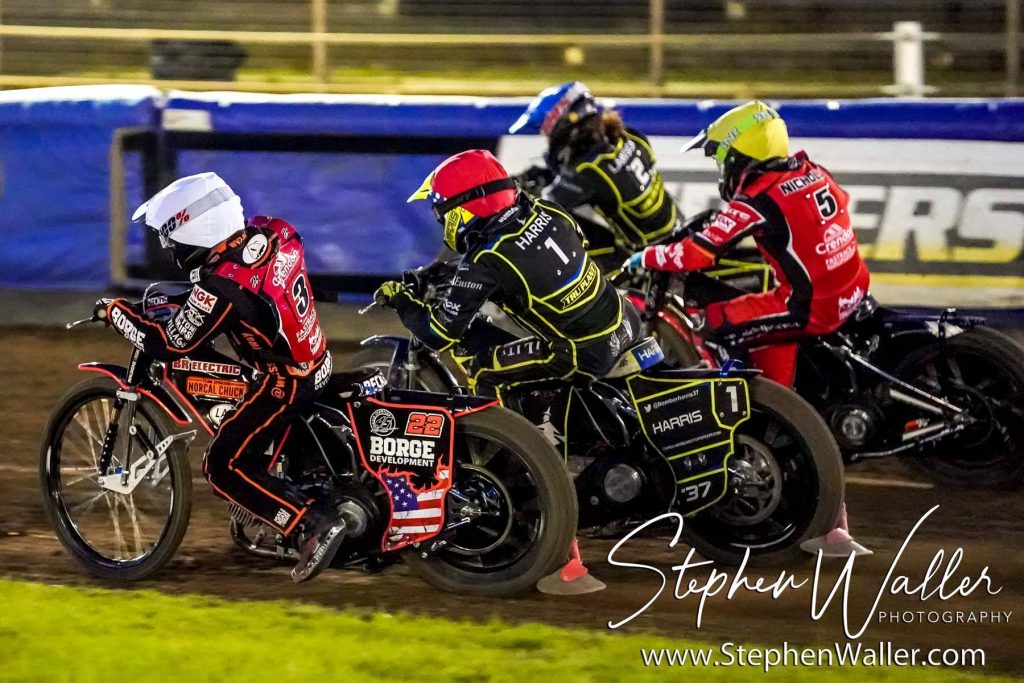 By Henry Chard
THE SCORES…
IPSWICH 54: Krystian Pieszczek 11+1, Richard Lawson 9+2, Jake Allen 9, Danny King © 8+1, Chris Harris 8, Cameron Heeps 5+2, Edward Kennett 4+2. Team Manager: Ritchie Hawkins
PETERBOROUGH 36: Scott Nicholls © 11+2, Ulrich Ostergaard (g) 9, Luke Becker (g) 8+2, Aaron Summers 8, Ben Morley (g) 0, Nick Agertoft (g) 0. Team Manager: Carl Johnson
REFEREE: D. Robinson
VENUE: Foxhall Stadium
MEETING SPONSORS…
Tru7.com – Need a roller, excavator, lighting tower, dust suppressor, digger or dumper? TRU7 is pleased to offer one of the widest ranges of plant hire and equipment available nationwide. For heavy machinery and all associated equipment, TRU7 has the best plant for the job, whatever size, wherever you need it and operated by their professional team.
Jewson Stowmarket – With branches from the Scottish Isles to Penzance, you're never far away from great service, expert advice and the highest quality timber, building materials and services from Jewson. Since opening its first branch in 1836, Jewson has expanded to offer a wide range of products and materials from everyday items like timber and bricks, to landscaping and roofing. Across Great Britain, the builders' merchant also has specialist tool hire and kitchen and bathroom centres.
PREMIERSHIP TABLE
| | | |
| --- | --- | --- |
| Team | Meetings | Points |
| Poole | 18 | 39 |
| Ipswich | 20 | 39 |
| Swindon | 19 | 36 |
| Belle Vue | 22 | 35 |
| Wolverhampton | 20 | 32 |
| King's Lynn | 19 | 31 |
| Peterborough | 20 | 17 |
WHAT HAPPENED?
The 'Tru Plant' Witches returned to winning ways with a comfortable 54-36 victory over a depleted Peterborough side at Foxhall on Thursday in the Premiership.
The visitors are bottom of the table and their cause was not helped with a series of withdrawals prior to the meeting, meaning the Panthers arrived at Foxhall with just two full-time team members and four guests. Despite their issues, the visitors started well and led early on before the Witches found their feet and cruised to a convincing victory in front of their home fans. Krystian Pieszczek top scored with 11+1 from reserve, missing out on a paid maximum in heat 15 after machinery issues struck whilst he was leading.
Ulrich Ostergaard won heat one for the visitors as he held off Chris Harris in second for a share of the points to begin the evening. Pieszczek got his first race win of the night in heat two as he fended off big pressure from Aaron Summers in second as the Australian tried to dive up the inside of the Polish rider. However, Pieszczek had the move covered and with Edward Kennett in third, the hosts edged ahead. The Panthers shocked everyone in heat three as Ostergaard won again and was followed home by fellow guest Luke Becker meaning a maximum to Peterborough to put them 10-8 ahead.
Scott Nicholls was warned in heat four after moving at the start, but he won the re-run comfortably as the points were shared. Ostergaard's fine start continued with another win in heat five as he held off a strong challenge from Jake Allen in second as the race ended in a 3-3. Harris and Richard Lawson put the home team back ahead in heat six as they raced to a 5-1 to give the Witches a 19-17 lead.
Pieszczek and Danny King made it consecutive maximums in heat seven as they team rode to keep Summers behind them. The Witches made it three 5-1's in a row in heat eight as Lawson and Kennett took the chequered flag. It was then four maximums on the trot in heat nine, which turned out to be the race of the night. Allen made the gate, but Cameron Heeps found himself at the back early on. Heeps wound it on to go around Nicholls and he continued to race the wide line, eventually passing Summers to join his teammate for a 5-1 that gave the Witches a commanding 34-20 lead.
Lawson won a shared heat 10 as he was put under pressure from Nicholls before the hosts recorded another 5-1 in heat 11 thanks to King and Pieszczek. Nicholls was brought in as a tactical substitute in heat 12 and he followed partner Becker home for a maximum to the Panthers despite Heeps' best efforts to split the pair. That made the score 43-29 to Ipswich with just three to race.
Harris won heat 13 ahead of Nicholls with King third and that 4-2 sealed the win for Ipswich. Pieszczek remained unbeaten after heat 14 as he won again with Allen third for another heat advantage to the hosts. The night looked as though it would end with another 5-1 to the Witches as Pieszczek and Allen made the gate, but the Polish reserve suffered machinery issues heading into the third turn of the opening lap, which caused him to fall, denying him a paid maximum. Allen went on and won the race to make the final score 54-36 to Ipswich.
TRU7.COM & JEWSON STOWMARKET RIDERS OF THE NIGHT…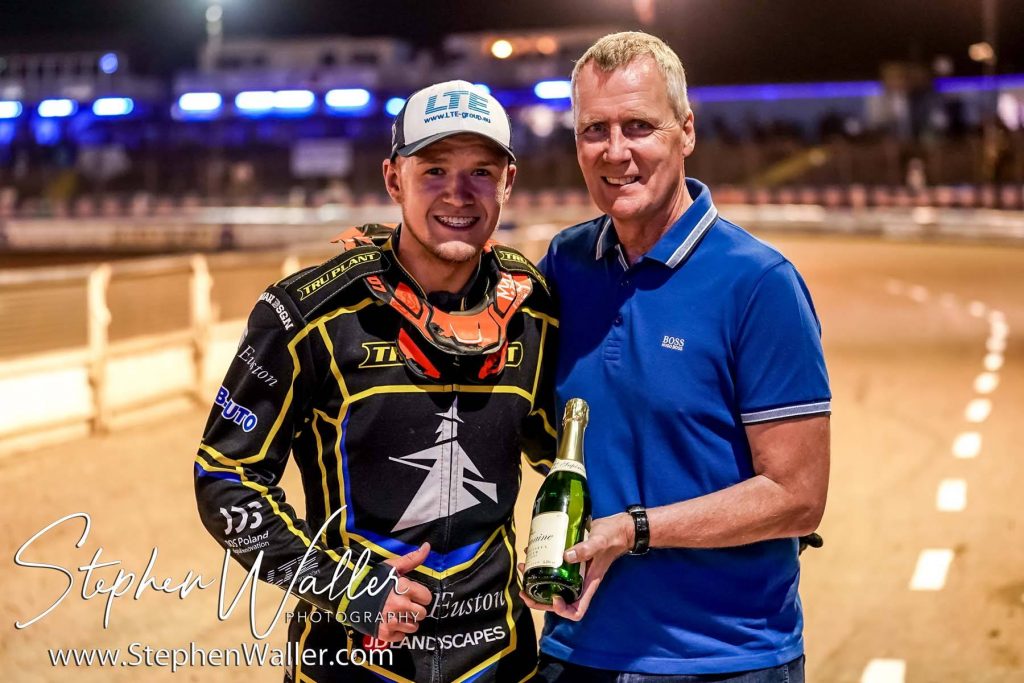 Pieszczek was chosen by Jewson Stowmarket after scoring 11+1 from reserve whilst Jake Allen was Tru7.com's pick as he scored nine points.
KEY MOMENT…
Heat nine was the race of the night and by this stage the Witches were running away with it. Three relatively comfortable 5-1's to Ipswich had preceded heat nine but the hosts were made to work for it in this one. Allen made the gate but partner Heeps came out of the first turn at the back. As he has done all season Heeps took the wide line and built up speed around the outside to first pass Nicholls and then Summers to join his compatriot at the front to the delight of the home fans. After that, a comeback never looked likely.
WHAT IT MEANS…
Ipswich add three points to their league tally which keeps them second although they are now level on points with leaders Poole. Peterborough remain bottom, well adrift of the rest of the league after this heavy defeat.
WHAT'S NEXT?
The 'Tru Plant' Witches travel to the Abbey Stadium to take on the Swindon Robins on Monday 26th August in a Premiership fixture at 7.30pm.
AROUND THE TRACKS…
King's Lynn thrashed Belle Vue 55-35 at the Adrian Flux Arena to keep their play-off hopes alive whilst Swindon beat Poole 53-37 in convincing fashion to go third in the Premiership table
Click here for reaction from team manager Ritchie Hawkins.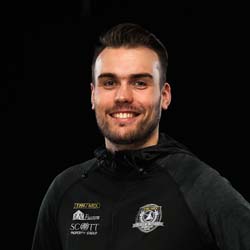 Digital Media Manager at Ipswich Speedway