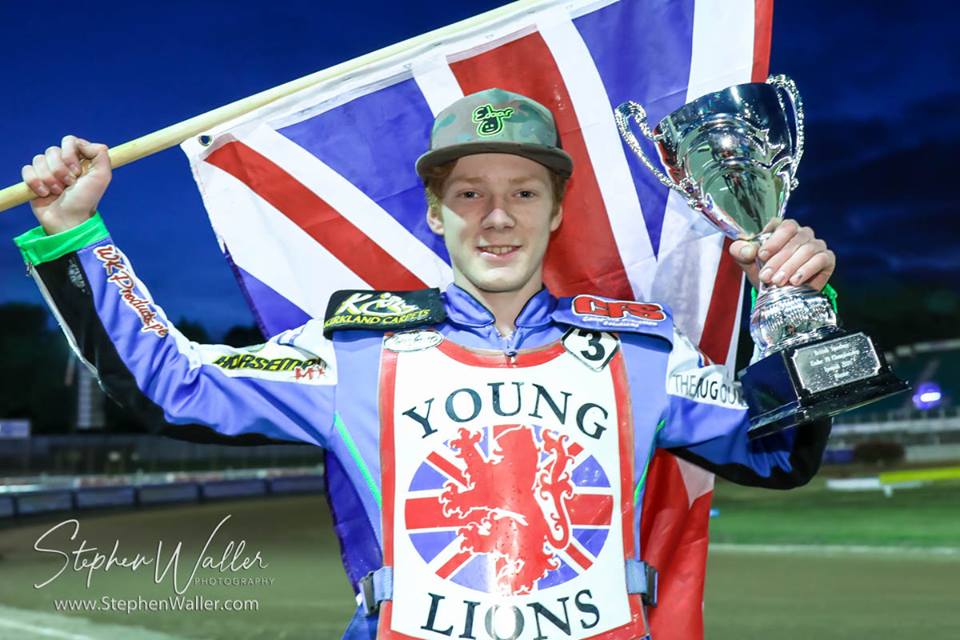 The scores
1st Dan Bewley 15 (Belle Vue/Workington)
2nd Tom Brennan 14 (Eastbourne)
3rd Leon Flint 11 (Birmingham) – After run-off
Other scorers: Jack Thomas 11, Drew Kemp 10, Joe Lawlor 10, Kyle Bickley 9, Taylor Hampshire 9, Jamie Halder 7, Anders Rowe 5, Alex Spooner 4, Jason Edwards 4, Matt Marson 4, Charlie Brooks 3, William O'Keefe 2, Ben Woodhull 1, Joe Alcock (res) 0.
The story
Dan Bewley roared to a 15-point maximum to win the British Under-19 Championship at Foxhall on Thursday.
Bewley was the red-hot favourite heading into the meeting and he did not disappoint as he went through the card to claim the title ahead of Tom Brennan and Leon Flint who beat Jack Thomas in a run-off for third on the night.
Bewley stormed to victory in the opening heat as Joe Lawlor worked his way into second as he got past Jamie Halder on the third lap. Taylor Hampshire won heat two ahead of Matt Marson with William O'Keefe in third as Charlie Brooks suffered engine difficulties. Jack Thomas made the gate in heat three but was picked off by Brennan on the third bend of the second lap. Drew Kemp won in stylish fashion in heat four as the race was awarded with Kyle Bickley falling on the final lap whilst in second.
Brennan got his second win of the night in heat five as Bickley held on for second this time. Joe Lawlor won heat six ahead of Hampshire as both continued their promising starts to the night. Bewley won in comfortable fashion again in heat seven as Kemp bided his time to get past Thomas for second on the third bend of the third lap. Flint won heat eight as the race was awarded after Ben Woodhull fell having gone to the back after being second.
Flint was back out again in heat nine and continued his impressive night with another win as Thomas held off Hampshire for second. Lawlor held off pressure from Kemp to win heat 10 and heat 11 saw Bewley record his third win as he beat Brennan to the chequered flag. Bickley was awarded the win in heat 12 as both Woodhull and Marson fell.
Halder won heat 13 as Alex Spooner rode well to pick up a point having passed Jason Edwards. Lawlor was the early leader in heat 14 but Thomas passed him going into the first bend of the second lap and Lawlor fell to the back. Flint made the gate in heat 15 and made Bewley work hard for the win as the Workington man passed Flint on the second lap to make it four wins from four. Brennan won heat 16 as Kemp fell whilst in second on the second lap.
Kemp recovered in time to come back out and win heat 17 as Brooks fell whilst at the back. Brennan took the three points in heat 18 as Lawlor fended off a strong challenge from Flint on the line. Bewley was in a league of his own again in heat 19 and confirmed his win on the night making it a perfect five from five. The final heat was called back after O'Keefe and Spooner fell going into the first turn with all four called back. There was no joy in re-run either as Spooner was down again after clashing with Woodhull. Joe Alcock replaced Woodhull in the third attempt and Thomas was the eventual winner meaning he went to a run-off for third on the night with Flint. However, it all went wrong for Thomas on the start line in the run-off as he didn't make it out of the start leaving Flint to take third overall.
Next meeting
The next action at Foxhall is next Thursday 24th May as the Witches host the Berwick Bandits in the Championship.