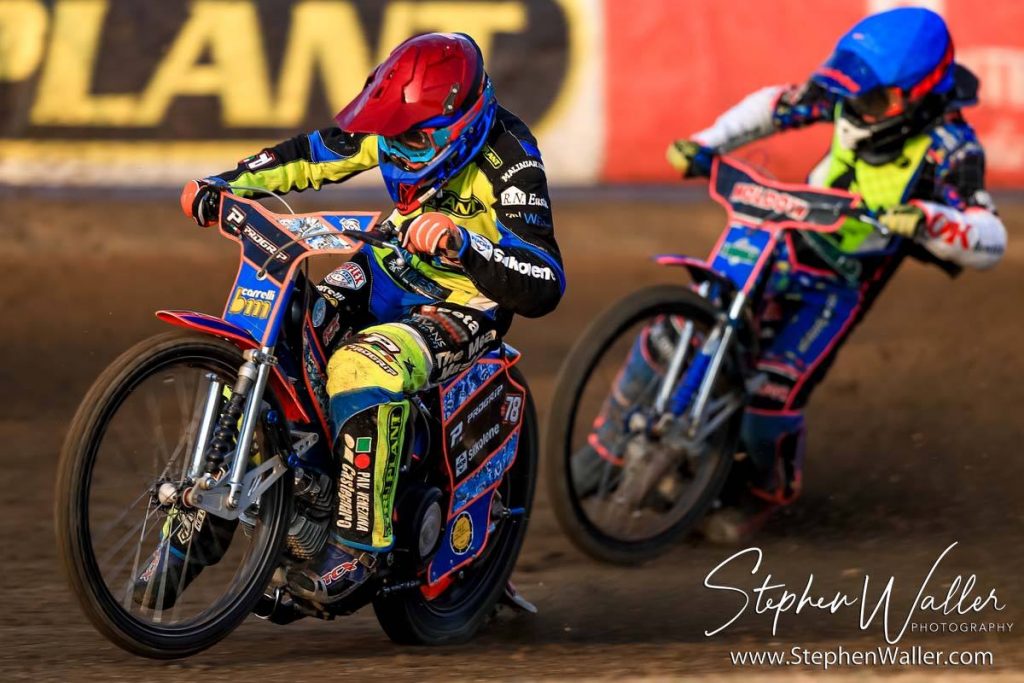 The scores
Edinburgh 51: Ricky Wells 13+1, Erik Riss © 12, Joel Andersson 8+2, Mark Riss 7, Victor Palovaara 5, Josh Pickering 4, Max Ruml 2+1.
Ipswich 39: Nico Covatti 13, Matthew Wethers (g) 9+1, Rory Schlein © 7, Richie Worrall (g) 5+1, Connor Mountain 5+1, David Wallinger (g) 0.
Championship table
| | | |
| --- | --- | --- |
| Team | Meetings | Points |
| 1 Peterborough | 12 | 29 |
| 2 Lakeside | 11 | 25 |
| 3 Glasgow | 10 | 19 |
| 4 Workington | 9 | 17 |
| 5 Berwick | 11 | 16 |
| 6 Newcastle | 10 | 14 |
| 7 Edinburgh | 9 | 14 |
| 8 Scunthorpe | 10 | 13 |
| 9 Sheffield | 10 | 13 |
| 10 Ipswich | 8 | 11 |
| 11 Redcar | 12 | 9 |
The story
A patched-up 'Tru Plant' Witches side were defeated 51-39 at Edinburgh on Friday night in the Championship.
Missing Danny King, Cameron Heeps, Jonas Jeppesen and Danyon Hume due to injury, the task was always going to be a big one for Ritchie Hawkins' men but the away side were not disgraced and never gave up but the Monarchs were always in control of the meeting and led throughout to record victory. Nico Covatti top scored with 13 for the Witches.
It was an action packed heat one as Victor Palovaara made the gate but Witches guest Matthew Wethers hit the front coming out of the second turn. Ricky Wells came from the back to pass all three riders going into the home straight of the opening lap only for Wethers to hit the front again on the second lap. However, the Monarchs captain remained patient and re-took the lead on the final lap as the home side recorded a 4-2. Joel Andersson and Max Ruml extended the early lead with a comfortable 5-1 in heat two. Covatti won heat three as Josh Pickering did well to split the Witches pair to limit the away side to a 4-2 with Wethers third. Erik Riss won heat four ahead of Richie Worrall with Andersson third for a Monarchs 4-2 to put them 15-9 up.
Covatti was brought in as a tactical substitute in heat five and he picked up third as partner Rory Schlein won with Mark Riss doing everything to keep Covatti behind him. Wells won again in heat six but with Connor Mountain and Worrall both in the points it was the first 3-3 of the evening. Another shared heat immediately followed as Erik Riss won his second heat of the night ahead of Covatti as Wethers and Ruml enjoyed a good battle at the back with the Witches guest hanging on for third. The Scottish side increased their lead with a 5-1 in heat eight thanks to Palovaara and Andersson to make it 28-20.
Mark Riss won heat nine ahead of Worrall and Mountain for a 3-3. Covatti was excluded from heat 10 after missing the two minute time allowance as Wells won again ahead of Wethers for a 4-2. Heat 11 was called back and Erik Riss was warned for moving and then his partner Ruml missed the two minute time allowance and was replaced by Andersson. Once the heat got underway Erik Riss was the winner again as he passed Schlein on the third lap with Andersson third for a 4-2 to stretch the home side's lead. Covatti won a shared heat 12 to keep the Witches in with an outside chance of a point being 42-30 down with three to race.
Heat 13 was stopped as Erik Riss and Worrall both fell on the first turn with all four called back. The Witches' hopes of taking anything back to Suffolk were over after the re-run as the unbeaten Erik Riss and Wells hit a 5-1. Wethers ended his impressive guest display for the Witches with a win in heat 14 ahead of Pickering who passed Mountain at the end of the third lap for third meaning a heat advantage to the Suffolk side. Covatti won the final heat of the night deny both Monarchs riders maximums as Erik Riss finished at the back after a mistake meaning a Witches 4-2 that made the final score 51-39 to Edinburgh.
Rider of the Night
Since his return from injury Covatti has been flying and he was the Witches' main threat all night, racking up three heat wins and scoring 13.
Key moment
Covatti had been flying the flag for the Witches and going into heat 10, he and Wethers looked a strong pairing despite being up against the in-form Wells. His failure to make the two minutes was costly as the home side added another two points to their lead to stretch it to 10 with just five heats remaining.
Next meeting
The Witches are next in action at Foxhall against Redcar on Thursday 19th July in the Championship.