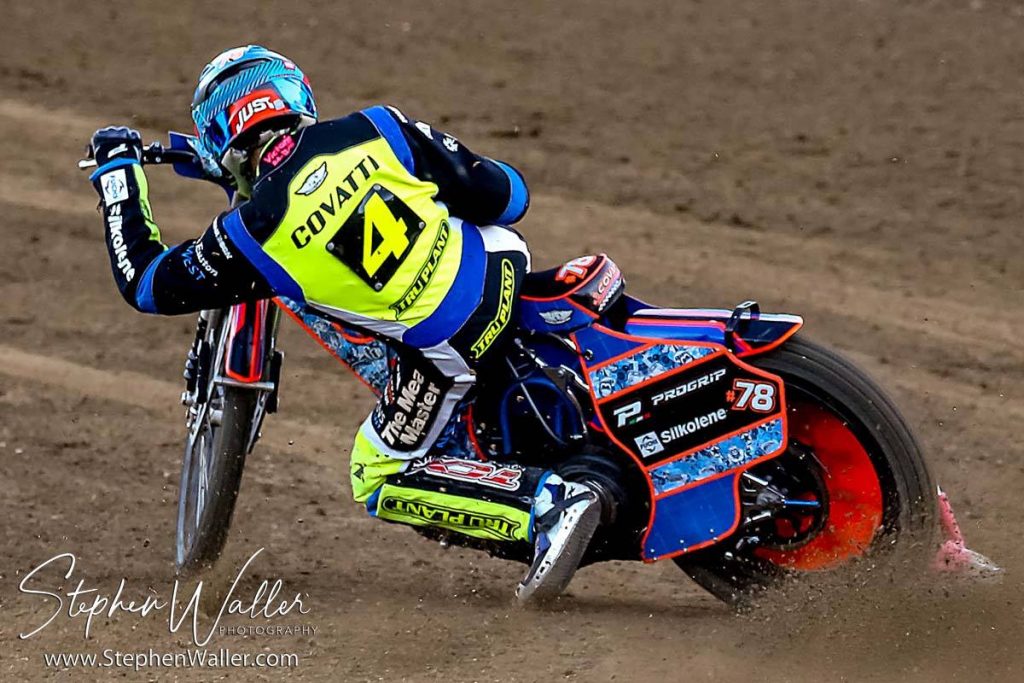 The scores
Sheffield 52: Todd Kurtz 13+3, Ty Proctor (g) 12+1, James Shanes 11+3, Charles Wright 10, Georgie Wood 4+1, Broc Nicol 2 (Withdrawn), Lasse Bjerre 0 (Withdrawn).
Ipswich 38: Nico Covatti 12+1, Scott Nicholls (g) 9, Connor Mountain 7+1, Rory Schlein 5, Jonas Jeppesen 4, Jack Smith 1, Cameron Heeps © 0 (Withdrawn).
Championship table
| | | |
| --- | --- | --- |
| Team | Meetings | Points |
| 1 Peterborough | 11 | 26 |
| 2 Lakeside | 9 | 22 |
| 3 Glasgow | 9 | 16 |
| 4 Berwick | 9 | 16 |
| 5 Newcastle | 10 | 14 |
| 6 Sheffield | 9 | 13 |
| 7 Ipswich | 6 | 11 |
| 8 Scunthorpe | 8 | 9 |
| 9 Redcar | 11 | 9 |
| 10 Workington | 6 | 8 |
| 11 Edinburgh | 6 | 7 |
The story
The 'Tru Plant' Witches fell to a 52-38 defeat at Sheffield on Thursday in the Championship after losing Cameron Heeps to injury after heat three.
It was a bad start for the Witches who were reduced to six men as early as heat three after Lasse Bjerre collided with Heeps, who couldn't continue. The away side found themselves 10 down after four heats but battled on and reduced the gap as the meeting went on as the Tigers lost both Bjerre and Broc Nicol to injury. However, the home side had enough to see out victory and send the Witches home pointless. Nico Covatti top scored with 12+1.
The home side started well and hit a 5-1 in heat one thanks to Ty Proctor and Todd Kurtz as Rory Schlein pulled up on the fourth lap. The Witches looked like they were about to hit back in heat two as Jack Smith and Connor Mountain led early on but Smith fell on the second lap and Mountain was passed by both Georgie Wood and James Shanes as the home side raced into a 10-2 lead. Heat three was stopped with the Witches on a 5-1 as Bjerre hit Heeps on the first bend of the second lap causing both riders to fall heavily with Bjerre excluded. There was a lengthy delay to proceedings as medical staff saw to Heeps, who was eventually withdrawn from the meeting with concussion. Covatti won the re-run ahead of Nicol with Connor Mountain third after coming in as an injury rider replacement for Heeps. The home side's strong start continued though as Charles Wright won heat four with Shanes joining him for another maximum after Scott Nicholls fell whilst in second on the third lap leaving the Tigers 17-7 up.
Bjerre was also withdrawn from the meeting ahead of heat five after the heat three crash with Heeps as Covatti came in for Jonas Jeppesen as a tactical substitution. Nicol was a faller on the first turn and was excluded from the heat and there was another lengthy delay as medics saw to the American. However, the Witches could not take advantage as Kurtz beat both Schlein and Covatti for a shared heat. Nicholls won heat six after passing Proctor but Smith couldn't hang onto third meaning another 3-3. Covatti won heat seven ahead of Wright and Wood got the better of Mountain for a point meaning a third consecutive 3-3. The run was broken in heat eight though as Kurtz won and Shanes won the battle for second after an entertaining tussle with Jeppesen meaning a 5-1 to put the home side 31-17 up and in total control.
Nicholls came out and won heat nine ahead of Wright with Mountain third for a Witches heat advantage as Nicol retired, clearly struggling after his heat five fall. Covatti continued his impressive night with a win in heat 10 but with Smith falling the away side couldn't claw any points back. Schlein won heat 11 ahead of Wright and with Jeppesen third the Witches were working their way back into contention for a point and just 10 points down. The revival continued in heat 12 as Mountain won and Jeppesen remained patient to pass Wood on the line for third for another 4-2 to make it 40-32 to the home side.
Proctor won heat 13 ahead of Nicholls and with Wright third after getting the better of Schlein it was a heat advantage to the hosts that gave them the win. Nicol was not fit to take his ride in heat 14 with Shanes taking his place and Mountain coming in as a reserve switch. Shanes won the heat after passing Covatti on the first turn of the third lap with Mountain passing Wood on the same bend to ensure a 3-3. The hosts ended the night in style with a 5-1 thanks to Proctor and Kurtz that gave them a 52-38 win.
Rider of the Night
Nico Covatti continued his good form and kept the Witches in the hunt for a point throughout winning three heats and scoring 12+1.
Key moment
With two guests covering two injured riders, the last thing the Witches wanted was to lose another rider. Losing Heeps as early as heat three meant it was an uphill struggle for the away side who already found themselves eight points down at that stage.
Next meeting
The Witches are next in action on Thursday 12th July as they host Workington Comets at Foxhall in the Championship.