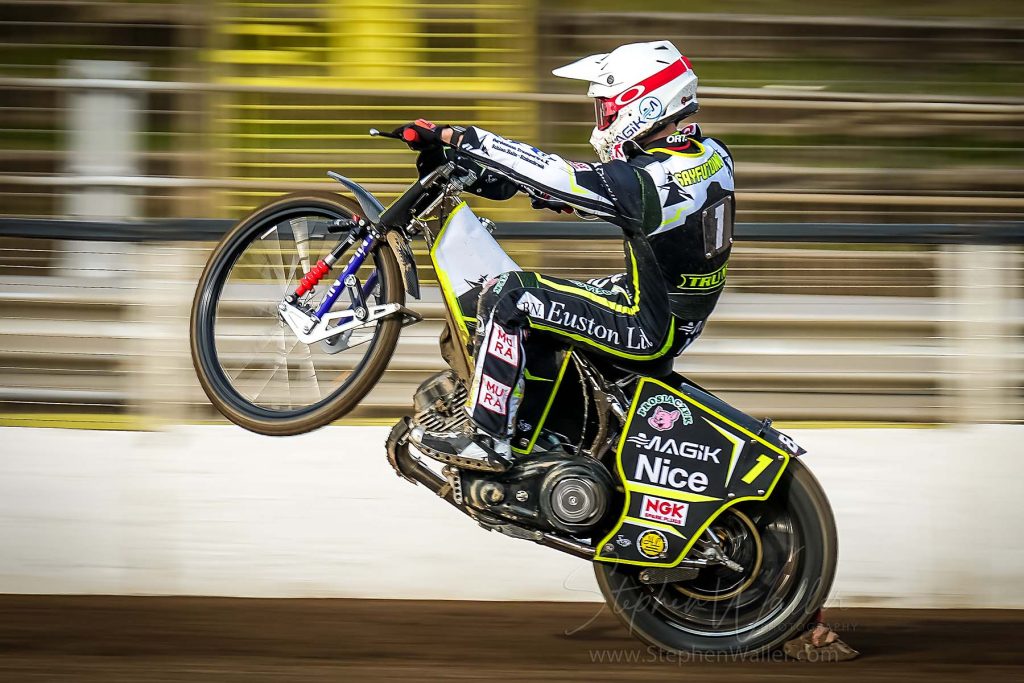 By Mike Bacon
Ipswich 'Tru Mix' Witches rider Emil Sayfutdinov took to the Ipswich track like a duck to water as he roared around Foxhall Heath at practice day on Thursday.
And he admits he can't wait to get going for the Witches – and yes, even for such an experienced racer, there will be nerves!
The 2021 world No.3, back in British Speedway for the first time since 2011, was first out of the pit gate to take to the Suffolk circuit last week – and he delighted those in attendance with some scintillating speed.
It's been almost 18 months since Sayfutdinov last rode a competitive meeting after a 2022 suspension by the FIM on Russian riders, due to the war in Ukraine.
But he's raring to go now and can't wait for Thursday, as the Witches open their 2023 campaign against Peterborough Panthers at Foxhall Heath, 7.30pm start.
So, will he really have nerves?
"Ah, yes," the 33-year-old said. "I will."
"You always get nervous, of course. But I can't wait, it's my first meeting for so long. I've just done practice and more practice because of the 18-month break. I don't mind feeling that stress before the meeting to be honest.
"We have had a few laps now at Ipswich and I'm ready for the first meeting.
"I want to enjoy the season, meet the fans again. I can't wait for that feeling."
If Emil's greeting when he was introduced by compere Kevin Long to fans at the Meet the Riders night, also last Thursday, is anything to go by, he is going to be a big hit at Foxhall.
A packed house of almost 200 fans greeted the Witches of 2023, with Emil introduced last, but far from least, as the roars went up.
And he had the hall in laughter as Kevin asked him about his infamous 'altercation' with former Witch and Ipswich legend, Scott Nicholls, at the pit gate after a feisty race at the British GP in Cardiff in 2009. The two having fisticuffs galore!
"Ah, yes, that was for show!" Emil laughed.
"But, no seriously, I get on well with Scott today and he was one of the first people to text me when I joined Ipswich to say congratulations and welcome back to England. That was nice."
Tapes up then this Thursday with the Panthers, led by three-time world champion, Nicki Pedersen, as well as former GP star Niels-Kristian Iversen, in town.
As well as Emil, all the rest of the Witches septet got a wonderful reception at the Meet the Riders night. It promises to be quite a season. It promises to be quite an opening night.
Emil is a three-time World Team champion, 7x GP winner, 2x European champion, 2x world u-21 champion and he's finished third in the world on three occasions, 2009, 2019 and 2021. He will also be riding for Torun in the Polish League.