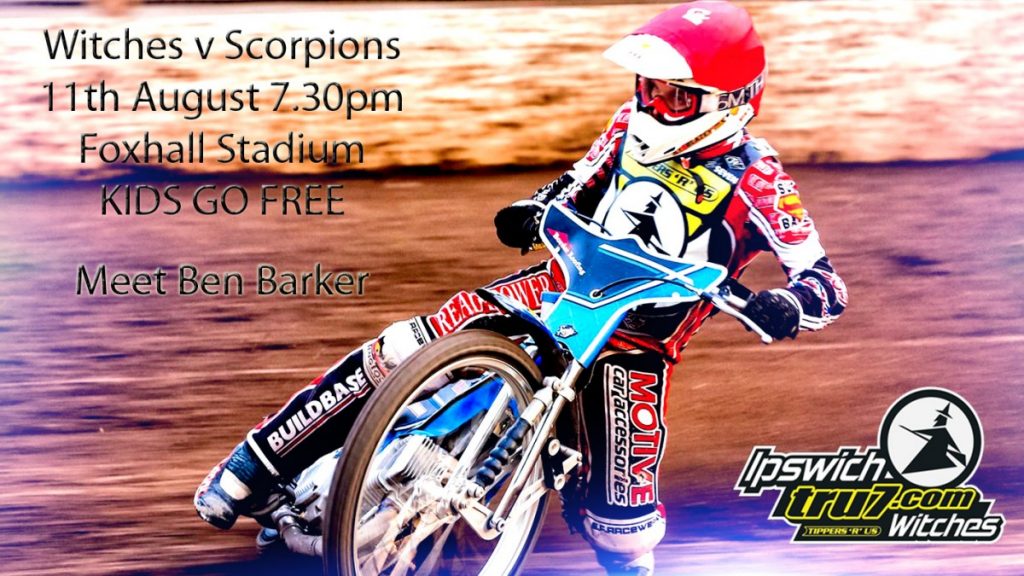 The 'Tru7.com' Witches are back on home shale this Thursday as they take on the Scunthorpe Scorpions at Foxhall (7.30pm).
The Witches are in good form going into the clash with four home wins and a draw at Sheffield in their last five outings. The last team to beat the Witches was in fact the Scorpions back in early July.
Danyon Hume makes his first appearance for the Witches as a full-time member of the team after it was confirmed he would take the vacant number seven spot after Ollie Greenwood took a break from the sport.
The Scorpions currently lie bottom of the table but Ritchie Hawkins' side need no reminder of the threat their opponents pose after the Scorpions were victorious at Foxhall earlier this season in the League Cup. Former Witch Lewis Kerr makes his return to Foxhall whilst Ryan Douglas will be looking forward to his return to Suffolk after he scored a paid maximum for the Witches whilst guesting earlier this season.
Team Manager Hawkins says he expects another win on Thursday but is wary of what the Scorpions can produce on the night.
"We're on a good run of form and we're looking like a good team so we expect another win on Thursday to keep that momentum going," said Hawkins. "Scunthorpe are a capable team especially at our place and they've got Wilko (Carl Wilkinson) at reserve who is good around Foxhall but with the form we are in and the way we are riding we've got to get a win and keep it going."
Hawkins says that new number seven Hume has no pressure on his shoulders and will fit in the team with ease.
"Danyon's been part of the team all year and he's done well in the meetings he has come in for so far. He's full-time now and he already knows everyone so he will settle in easily and it won't be much of a transition for him. There's no pressure on him, he can just go and do his thing and hopefully the boys can carry on riding like they have been lately."
With the school holidays in full swing our summer promotion continues as KIDS GO FREE to all of our summer meetings! Prior to the meeting fans will have the chance to meet Ben Barker who will be up by the turnstiles inside the stadium with his bike for fans to have photos with. Ben will be signing autographs from 6.45pm until around 7.10pm.
Meeting Sponsors: Seven Limited & Holmes Plant & Construction
Ipswich 'Tru7.com' Witches:
1. Danny King (c) 8.86
2. James Sarjeant 5.13
3. Nico Covatti 7.52
4. Morten Risager 6.73
5. Ben Barker 7.42
6. Joe Jacobs 4.07
7. Danyon Hume 3.00
Team Manager: Ritchie Hawkins
Scunthorpe 'Henderson Insurance' Scorpions:
1. Josh Auty (c) 7.42
2. Michael Palm Toft 5.55
3. Lewis Kerr 5.72
4. Fritz Wallner 7.00
5. Ryan Douglas 6.98
6. Carl Wilkinson 5.31
7. Josh Bailey 3.00
Team Manager: Dave Peet
Premier League table
| | | |
| --- | --- | --- |
| Team |   Pl     | Pts   |
| Somerset | 14 | 43 |
| Glasgow | 17 | 36 |
| Edinburgh | 16 | 33 |
| Peterborough | 17 | 30 |
| Sheffield | 15 | 28 |
| Berwick | 20 | 25 |
| Workington | 14 | 23 |
| Witches | 16 | 23 |
| Newcastle | 12 | 22 |
| Rye House | 15 | 19 |
| Plymouth | 17 | 19 |
| Redcar | 16 | 16 |
| Scunthorpe | 15 | 12 |
Last five home results v Scorpions:
17.03.16 L41-48
30.07.15 W59-33
25.09.14 W57-35
24.04.14 W53-39
18.07.13 W47-43
Scorpions' last five:
PL Scorpions 43-47 Somerset
PL Edinburgh 49-40 Scorpions
PL Scorpions 44-45 Edinburgh
PL Peterborough 44-46 Scorpions
KOC Newcastle 57-32 Scorpions