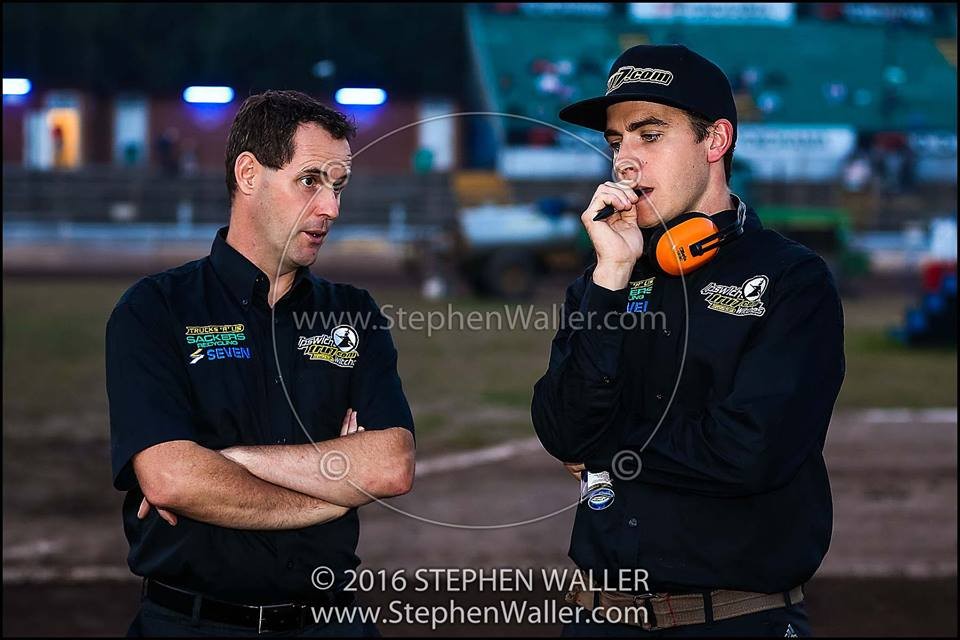 It was a season of two halves that's for sure! It was a disappointing start and it's no secret that we struggled at the bottom end of the team. Everyone was giving their best but they just couldn't settle into Premier League racing and routine. The Ben (Barker) and Joe (Jacobs) changes made a big difference and Ben brought some stability to the middle order and some constant scoring. Lewis (Kerr) had been banging in the occasional big score but we couldn't rely on him and there were various factors that Lewis pinpointed when he made the change to his machinery and he improved his lot after he left which was good to see. Joe brought stability to the bottom end and we gave Danyon (Hume) his chance and it was a move that we were painfully forced into after Ollie (Greenwood) decided to quit. It gave us the opportunity to use him and I'm glad we did in the end because he came in late and made a massive difference. He lifted the crowd as well and they got right behind him as he was young and gave 100%. All in all the changes had a beneficial effect which could be seen in the change in our results and having a run of home meetings in July made a difference and we gained a lot of confidence from that.
I think a club like Ipswich can't ever say it's had a successful season unless we win a trophy. It was a good turnaround and at the end of the day you have got to be pleased after the start we made. If you had told me in June that we would be in the Play-Off semi-final I would have laughed at you and a few did laugh at me when I suggested it was possible. It was a good second half to the season but the last meeting was disappointing. I had expected us to win at home against Somerset. Having conceded too many 'give away' points at Somerset realistically it didn't look like we were going through but it was disappointing not to win the home leg and end on that note.
Rider wise, Danny (King) was Danny. He is in the team to be the big points scoring number one and he did that. He was struggling at the start of the season for consistency but he turned that around fairly quickly and became very strong at home.
I felt Nico (Covatti) was a little too inconsistent to be honest and some of that was down to his preparation and travelling around and he maybe needs to spend a little more time on attention to detail. However, it is always good having him in the team and he is good to watch but from his point of view he needs to find a little more consistency.
You never get anything other than 100% from Ben, it was a topsy-turvy season for him. He started the season with the lengthy travelling to Glasgow and for whatever reason that didn't work out and they decided to make the change and he was disappointed to be leaving Glasgow. His form improved and he found a lot more consistency. He is a good team man and is always looking out for his teammate whilst racing and is good to have in the pits and had a positive effect on and off the track.
Morten (Risager) was probably our most consistent rider apart from Danny, you knew you were always going to get 6-10 points from him every meeting and every team needs that in the middle order. Someone you can depend on to win the odd crucial race whether that be heat 14 or whatever. He matched his average and did his job and was consistent.
I enjoyed working with James (Sarjeant) and having him in the team. If it wasn't for his inconsistent first half of the season which was maybe down to the pressure of the team not performing which eventually gets to everyone, he would have upped his average a fair bit. In the end he was moving in the right direction and had a pretty good second half to the season.
Joe came in all guns blazing and keen to show his hometown club what he could do but ended up going off the boil quite dramatically. I wouldn't pin it on one man as it was the team that was not good enough against Somerset, who I believe will win the Play-Offs as they were the best team, but it didn't help our chances that he went off the boil. I think having a year out and then coming back and doing Elite League, a bit of National League and then Premier League took its toll.
Danyon was a massive plus and it was a huge disappointment to see him miss out on all the big meetings at the end of the season as you know he would have given 100% until the last chequered flag. The injury was disappointing from our point of view and his and no one was more gutted than him. He stuck with the team and travelled as far as Edinburgh to support the lads. It was great to get him involved and I dearly hope to have him involved next year.
Ritchie (Hawkins) was very professional and was without question our best man throughout the year. When the team was struggling he didn't lose faith with them and didn't stop working and trying to figure out how we could improve the team and atmosphere and that's all a Team Manager can do. Obviously there are a few things he can do during the meeting but that has got less and less over the years due to the rule changes but he did those things well. His value though was outside of that and the effort he put in to motivate the boys when things were tough and calling a few changes mid season that worked really well.
With regards to the winter planning you start with making a list of who you most want to work with. You know you have got to lose people even if you want to work with everybody you know you can't because the points limit is going to determine that. You start short listing who is at the top of the list and start planning from there but you can't put a team together until you come home from the AGM and know what the points limit is. We have ideas now and we are starting to put parts of the jigsaw together but there won't be anything concrete before we get home from the AGM.
We do know a certain amount now about the league structure for next year but that is not ratified and won't be until the AGM. We can't put the whole thing together and assume that it is going to be correct because you just don't know if the points limit will remain or not. A rule change all of a sudden could mean you haven't got enough Englishmen or something so there's only so much you can do before the AGM.
Now I have a lot of 'thanks' to give out! I'd like to thank our sponsors who keep the club going. I will start with Tippers 'R' Us and Guy Nicholls for their team sponsorship support and sticking behind us. Guy was someone who was very supportive when we realised we needed to make changes to improve our lot. He was very much behind that and very supportive in helping make minds up as to how and when things needed to be done. Also my thanks go to the two partner sponsors, Sackers and Seven for their continued support of the club. I extend that thanks to all of the air fence sponsors including DJ Evans, Volvo Truck and Bus Centre East Anglia, RN Euston Construction, AGM, Collier and Catchpole, Hudson Group, Simply Climate Control and Renzland Powergates. My gratitude goes to all the meeting and programme sponsors throughout the season and they really help keep the club going and have a good night when they are here. They are growing in numbers which is really good for the club.
Mike Smillie and Dave Wilkins work extremely hard behind the scenes and they keep the business ticking over and my thanks also go to Keith Suffling for his hard work at the start of the season to help improve our brand image.
Also I'd like to thank Henry Chard for his hard work on the website, social media and press releases. He has turned our social media department into the envy of most clubs and has done an awesome job.
Of course all of the club staff, the meeting staff, the track staff and the fence gang should not be forgotten. I can't name individuals as there are so many but all these people ensure the meeting runs smoothly and happens every week so a massive thanks to them, they know who they are.
Lastly I'd thank to thank the fans for their continued support of the team. We hope to bring you some news about 2017 after the AGM.
Chris