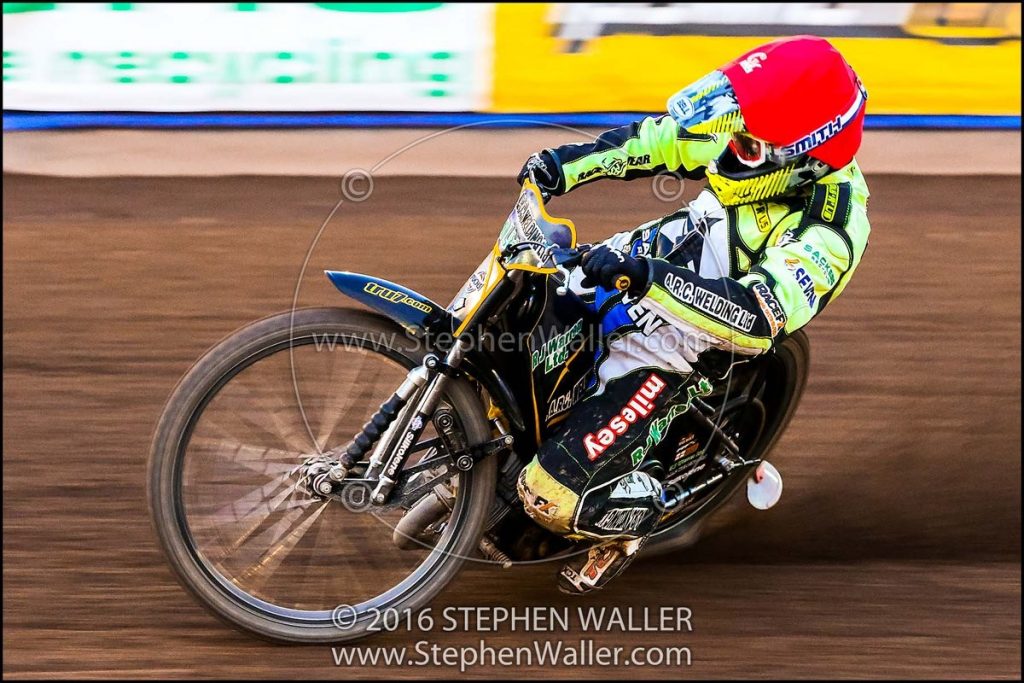 The 'Tru7.com' Witches face the Somerset Rebels in the first leg of the Premier League Play-Off Semi-Final at the Oak Tree Arena on Friday (7.30pm).
Having knocked out the reigning champions Edinburgh the Witches now take on the Rebels who finished top of the league table and were seeded directly to the Semi-Final stage.
Ritchie Hawkins is again without Danyon Hume at number seven and Connor Coles comes to the rescue again to guest for the Witches. The boss has also decided to make a change to the riding order for Friday's clash with Nico Covatti moving to number five and Ben Barker going to number three.
The Rebels were the stand out team in the league phase and were undoubtedly the team to beat throughout the season. Somerset boasted a 100% record at home and lost just four times on the road in the league, a measure of the test ahead for the Suffolk side. However, they have been hit by injuries in recent weeks and will be without reserve pair Bradley Wilson-Dean and Zach Wajtknecht for the crucial clash. Rye House's Robert Branford comes in at number six with Tom Bacon riding at seven.
The Witches did not enjoy the best of fortunes against the Rebels in the league season, losing heavily at the Oak Tree Arena and will be determined to put things right over the two legs.
Team Manager Ritchie Hawkins says his side will go into Friday with the same mindset – to win.
"Somerset finished top of the table going into the Play-Offs but we are in the Semi-Final of the Play-Offs so every meeting is going to be tough," said Hawkins. "The mood in the camp is amazing and confidence is at a massive high and everyone's determination and focus is in the right place and we go there looking to win."
The boss says he does not want to rush Hume back into the side and believes Coles deserves another go at number seven.
"We never expected Danyon to be back for this meeting. I'd rather he didn't return until he is fully fit. I know it is massive for the club and the town to go and get another league title but he has his career and his future to look after so he has got to be fully fit if he comes back this year.
"We like having Connor in the team and he fits in well. He suffered a lot of machinery problems at Edinburgh and he knows that is not good enough at this level but he deserves another go and we like having him. At this stage of his career it's about learning from his mistakes so we will see how he goes at Somerset."
Hawkins is not fearful of going to the Oak Tree Arena and says that previous results hold no relevance to the upcoming clash.
"The way we are riding and with the confidence we have, we are only focusing on ourselves.  If we perform as we have been we will get the result we want and I'm not scared of going there at all.
"History is what it is and it has no relevance to the next meeting. We are a different side now in a different frame of mind. Even if we won Friday we've still got to win Thursday so it makes no difference what way round it is."
It's been a hectic time for Hawkins with the birth of his son Stanley last weekend and he is looking to make it the perfect month with a league title.
"It would be the perfect month to get the championship title as well. I always believed we would get this far and now it is about keeping the ball rolling. I'm a proud Dad now and it has been a really happy time for Anna and I."
'Cases' Somerset Rebels: 
1. Rohan Tungate 9.03
2. Jake Allen 5.96
3. Charles Wright 6.59
4. Paul Starke 6.62
5. Josh Grajczonek (c) 8.90
6. Rob Branford (g) 4.60
7. Tom Bacon (g) 3.00

Team Manager: Garry May
Ipswich 'Tru7.com' Witches:
1. Danny King (c) 9.57
2. James Sarjeant 5.80
3. Ben Barker 7.91

4. Morten Risager 7.13
5. Nico Covatti 7.49
6. Joe Jacobs 5.36
7. Connor Coles (g) 3.00

Team Manager: Ritchie Hawkins
Premier League Play-Off Fixtures:
Semi-Finals:
Somerset vs Ipswich
Glasgow vs Sheffield
Last five results at Somerset:
29.04.16 L31-61
18.08.15 L42-48
17.04.15 D45-45
10.10.14 L36-54
22.08.14 L31-59

Somerset Rebels Factfile
Main Sponsor: Cases Ltd
Team Colours: Blue, White and Red
Race-Night: Friday (7.30pm)
Website: www.somersetrebels.co
Track Length: 300 metres
Track Record: 56.68 seconds, Craig Cook (September 29, 2015).
Admission Prices:
Adults: £15
OAP/Students: £13
Young Adults (12-18 inclusive) :£4
Children (11 & Under): Free
Programme: £2.50
Car Park: £1
Stadium Address
The Oak Tree Arena, Bristol Road, Edithmead, Nr Highbridge, Somerset, TA9 4HA
Telephone: 01278 782216
By Train: The nearest railway station is Highbridge (approximately two miles from the track).