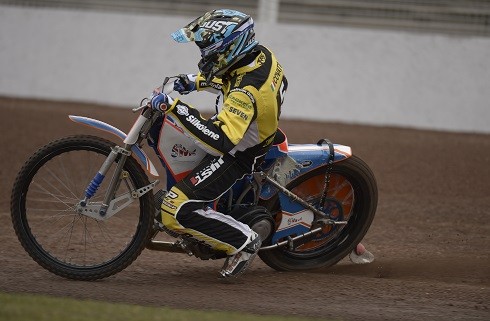 The Ipswich 'Tru7.com' Witches welcome the Sheffield Tigers back to Foxhall on Saturday for the re-arranged League Cup clash (7.30pm).
The original staging was rained off on the night and both sides will be hoping the weather is kind in Suffolk this weekend. The two sides met at Owlerton on Thursday with the Tigers edging out the Witches 47-43 and ending the Witches' League Cup hopes for 2016.
Thursday's result also means the Tigers are through to the next stage of the League Cup but the Witches will be determined to continue their improvement over the past few meetings and put on a show for the home faithful at Foxhall.
The two sides will once again be at full strength for the  clash and the Witches will be out to inflict the Tigers' first defeat of 2016. Last time the two teams met at Foxhall the Tigers took the points home with a 49-44 win in last season's Premier League.
Team Manager Ritchie Hawkins is looking to continue the recent improvement and says he won't need to motivate the team despite already being out of the competition.
"We need to keep up our improvement from here and it's important we win on Saturday," said Hawkins. "We need to improve again on last week at Foxhall ready for the Premier League next week against Somerset, where it all starts properly with two meetings in two days.
"I won't have to gee them (the riders) up to do anything. They're going to be out there sticking to their plans and improve in the League Cup, ready for the Premier League. That was our plan and that is what is happening. In that respect it is going according to plan at the moment and I'm happy with their improvement and their effort, so we just need to carry that on come Saturday."
Meeting Sponsor:  RN Euston Construction
Ipswich 'Tru7.com' Witches:
1. Danny King (c) 9.54
2. James Sarjeant 4.88
3. Lewis Kerr 6.85
4. Morten Risager 6.86
5. Nico Covatti 7.55
6. Paco Castagna 3.33
7. Darryl Ritchings 3.00
Team Manager: Ritchie Hawkins
Sheffield 'Window Centre' Tigers: 
1. Simon Stead (c) 10.41
2. Dimitri Berge 4.14
3. Kyle Howarth 6.98
4. Josh Bates 5.44
5. Jason Garrity 8.46
6. Richard Hall 4.04
7. Nathan Greaves 3.00
Team Manager: Eric Boocock
League Cup table
| | | |
| --- | --- | --- |
| Team | Pl | Pts |
| Sheffield | 5 | 14 |
| Peterborough | 5 | 10 |
| Witches | 4 | 6 |
| Scunthorpe | 6 | 5 |
Last five home results v Tigers:
04.05.15 L44-49
30.08.14 W54-36
05.09.13 W60-32
27.09.12 W57-35
20.10.11 W50-40
Tigers' last five:
LC Tigers 47-43 Witches
LC Peterborough 44-49 Tigers
LC Tigers 49-41 Scunthorpe
LC Tigers 45-45 Peterborough
LC Scunthorpe 43-50 Tigers