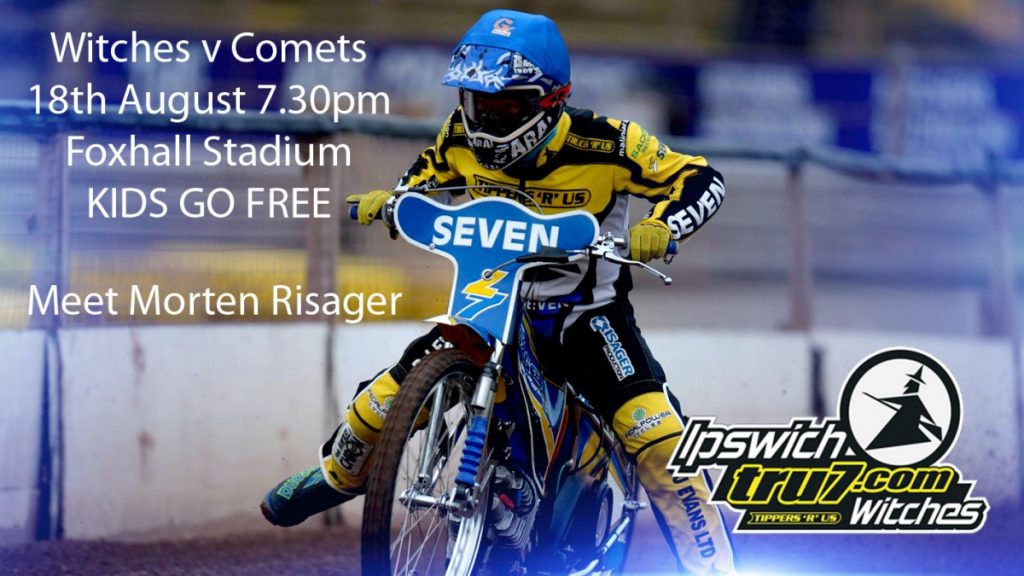 The 'Tru7.com' Witches play host to the Workington Comets at Foxhall on Thursday as the race for the play-offs hots up (7.30pm).
It's been a busy start to the month for the Witches; after a draw at Sheffield Ritchie Hawkins' side hammered Scunthorpe at Foxhall last week before heading on a northern tour last weekend. A battling point was earned at Workington on the Saturday before a disappointing defeat at Glasgow on the Sunday.
The Witches currently occupy the last play-off spot but with teams like Workington and Newcastle below and with meetings in hand Director of Speedway Chris Louis has said the team need a perfect end to the season to stand a chance of making it.
The Comets are one of those teams chasing the Witches but they will be without Kenneth Hansen for Thursday's clash due to his Swedish play-off commitments. Rider Replacement will be used in his absence. The Comets recorded a two point win over the Witches in Cumbria last weekend but the Witches must ensure the Comets go home with nothing to keep their play-off hopes alive.
Louis says the team go into the meeting with confidence high after a string of good home performances.
"I think the run of four home meetings was what we could have done with at the start of the season to be honest, we had a very sporadic fixture list at the start of the season," said Louis. "Looking back that didn't do us any favours but it wasn't designed to be that way. With the team we had that was the best we could do.
"The run of home meetings has given them a lot of confidence though and I don't see Workington being any different. We were a match for them at their own track so I'd be disappointed if we weren't at home! In this league you can't take anything for granted, we've seen so many odd results that you just can't believe so we will have to be at our best. "
Louis believes that the Comets are only weakened slightly by the absence of Hansen.
"They are without Kenneth Hansen which I think makes them weaker because in the last few weeks he has been in a rich vein of form. His Foxhall form might not have been as good but they've got Claus (Vissing) who is an ex-Witch that can take a ride but I think that will hit them a little bit but not too much."
Despite confidence being high at Foxhall Louis knows that anything can happen in the Premier League and the Suffolk side need to be at their best.
"You can't bank on anything, no one would have thought Scunthorpe would go to Peterborough and win. We can't assume that we'll win because Workington's away form hasn't been very good because at some point they will win one because everyone has. We have to make sure that it doesn't happen on our patch because we can't afford to drop any points home or away which isn't impossible but it'll be tough."
With the school holidays in full swing our summer promotion continues as KIDS GO FREE to all of our summer meetings! Prior to the meeting fans will have the chance to meet Morten Risager who will be up by the turnstiles inside the stadium with his bike for fans to have photos with. Morten will be signing autographs from 6.45pm until around 7.10pm.
Meeting Sponsors: RN Euston Construction & Simply Climate Control
http://www.simplyclimatecontrol.com/
Ipswich 'Tru7.com' Witches:
1. Danny King (c) 8.86
2. James Sarjeant 5.13
3. Nico Covatti 7.52
4. Morten Risager 6.73
5. Ben Barker 7.42
6. Joe Jacobs 4.07
7. Danyon Hume 3.00

Team Manager: Ritchie Hawkins
Workington 'Thomas Armstrong' Comets:
1. Ricky Wells (c) 8.48
2 .Mason Campton 5.63
3. Rasmus Jensen 6.06
4. R/R for Kenneth Hansen 7.40
5. Claus Vissing 8.27
6. Adam Roynon 5.29
7. Matt Williamson 3.39

Team Manager: John Sampford
Premier League table
| | | |
| --- | --- | --- |
| Team |   Pl     | Pts   |
| Somerset | 17 | 49 |
| Glasgow | 20 | 46 |
| Peterborough | 18 | 34 |
| Edinburgh | 17 | 33 |
| Sheffield | 18 | 31 |
| Witches | 19 | 27 |
| Workington | 16 | 26 |
| Newcastle | 13 | 25 |
| Berwick | 21 | 25 |
| Rye House | 16 | 19 |
| Redcar | 17 | 19 |
| Plymouth | 18 | 19 |
| Scunthorpe | 16 | 12 |
Last five home results v Comets:
06.08.15 W58-35
21.08.14 W60-36
26.09.13 L43-47
15.08.13 W53-37
25.04.13 W55-35

Comets' last five:
PL Comets 46-44 Witches
PL Redcar 50-43 Comets
PL Glasgow 59-31 Comets
PL Comets 52-41 Newcastle
PL Comets 47-43 Peterborough