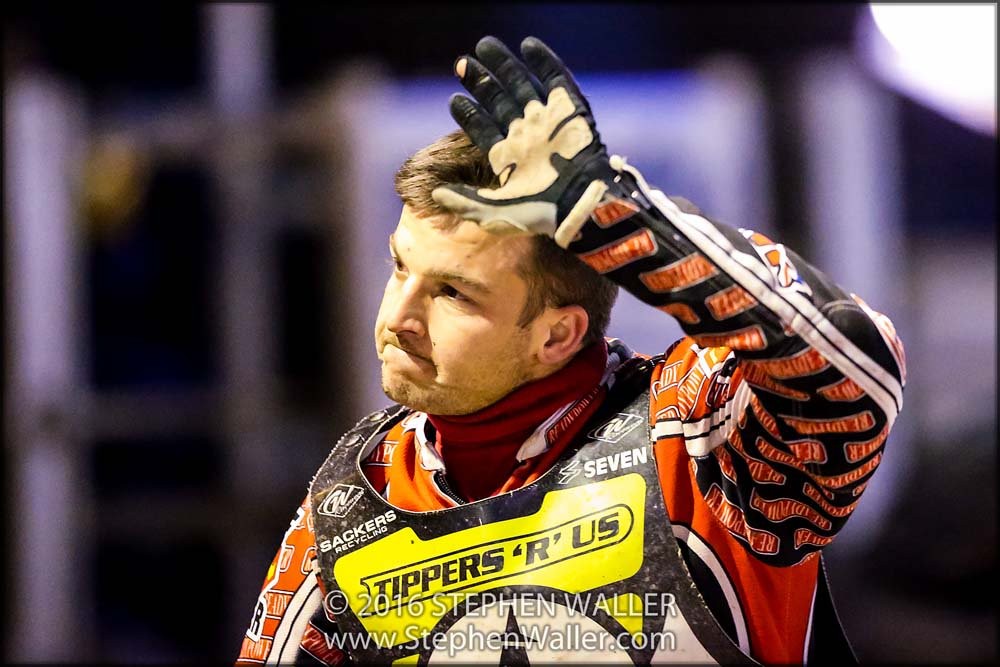 The 'Tru7.com' Witches were beaten 49-41 by the Somerset Rebels at Foxhall on Thursday as their Premier League title hopes came to an end.
The Witches had 16 points to make up from the first leg but the Rebels were too strong on the night and progressed to the final winning 102-78 on aggregate.
There wasn't much between the two sides on the night with the Witches only ever building a four point lead and once the Rebels' progress was confirmed, they added some gloss to the final score. Nico Covatti top scored with 10+1 for the Witches.
Nerves were evident and it was no surprise to see heat one stopped due to an unsatisfactory start. Danny King was majestic in the re-run smashing the track record in a time of 55.8 seconds to win as the opening heat was shared. Robert Branford won for the Rebels in heat two ahead of Joe Jacobs as both Connor Coles and James Shanes fell and remounted during the race with the Witches man getting third for another 3-3. Heat three had to be stopped after Paul Starke fell on the first lap having been passed by Nico Covatti at the front and the Rebels man was excluded. It was a fantastic race in the re-run as Covatti and Charles Wright traded moves throughout with the away rider coming out on top for another shared heat. The away side edged ahead in heat four as Josh Grajczonek won and Shanes passed Coles on the final bend to take third after Coles had done well to originally get himself into third. That heat advantage gave the Rebels a 13-11 lead.
Rohan Tungate won heat five as Covatti and Risager both got round Jake Allen on the opening lap to prevent another heat advantage for the visitors. The Witches got their first heat advantage in heat six after a couple of re-runs as King was impeccable out front once again and was joined by James Sarjeant who rode fantastically to get himself into second for a 5-1 to the home side. Ben Barker was a winner in heat seven but Jacobs couldn't get into the points meaning another 3-3. Coles was excluded in heat eight as he caused Allen to fall. Sarjeant won after another re-run to ensure the Rebels did not capitalise leaving the Witches 25-23 up.
Covatti won heat nine with Risager in third for a heat advantage to stretch the lead and give the home side hope of a comeback. Heat 10 needed another re-run as Wright won ahead of King who had done well to get past Starke and into second with Sarjeant retiring with machinery problems meaning a 4-2 to the away side. Tungate won heat 11 as Barker got past Allen to take second but another 4-2 to the visitors levelled the scores at 33-33 meaning the Witches needed four 5-1's to level the aggregate score.
It was all over after heat 12 as Covatti led the race until the final turn when he went too wide allowing Wirght through to take the win with Branford third for a Rebels 4-2. Heat 13 summed up the Witches' night as King retired early on after losing his chain and the Rebels pair went on to record a 5-1. Starke won heat 14 as Jacobs got past Shanes for second but it was another Rebels heat advantage as Witches heads had dropped. It was a share of the points in heat 15 that left the final score 49-41 to the Rebels who progress to the final.
Team Manager Ritchie Hawkins said his side did not get off to the start they had hoped for in the meeting and admitted the Witches were second best.
"We didn't get off to a good enough start tonight to pull the points back and then when we couldn't get through on aggregate everyone's heads dropped and made the result look worse than it was. We have done well to get here and were beaten by the better team," said Hawkins.
The boss said a better first half of the season wouldn't have guaranteed a better pick in the Play-Offs.
"If we had started the season well we probably wouldn't have had such a good team as we do now and we still would have been beaten by Somerset as they were better than us. It is all ifs buts and maybes really. We did as well as we could have and we got as far as we could and that is the way it is."
Hawkins praised his side's efforts this season and thanked the supporters for their continued support.
"On the main it has been a pleasure to deal with everyone. After the start to the year we had the effort they have given me has been brilliant and I have been proud to work with them all season. We have come a long way to get to the semi-final which is not an easy feat although it is not the ultimate goal we wanted. It's not been a disastrous season.
"The crowd tonight was terrific but I'd like to thank everyone who stuck with us through the bad times. It was a tough start to the season and they kept coming every week and supporting us and I'd like to give them my thanks and they have seen some very good meetings as well."
Ipswich 'Tru7.com' Witches 41 (78)
Danny King (c) 8
James Sarjeant 5+1
Nico Covatti 10+1
Morten Risager 4+1
Ben Barker 9+1
Joe Jacobs 4
Connor Coles (g) 1+1 
'Cases' Somerset Rebels 49 (102)
Rohan Tungate 13+1
Jake Allen 5
Charles Wright 11
Paul Starke 5+1
Josh Grajczonek (c) 8+1
Rob Branford (g) 4
James Shanes (g) 3+1
RN Euston Construction Rider of the Night: Nico Covatti
Thank you to all supporters for your continued support all season. We look forward to seeing you back at Foxhall in March!