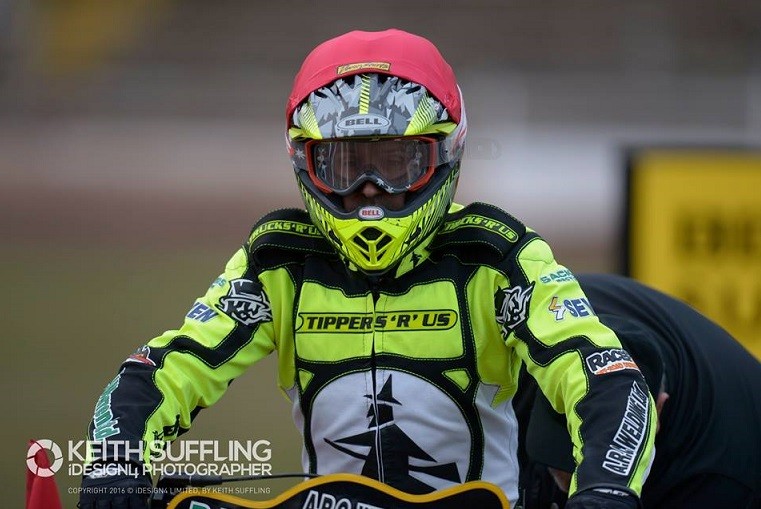 The 'Tru7.com' Witches make the short trip to East Anglian rivals Peterborough on Sunday in the final League Cup match of the group (5.00pm).
Both sides know they cannot progress to the next round whatever the result on Sunday but with local bragging rights at stake, the action is sure to be competitive as always.
After crashing out of both cup competitions already this season the Witches got their first league points of the season on Thursday with victory over champions Edinburgh at Foxhall. Team Manager Ritchie Hawkins will be hoping his side can now build up some momentum as they look to find some consistent form to propel the Witches up the league table.
The League Cup clash between the two sides comes just eight days before the sides meet again at the Showground in the Premier League and the Witches will not only be looking for a League Cup win but will be keen to learn as much as possible ahead of the big league clash.
The Panthers have undergone a major team revamp since the side's met earlier in the season at Foxhall in the League Cup where the Witches ran out 48-42 winners. The Panthers completed one of the signings of the season so far as they swooped for Craig Cook to become their new number one. Tom Stokes has also come into the side and the British pair replace the outgoing Danish duo of Nicklas Porsing and Michael Palm Toft and will make their debuts against the Witches on Sunday.
However, the Panthers will be without the injured Tom Perry who suffered a broken collarbone in a crash for Birmingham this week as well as a dislocated shoulder. Kenneth Hansen will also guest for the injured Nikolaj Busk Jakobsen who is still recovering from an injury sustained at Plymouth earlier this month.
Despite nothing riding on the outcome, Witches boss Hawkins wants his side to go out and prove they deserve to wear the Witches badge after a poor start to the season.
"It's a chance for the boys to try some new things and try and get themselves ready for the next meeting," said Hawkins. "They've also still got to go out and prove to Chris (Louis) and I that they deserve to be wearing the Witches badge. The results are not good and there is no covering that up so it's a chance for them to go out and show us that they deserve to be here wearing the badge.
"I love the club and when it's a struggle I feel it and it hurts me like it hurts the supporters, we are working our nuts off to improve the situation."
Hawkins is unsure how the team changes are going to affect the Panthers but believes losing Perry will be a blow to them.
"I don't know how it is going to work out for them, they are probably set up quite top heavy now. I think Tom Perry has been going really well so it's unfortunate for him that he has picked up an injury. He's been working hard and has finally made a step up and the poor boy has got injured, you have to feel for him.
"That makes them weaker as a team and I believe he is the first number seven to jump up into the main body of the team, so we will see. "
Peterborough 'T.Balfe Construction' Panthers:
1. Craig Cook 10.35
2. R/R for Tom Perry 5.58
3. Ulrich Ostergaard (c) 8.13
4. Emil Grondal 5.35
5. Kenneth Hansen (g) 7.42
6. Simon Lambert 4.63
7. Tom Stokes 3.00
Team Manager: Jason Attwood
Ipswich 'Tru7.com' Witches:
1. Danny King (c) 9.41
2. Lewis Kerr 7.03
3. Morten Risager 6.98
4. James Sarjeant 4.41
5. Nico Covatti 7.84
6. Paco Castagna 3.00
7. Oliver Greenwood 3.00
Team Manager: Ritchie Hawkins
League Cup table
| | | |
| --- | --- | --- |
| Team | Pl | Pts |
| Sheffield | 6 | 14 |
| Peterborough | 5 | 10 |
| Witches | 5 | 9 |
| Scunthorpe | 6 | 5 |
Last five results at Peterborough:
12.06.15 W46-44
06.04.15 L37-56
19.08.14 W47-42
10.06.14 L43-47
18.04.14 L40-52
Peterborough Factfile
Main Sponsor: T Balfe Construction
Team Colours: Red, white and black
Race-Night: Sunday (afternoon)
Website: www.peterboroughpanthers.co
Track Length: 336 metres
Track Record: 58.4 seconds (Krzysztof Kasprzak, 20th September 2010)
Admission Prices:
Adults: £15
Concessions (Over 65s and Students): £12
Juniors (aged 12-16): £5
Children (under 12): Free
Programme: £2.50
Car Parking: £1
Stadium Address
Peterborough Speedway, East of England Showground, Alwalton, Peterborough, PE2 6XE
Telephone: 07760 162164
By Train: The nearest station is Peterborough, which is on the mainline from London King's Cross to Scotland. The East of England Showground is five miles from the station.