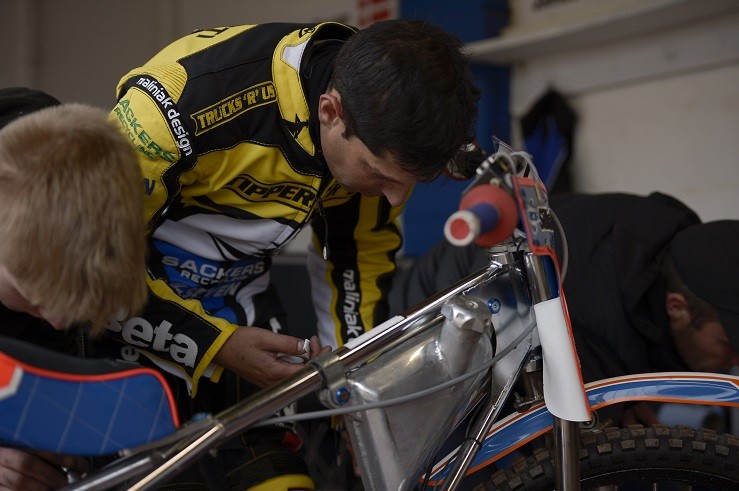 Nico Covatti has been in blistering form for the 'Tru7.com' Witches so far this season and was top scorer in the win over Sheffield on Saturday with 13 but admitted that he wants to improve on his starts.
"At the start of the meeting it wasn't great for me," said Covatti. "I had some bike problems early on but we made some changes and it was good from then on as we got better heat by heat. I'm not totally satisfied though as I still have to improve from the start. The bikes are fine during the race but it's difficult to overtake on small tracks but I'm fairly happy with my performance."
The Argentinean born racer has been a model of consistency in 2016 firing in big scores every meeting but is still looking to add to his performances. Covatti was also pleased to see his good friend Paco Castagna find some form in 2016 on Saturday.
"I'm happy with my form so far this season but I don't want to settle for this; I want to get more points. You can't get complacent at this level and my objective is to score more points, improve my average and reach my maximum potential. I'm happy for all the boys too, especially Paco who has found it difficult so far on the English tracks but today he has shown what he can do."
After exiting the League Cup, the 27-year-old believes the team are now better prepared to embark on the Premier League campaign.
"We are more consistent now, the guys have ridden the track a few times and seen what it is all about; the different lines and such, so the League Cup has been a good practice in a way but now we have to really focus and work hard for the Premier League."
Covatti 2016 Stats
Meetings: 6
Heats: 29
1st: 15
2nd: 9
3rd: 4
4th: 1
Total Points: 67
BP: 1
2016 CMA: 9.24
Covatti Facts
Date of Birth: 19th June 1988, Coronel Pringles (Argentina)
Nationality:Italian
British Career:
2012-14 Birmingham Brummies
2014 Sheffield Tigers
2015-Present Ipswich Witches