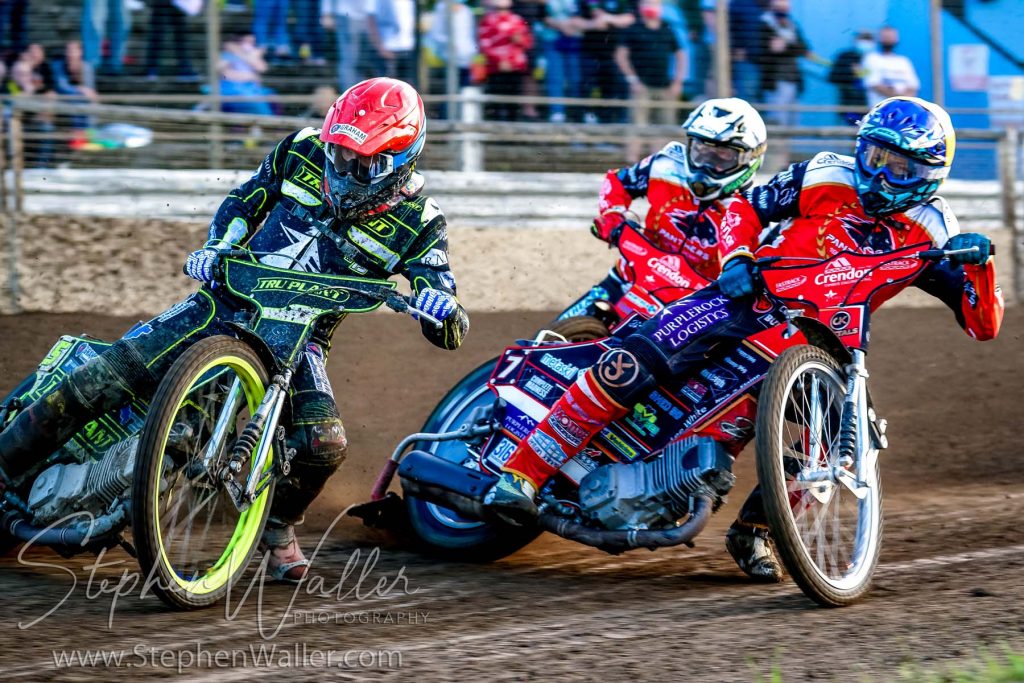 By Henry Chard
MEETING SPONSOR
ATPS Construction
THE SCORES
IPSWICH 41: Paul Starke 1, Danny King © 13+1, Jake Allen 8, Craig Cook 14+1, Anders Rowe 4, Drew Kemp (RS) 1+1. Team Manager: Ritchie Hawkins
PETERBOROUGH 49: Bjarne Pedersen 6+2, Hans Andersen 11+2, Michael Palm Toft 2, Scott Nicholls © 10+2, Chris Harris 7+1, Jordan Palin (RS) 0, Ulrich Ostergaard 13+1. Team Manager: Rob Lyon
REFEREE: D. Watters
PREMIERSHIP TABLE
| | | |
| --- | --- | --- |
| Team | Meetings | Points |
| Belle Vue | 5 | 13 |
| Wolverhampton | 4 | 10 |
| Peterborough | 4 | 9 |
| Ipswich | 7 | 7 |
| Sheffield | 4 | 4 |
| King's Lynn | 4 | 3 |
WHAT HAPPENED?
The 'Tru Plant' Witches fell to their fourth consecutive defeat as they were beaten by the Peterborough Panthers at Foxhall on Thursday night in the Premiership.
Ipswich went into the meeting without the injured Jason Crump with rider replacement in operation at number one but were boosted by the arrival of new signings Craig Cook and Paul Starke. However, Peterborough proved too strong on the night and led from start to finish to take victory. Cook top scored on his debut for the club with 14+1 from seven rides.
It was the perfect start for the Panthers in heat one as former Witch Hans Andersen was joined by fellow Dane Bjarne Pedersen for a 1-5. The points were shared in heat two before skipper Danny King got the first Witches win of the night in heat three as visiting captain Scott Nicholls passed Jake Allen to limit the hosts to a 4-2. Cook got his first win in Witches colours in heat four in a 3-3 that left the away side ahead by two after four races.
The Danish duo of Pedersen and Andersen were at it again in heat five as they recorded another maximum with King retiring with mechanical issues. With the hosts six points down, team manager Ritchie Hawkins immediately put Cook in as a tactical substitute in heat six and he duly won with fellow debutant Paul Starke picking up his first point for the club for a heat advantage. Cook was a busy man and took victory again in heat seven but as he did in heat three Nicholls split the home pair, passing Rowe to deny the home team a first maximum of the night. The away side restored their six-point lead with another 1-5 in heat eight via Ulrich Ostergaard and Andersen who was still to be beaten by an opponent after three rides.
Ipswich did get their first 5-1 of the night in heat nine though as Allen and King took victory to go within two points of the Panthers. The visitors responded straight away with a maximum in heat 10 as Ostergaard continued his excellent night with another win and was followed home by Nicholls. Cook was enjoying a fine home debut and took the chequered flag again in heat 11 as the points were shared. King won heat 12 for the Witches but Drew Kemp couldn't get amongst the points, meaning the race was shared, leaving the Panthers six points up and in a strong position to take the victory.
Heat 13 looked like it might be a maximum to Peterborough as Chris Harris and Pedersen made the start, but the home duo of King and Cook worked their way past Pedersen to deny the away side any heat advantage. However, defeat was confirmed for Ipswich in heat 14 as Nicholls passed Allen late on to record victory in a 2-4 to the away side that put them eight points up with one to race. King ended the night with another race victory in heat 15 but a shared heat confirmed an eight-point victory for the visitors which secured them four league points.
HAWKINS REACTION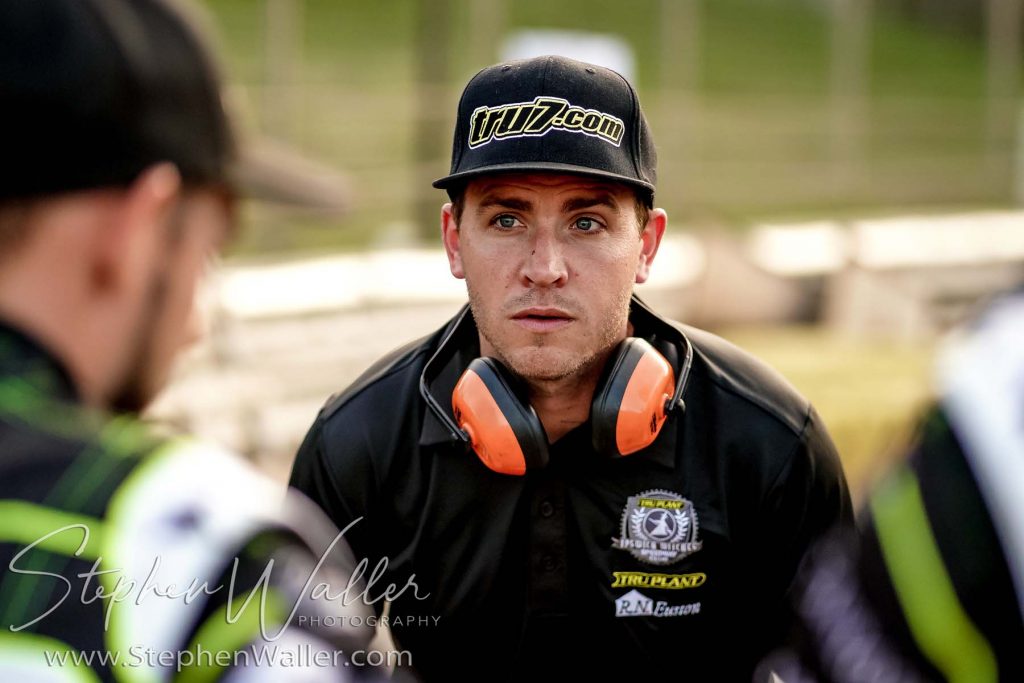 Ipswich 'Tru Plant' Witches team manager Ritchie Hawkins reflects on Thursday's defeat to the Panthers.
"It is hard to take defeat, we had plenty of race winners but there were too many last places. We weren't getting heat advantages. Cookie (Craig Cook) was brilliant making his home debut and that is a positive. Danny was great, he had an engine failure which ruined one heat, but we looked like a six-man team versus seven.
"We brought in the best two guys we could have. Starkey (Paul Starke) wasn't quite there setup wise at the start but I'm sure he will come good and get his head around it to get it working. Cookie was terrific and did an amazing job. It is hard coming in and doing seven heats, but he gave us everything and scored loads of points.
"We are in a really low point and it is a short season so we will need to turn it around quickly. I think that is possible once Crumpy (Jason Crump) is back and we have the base of a good team still. Yes, it is a low point and it is a tough time but we have come back from hard moments and bad situations plenty of times, being bottom of the league, so it is not unheard of for people to turn it around and come good. That is what we will be looking to do, and we will be putting everything into it.
"We have got 10 days off now so in a week's time we will know more where Jason is at, but recovery is going well."
ATPS CONSTRUCTION RIDER OF THE NIGHT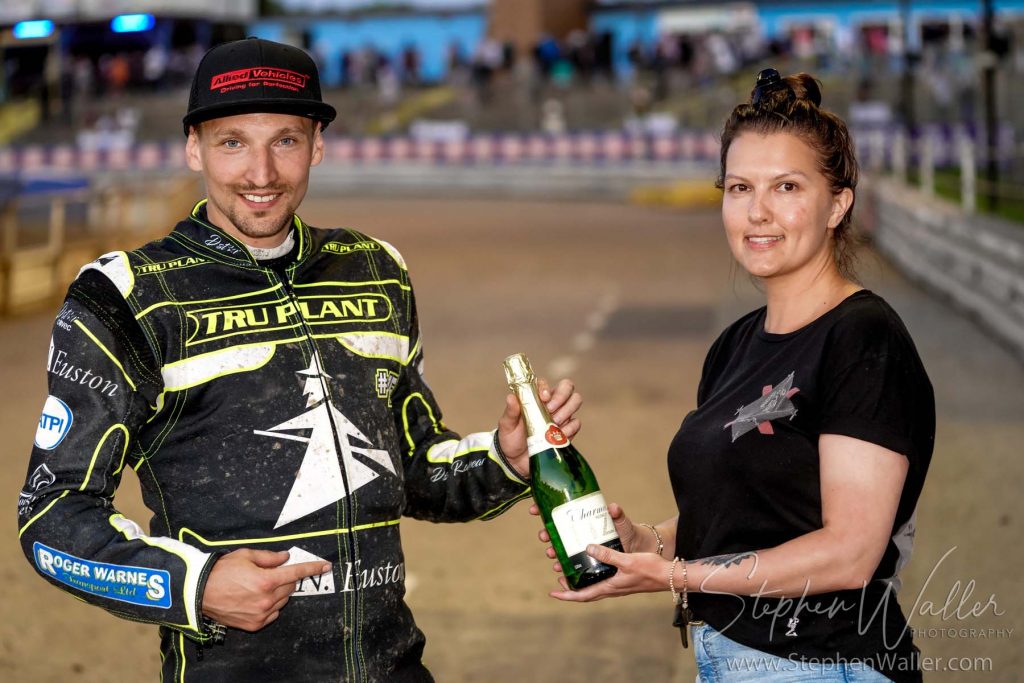 Debutant Cook impressed the sponsors as he scored 14+1 from seven rides.
WHAT IT MEANS
Ipswich drop to fourth after another defeat whilst Peterborough collect four league points and go above Ipswich into third.
WHAT'S NEXT?
The 'Tru Plant' Witches travel to the East of England Arena & Events Centre to take on the Peterborough Panthers on Monday 21st June in a Premiership fixture. Tickets can be purchased here.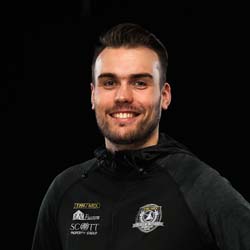 Digital Media Manager at Ipswich Speedway