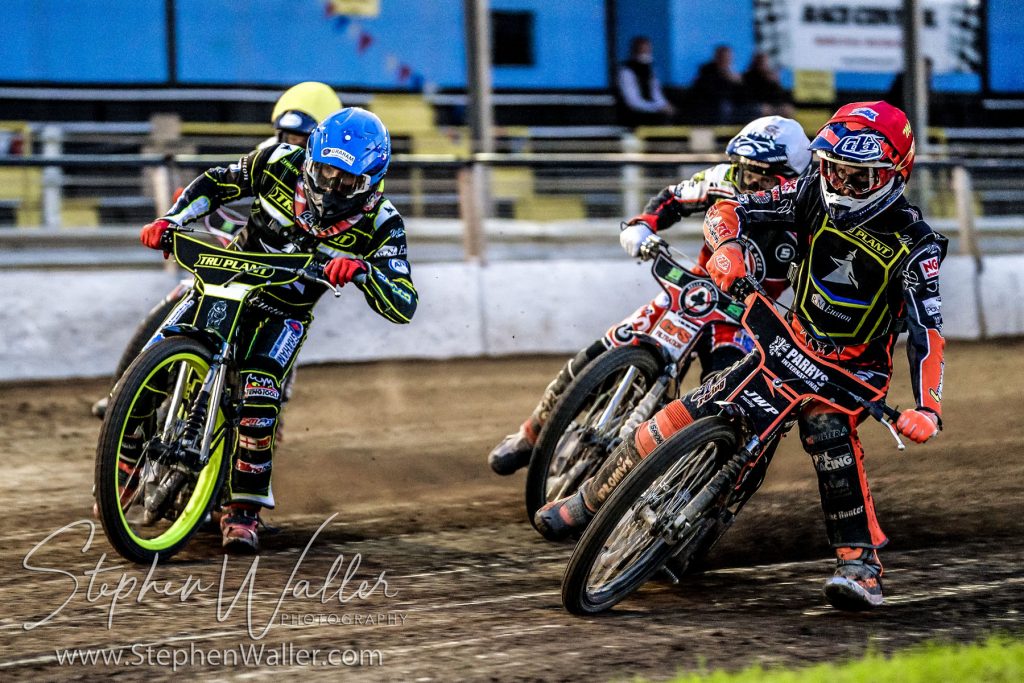 By Henry Chard
MEETING SPONSOR
ATPS Construction
TEAMS
IPSWICH 48: Sam Masters (g) 10+1, Danny King © 5+1, Jake Allen 8+1, Craig Cook 15 (Maximum), Drew Kemp (RS) 1, Paul Starke 9+1. Team Manager: Ritchie Hawkins
BELLE VUE 42: Brady Kurtz 13, Richie Worrall 6+3, Steve Worrall © 8+1, Charles Wright 0 (Withdrawn), Dan Bewley 7+1, Tom Brennan (RS) 5, Jye Etheridge 3+1. Team Manager: Mark Lemon
REFEREE: D. Robinson
PREMIERSHIP TABLE
| | | |
| --- | --- | --- |
| Team | Meetings | Points |
| Peterborough | 8 | 22 |
| Belle Vue | 8 | 19 |
| Wolverhampton | 7 | 17 |
| Ipswich | 12 | 15 |
| Sheffield | 8 | 11 |
| King's Lynn | 7 | 3 |
WHAT HAPPENED?
The 'Tru Plant' Witches made it two wins in a week as they inflicted only a second defeat of the season on the Belle Vue Aces at Foxhall on Thursday in the Premiership.
The home side were without the injured Jason Crump and Anders Rowe for the fixture and could not shake off the visitors in the opening 11 races, building a four-point lead on two occasions only to be pegged back twice. That left the scores level going into the final four heats and Ipswich struck with two consecutive 5-1's to go eight ahead and although the Aces hit a maximum of their own in heat 14 to take it to a last-heat decider, the Witches saw out the victory with a 4-2 in the final race of the night. Craig Cook was sublime for the hosts recording a 15-point maximum.
Sam Masters, in as a guest for the injured Crump, won a shared heat one and did so in the quickest time of the season at Foxhall. Paul Starke continued his good form on from Monday night's win at King's Lynn and won heat two as the points were shared again. The hosts went in front after heat three as Danny King and Jake Allen hit the front for a 5-1 as the race was awarded with Charles Wright falling late on in the race. Cook made it four race wins from four for the home team as he took the chequered flag in heat number four, keeping the Witches four points ahead.
The scores were level again after heat five though as Brady Kurtz and Richie Worrall couldn't be caught at the front and hit a 1-5. Dan Bewley got his first win of the night in a shared heat six before it was confirmed that Wright had been ruled out of the rest of the meeting following his heat three crash. Wright's replacement in heat seven Richie Worrall missed the two-minute time allowance and was replaced by reserve Jye Etheridge. After the delay to the start of the race, Cook came out and made it two wins from two beating Steve Worrall and Drew Kemp picked up a point to edge Ipswich ahead again. The Suffolk side doubled that lead in heat eight as Allen won and Starke was third for another heat advantage.
Allen led heat nine but was beaten on the run to the line by Bewley and despite putting big pressure on Bewley for second all race, King was forced to retire on the last lap with mechanical issues, allowing Tom Brennan through for third and an Aces 2-4. It was level again after heat 10 as the Manchester club picked up another heat advantage and it stayed that way after heat 11 as Cook made it three wins from three but the points were shared. Ipswich did go ahead again after heat 12 though as Starke and King teamed up for an important 5-1 to put the hosts four up with three to race.
Cook's sublime night continued as he raced to victory in heat 13 and was followed home by Masters for a 5-1 that put the hosts on the brink of winning the contest. Aces boss Mark Lemon responded to going eight points behind by putting in Kurtz as a tactical substitute in heat 14 and it worked to perfection as he won and was joined at the front by Steve Worrall for a maximum that took it to the final heat. However, Cook completed his perfect night by winning heat 15 and despite being passed by Kurtz, Masters was third for a point that gave Ipswich a 4-2 and ensured a home win to the delight of the Foxhall faithful.
HAWKINS REACTION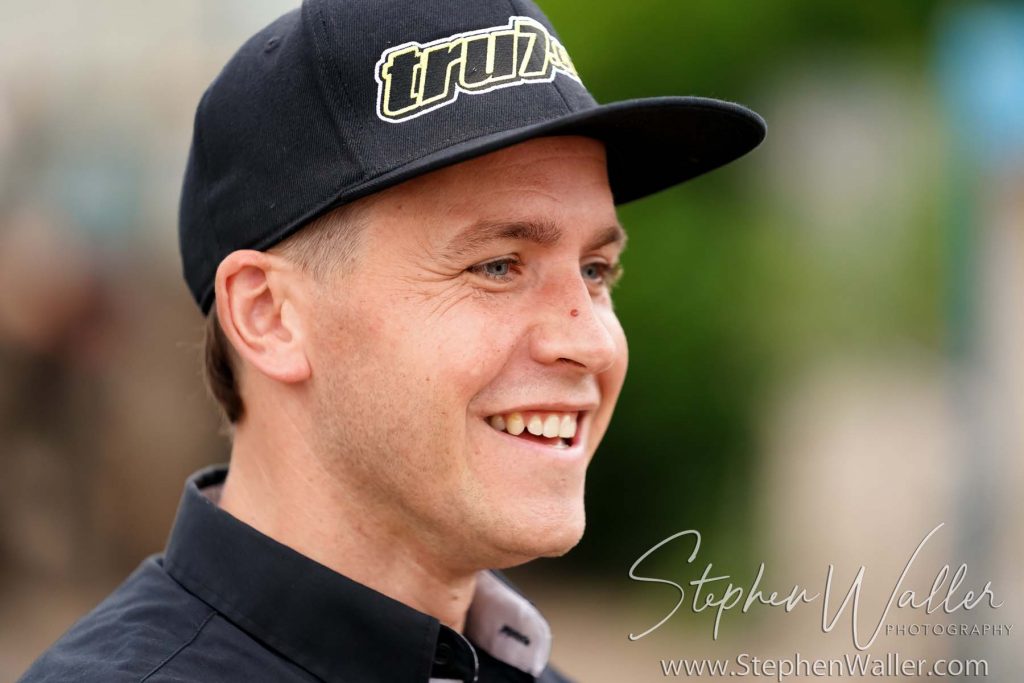 Ipswich 'Tru Plant' Witches team manager Ritchie Hawkins reflects on Thursday's win over Belle Vue.
"It was nip and tuck all meeting and it was another close one. It would be nice not to have last-heat deciders every week to get a win! The boys came out after the interval after speaking about having four heats to keep our season alive and they came firing out with two 5-1s. That put us in a great position to get the win.
"Cookie (Craig Cook) is really enjoying his time with us and he certainly got something working tonight. He is one of those guys who when they get in that mode, they are very difficult to beat. Today his starts were awesome, and he was quick, and he got everything right tonight. I'm really pleased for him and how he has conducted himself and fitted into the club from the word go. He has become an integral part of the team very quickly.
"We needed those two wins this week. We still have a big task ahead of ourselves to push for the play-offs, but we are still in the picture at least. We have got to concentrate on getting wins and then we will worry about the league table later in the year."
ATPS CONSTRUCTION RIDER OF THE NIGHT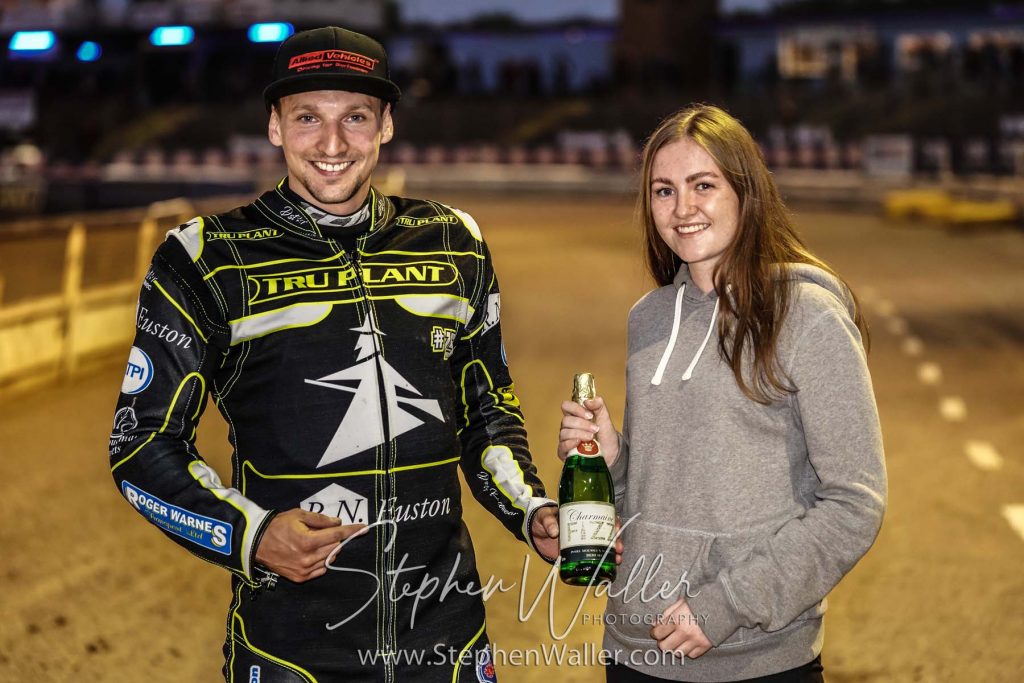 Cook was the obvious choice from the sponsors with five wins from five rides.
WHAT IT MEANS
Ipswich collect three points and stay fourth while Belle Vue take a consolation point for their narrow defeat which keeps them second in the table.
WHAT'S NEXT?
The 'Tru Plant' Witches travel to the west midlands to face Wolverhampton on Monday 19th July in a Premiership fixture. Tickets can be purchased here.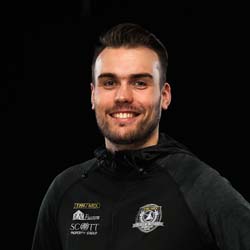 Digital Media Manager at Ipswich Speedway