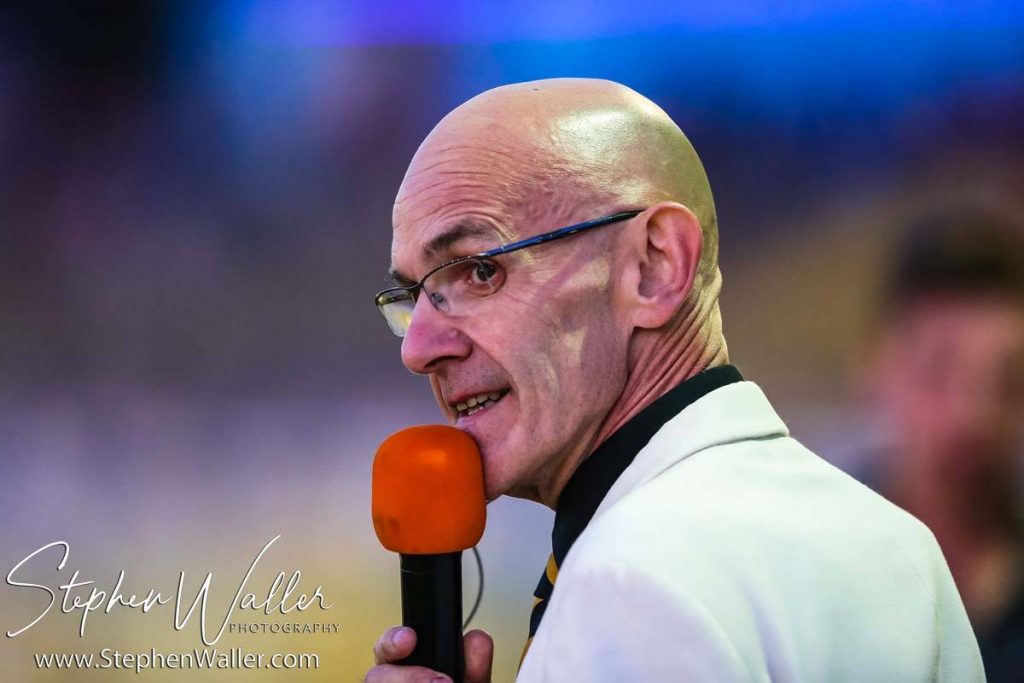 By Henry Chard
Kevin Long will be back as race night presenter at Foxhall after having a year away due to work commitments.
Long is back in the hot seat now and was delighted to be asked back to do the role by Chris Louis.
"Last year I spoke to Chris as I had changed job and it wasn't going to be possible to commit to doing it each week because of the hours required for the business," said Long. "I took a step back and ironically did manage to get up there most weeks and do my work for Re-Run Productions and deputised on a couple of occasions for Wayne (Bavin) which was good fun.
"I always said never say never to doing it again and Chris phoned and asked me back this winter. The business is now in a place where I can leave it on a Thursday night particularly to get up to Foxhall, so it should be good."
Long has been a regular on the terraces at Foxhall since 1972 and explained how he fell in love with the Witches.
"My dad when we lived in Bury St Edmunds before moving to Kesgrave used to come over to watch Speedway when it was re-introduced in 1969. Then when we moved this way in that sort of era and he used to take my brother up and I used to sit with my mum at a friend's very close to the stadium. I used to wait for them to come back and then one week my mum towards the end of the 1972 season said; "shall we take a wander over and watch it?" I was about nine and I thought 'OK' and went that week and loved it! I have never fallen out of love with it which is crazy after so many years."
Long explained how he became presenter at Foxhall in the historic 1998 season and says the role of presenter is a very important one on race nights.
"It is an important role. I haven't had broadcasting history, I am a fan with a microphone. How it all originally happened is that we were away with the Supporters Club and staying in Manchester and the team were staying in the same hotel. We were talking with JL (John Louis) at the bar about the presentation at the time that we felt was lacking and I said I could do a better job than that, I threw that in.
"He said he couldn't do anything that year, but that he would look at it, that was in 1997. At the end of that year the Supporters Club invited me to present the End of Season Awards. Mike (Western), John and Magda (Louis) were in attendance watching me closely with a view to maybe asking me to do the job and at the end of that night they asked me to be the presenter for the 1998 season and we all know how that went! It was a baptism of fire.
"I have watched other presenters and their style, but I have never tried to copy anyone, you can't copy. It is something you have to do in your own way. I am fortunate I have a style that most people enjoy. I won't be everyone's cup of tea but in public life, who is? To get the reception I got last season on my guest slots was very touching, people were very kind and have always said it would be good to have me back. I always said if I was asked and if I can then I would.
"It is an important role to try and bring people together. In this day and age, the riders are so keen to get the best out of themselves and their bikes, it leaves very little opportunity to get that meaningful reaction from them during a meeting. I can rove in the pits and get questions, but it has become more and more difficult. That is not because the riders do not want to, they just have to be fully committed to what they are doing the whole time.
"I have taken a more roaming role around the stadium and try to get interaction with fans on the terraces. That is why groups like The Massif and The Back Straight Hooters I think they are called have been instrumental in lifting the atmosphere and getting involved. It is a wide-open arena Foxhall and it is difficult to contain an atmosphere and create one. The atmosphere comes from the action too, the riders have a responsibility to play and we have seen in recent seasons, when the racing is good the atmosphere improves. Hopefully with the new set up and the new league that will continue to be the case."
The presenter is looking forward to having more continuity in the fixture list in 2019 and hopes the move up in division will benefit the club.
"I'd like more continuity this season, we had massive gaps in the fixture list last year. There is no doubt riders give 100% every time they race and Chris and the team have worked hard on improving the facility at Foxhall and the track to combat the ever changing demands of the engines and the technical side of it. A change was probably needed, it had gone a bit stale in the Championship. With Buster (Chapman) coming in and re-igniting Chris' enthusiasm if he's being honest will benefit the whole club."