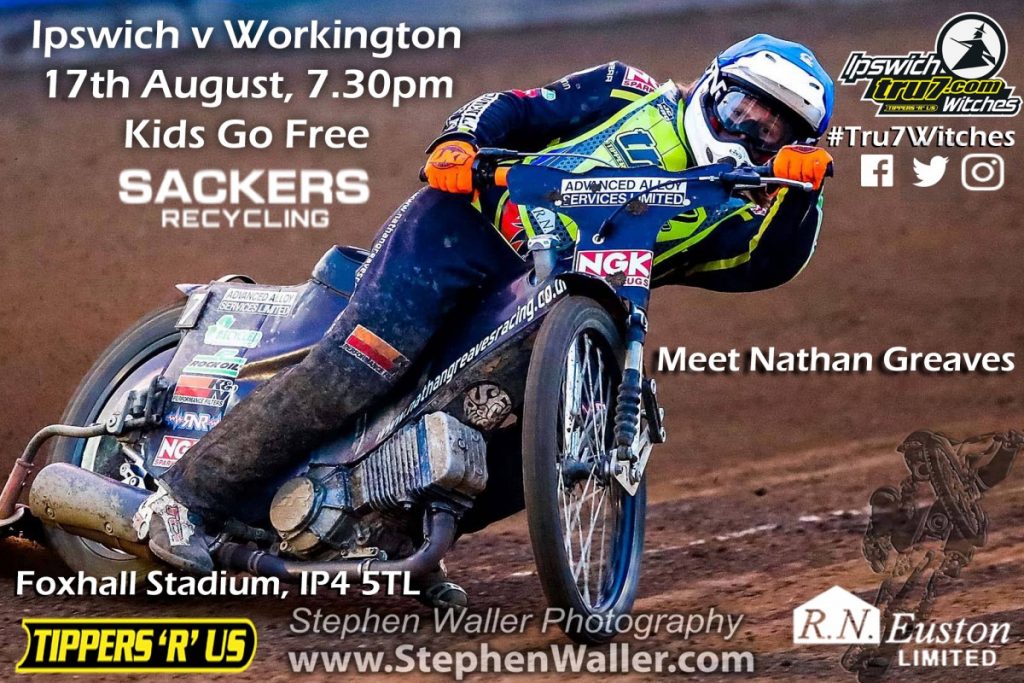 The 'Tru7.com' Witches return to Foxhall on Thursday for a Championship encounter with Workington Comets (7.30pm).
Since beating Glasgow on home shale two weeks ago the Witches have been in league action just once, last weekend at Scunthorpe where they came away with a 47-43 victory following a late comeback. Justin Sedgmen missed that victory with injury but is hoping to return to the side this Thursday after seeing a specialist.
The Comets arrive in Suffolk harbouring hopes of a late charge for the play-offs with plenty of meetings in hand. The away side sit in seventh with many meetings in hand over their rivals but it will take some effort if they are to make the top four from here although not impossible. British champion Craig Cook is absent as he travels to Russia for the GP Challenge and Chris Harris guests at number one. Former Witch James Sarjeant is at reserve alongside guest Tom Woolley.
The Witches have been dominant at home against Workington in recent times with big victories, the last coming earlier this season in a 59-33 win as Kyle Newman recorded a paid 13+2 maximum.
Team Manager Ritchie Hawkins says his side need to keep picking up wins at home to keep ticking along nicely and says the home defeat to Edinburgh has sparked good performances since.
"We need to keep going at home really," said Hawkins. "We have been shown recently that if we slack off we will get punished and Workington have riders that go well at our place. We need to make sure we are on our game.
"The Edinburgh defeat helped against Glasgow because we came back and put in a really good performance. I think time will tell a bit more on that but the performance was there at Scunthorpe too and everyone's confidence is high."
The Comets have struggled at Foxhall in recent times but Hawkins believes they could run his side close on Thursday and thinks they could still make the top four.
"A few teams have a mental block with Ipswich at the moment but when you look at the Workington team with Cookie, a former track record holder at Foxhall and Sarj at reserve, they could potentially give us a really close match.
"If they manage to fit all their meetings in they can definitely still make the play-offs, especially if they got a result at our place. They were hurt by that home loss a few weeks ago, so that was a blow to their hopes."
The boss says that Newman is fighting through the pain barrier as he waits on the fitness of Sedgmen ahead of Thursday's clash.
"Kyle took another knock on Sunday which was far from ideal. We are waiting on news from the specialist about Sedgy's shoulder and hopefully we can figure a way of strapping it that eases off the problems he has been having. Hopefully he will be fit."
Kids go free to this meeting and fans will have the chance to meet Nathan Greaves by the turnstiles before the meeting.
Words: Henry Chard
Meeting Sponsor: Sackers Recycling
Ipswich 'Tru7.com' Witches:
1. Danny King (c) 8.88
2. Kyle Newman 6.29
3. Cameron Heeps 6.78
4. Justin Sedgmen 6.46
5. Rory Schlein 8.23
6. Nathan Greaves 4.63
7. Connor Mountain 3.18

Team Manager: Ritchie Hawkins
Workington 'Thomas Armstrong' Comets:
1. Chris Harris (g) 9.21
2. Mason Campton (c) 5.85
3. Ty Proctor 7.40
4. Matt Williamson 5.53
5. Thomas Jorgensen 6.80
6. James Sarjeant 3.62
7. Tom Woolley (g) 2.00

Team Manager: Steve Whitehead
Referee: M. Bates
Parade: Thursday, 7.30pm
Venue: Foxhall Stadium, IP4 5TL
Championship Table
| | | |
| --- | --- | --- |
| Team | Pl | Pts |
| Sheffield | 25 | 61 |
| Witches | 27 | 56 |
| Glasgow | 23 | 55 |
| Edinburgh | 26 | 54 |
| Redcar | 27 | 46 |
| Peterborough | 25 | 37 |
| Workington | 19 | 31 |
| Newcastle | 23 | 31 |
| Scunthorpe | 26 | 24 |
| Berwick | 29 | 14 |
Last five home results v Comets:
22.06.17 W59-33
18.08.16 W69-23
06.08.15 W58-35
21.08.14 W60-36
26.09.13 L43-47

Comets' last five:
CH Workington 48-42 Redcar
CH Sheffield 56-36 Workington
CH Workington 43-50 Scunthorpe
CH Workington 48-45 Glasgow
CH Redcar 49-44 Workington