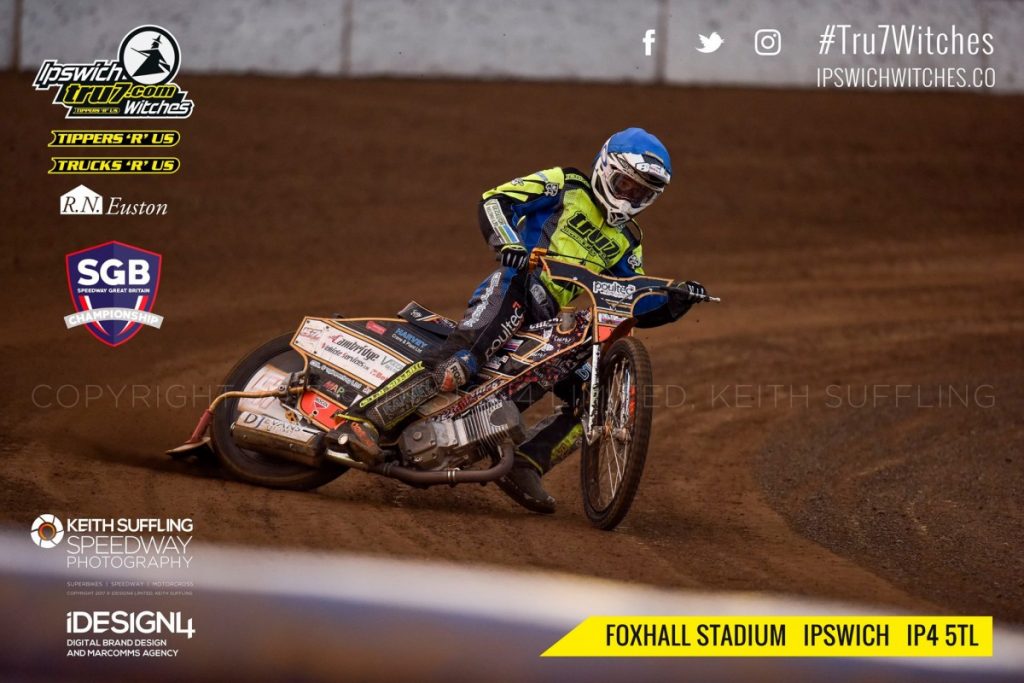 The 'Tru7.com' Witches make the long trip north to Workington on Saturday to take on the Comets in a Championship fixture (7.00pm).
The Suffolk side are in fine form having won four on the trot including two away from home to put them joint second in the table behind early pacesetters Edinburgh. It's the same Witches seven that recorded a dramatic last-heat win at Scunthorpe last Sunday that will ride at Derwent Park.
The Comets have also enjoyed an encouraging start to the season and find themselves just outside the play-off spots going into Saturday's clash. The home side will be led by GB World Cup member Craig Cook who will be looking to take the crown of British champion off Witches skipper Danny King when the pair race in next month's British Final at Belle Vue. King famously rounded Cook in last year's final to take the title and the pair are sure to produce some fine battles on Saturday. Former witch James Sarjeant also lines up in Comets colours after earning a full time spot following his temporary deal with the Witches earlier this season.
The Witches have run the Comets close over the years at Derwent Park but a win has proved elusive since 2013 when Ben Barker led the side to victory and current witch Cameron Heeps scored 6+2 in a 47-43 win. The away side will be hoping for a similar outcome come Saturday night.
Team Manager Ritchie Hawkins says that confidence is high in the camp but believes there is still more to come from the side.
"Everyone's confidence is really high and we are doing well," said Hawkins. "We are in good form and are going everywhere looking to win meetings. Everyone is getting on well and we have done well with how we have built the team, its how we expected with everyone getting on.
"That hasn't changed even with the team changes and now we have a full team again we can look at progressing. We are nowhere near our best even though we are performing well at the moment."
The boss says the side is stronger than in recent years when the Witches have run the Comets close at Derwent Park and is targeting another win.
"We are a stronger team than in the last couple of years and last week showed we have mental toughness about us. With the side we have we can win anywhere and we will be going there to get another three points on Saturday. We are not scared of Workington but we have a lot of respect for how they have started the season and to get an away win already is a real bonus for them."
Hawkins was a fan of the Workington track in his riding days and admitted it was his favourite place to race.
"It was one of my favourite places to go and race on. The two corners are completely different, with the third and fourth bend banked and the first and second turn completely flat. It's a fast one that you have to attack. It's a great place to go and race."
The former skipper says the long journeys to tracks are part of the sport but explained how the riders keep fresh ahead of meetings.
"We are used to it and it is part and parcel of the sport. Everyone has their own routines, Chris (Louis) will probably be driving Cam (Heeps) up and I will be driving Danny (King) up. Sometimes we meet for dinner when it is such a long journey and the riders will be getting plenty of rest so they are ready to go in the evening."
Words: Henry Chard
Workington 'Thomas Armstrong' Comets:
1. Craig Cook (c) 9.83
2. Mason Campton 4.67
3. Ty Proctor 6.68
4. James Sarjeant 5.66
5. Thomas Jorgensen 7.45
6. Matt Williamson 3.58
7. Rob Shuttleworth 2.00

Team Manager: Tony Jackson
Ipswich 'Tru7.com' Witches:
1. Danny King (c) 8.44
2. Cameron Heeps 7.24
3. Justin Sedgmen 7.60
4. Kyle Newman 6.31
5. Rory Schlein 7.67
6. Connor Mountain 2.56
7. Nathan Greaves 2.26

Team Manager: Ritchie Hawkins
Referee: D. Hartley
Parade: Saturday, 7.00pm
Venue: Derwent Park Stadium, CA14 2HG
Championship Table
| | | |
| --- | --- | --- |
| Team | Pl | Pts |
| Edinburgh | 13 | 29 |
| Glasgow | 10 | 23 |
| Witches | 11 | 23 |
| Sheffield | 8 | 19 |
| Workington | 8 | 17 |
| Redcar | 11 | 17 |
| Newcastle | 8 | 13 |
| Peterborough | 10 | 12 |
| Scunthorpe | 14 | 10 |
| Berwick | 11 | 4 |
Last five results at Workington:
13.08.16 L44-46
20.06.15 L44-49
21.06.14 L43-47
28.09.13 L40-50
29.06.13 W47-43

Workington Comets Factfile
Main Sponsor: Thomas Armstrong Ltd
Team Colours: Blue and White
Race-Night: Saturday (7.00pm)
Website: www.workingtoncomets.co
Track Length: 364 metres
Track Record: 61.7 seconds, Richard Lawson (May 31, 2014).
Admission Prices
Adults: £16
Concessions: £13
Junior (5-15): £4
Infants (under 5): Free
Stadium Address
Derwent Park Stadium, Workington, Cumbria, CA14 2HG
Telephone: 01900-608071 (race-days only) 01900 813999 (Mon-Fri 9.00am-4.30pm)
By Train: The nearest railway station is Workington, which is on the Carlisle to Barrow line. If you are travelling to Derwent Park by rail, an overnight stay in Workington is a necessity followed by a train journey north to Carlisle on Sunday lunchtime.