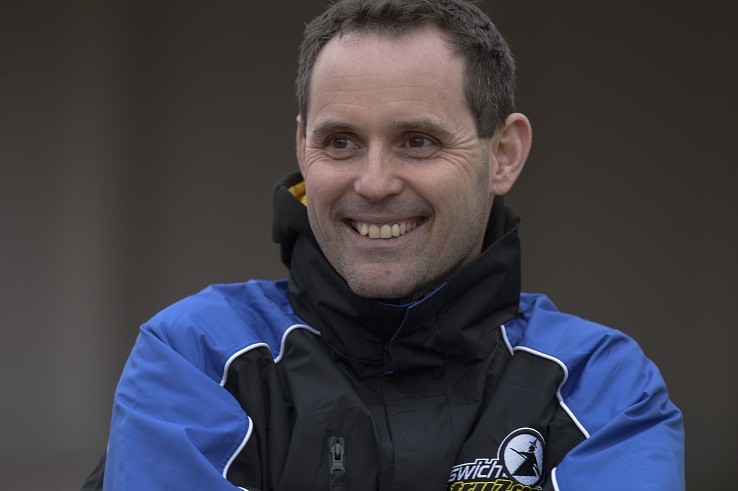 Exiting the League Cup this month wasn't a surprise after losing at home to Scunthorpe, in that group we couldn't afford to lose to Scunthorpe. The rest of the League Cup, whilst obviously there was effort going in, seemed to be an exercise in getting the team together and finding consistency. As it was in the end, it came down to that one meeting because if it wasn't for that we'd be going to Peterborough with an extremely good chance of winning the group.
To start the Premier League with such a disappointing loss at Rye House and two losses to Somerset home and away is a bad start, you can't dress it up any other way. We've had an indifferent fixture list with quite a few pauses which haven't helped us at times but we can't keep making excuses. All the riders are riding enough to be able to be more consistent than they've been and that is the issue at the moment; consistency. When one or more have an off night, we can't compete with the better sides. We have been unfortunate to race Somerset, who are riding the crest of a wave at the moment and I think they are probably better than most people thought they would be so that was a tough way to start the league campaign. There are other equally tough teams out there and we've got to be able to beat them at home.
It is early still in the season and to lose away at Somerset isn't losing ground on anybody because I really don't see anybody going to Somerset and taking too much away from there. I've got to pinpoint that another home loss to start the season is the biggest issue and home form in general. We can't afford to be losing at home against anybody, for me that is the biggest concern. I knew that home form might be an issue to start with because we are virtually a new team with very little Ipswich experience but we can't afford to let it go on because in a competition as competitive as the Premier League, any more home losses would seal the deal for not making the play-offs.
There is definitely more relevance to the Knockout Cup now, obviously from a performance and fan point of view because we need to start doing well in competitions and that is one that we have a fresh start with against Rye House. I have to say it is very important to get a result for the fans and for the teams confidence. They are the next two meetings and it's vital that we come away with a aggregate win obviously but I'd like to see the team going away from home and doing a little bit more.
It's been a tough start for Ritchie (Hawkins) but from a meeting point of view I think he is doing everything right and is handling things well from a man management point of view. He is looking at every equation and won't be afraid to make changes if the right ones present themselves but his main aim in the immediate future is to get the best out of this team that he thinks they are capable of which he hasn't done yet.
In May we face Redcar away, Peterborough away and Edinburgh at home all in the Premier League. I think given the fact that we've started as badly as we have we need to take points from all of those meetings. You'd have to pinpoint Redcar as one that could and should be won. I do feel we've got a chance at Peterborough but obviously by the time we go there they will be stronger than they have been which is a disadvantage compared to some of our opposition but I still feel we have a chance of getting something. Of course we can't afford any more slip ups at home, Edinburgh are still a good side but they are not as good as they have been in the last couple of years and we've got to take advantage of that.
Lewis Kerr, James Sarjeant and Danny King all take part in the British Semi-Finals this month. I think they are all good enough to be riding in the British final and I'm sure that's what they will all be aiming for. I'd like to see them in the British Final and I'd just like to see our guys winning races. It's a meeting away from the team ethic and a chance for them to concentrate on themselves and hopefully gain some confidence.
It was quite good start to the Grand Prix series in Slovenia. It was an interesting result with some of the series' favourites  playing catch up, albeit not by very much because there wasn't many points that split the top ten really. I don't think that Peter Kildemand and Jason Doyle was a one off, I think they will be challenging at the very top for most of the season so that wasn't a surprise. Tai (Woffinden) didn't have as good an opening round as he would have liked but to say someone hasn't had a good round and they made the final and finished fourth shows the measure of him and I don't see why he won't be at the very top this year battling for the championship.
It's great that Plymouth have been saved since I last wrote my column. It's good for sport and for the Premier League and I'm glad to see that they appear to be in safe hand with a business type consortium behind them and its good for the League.
Thank you for your continued support,
Chris