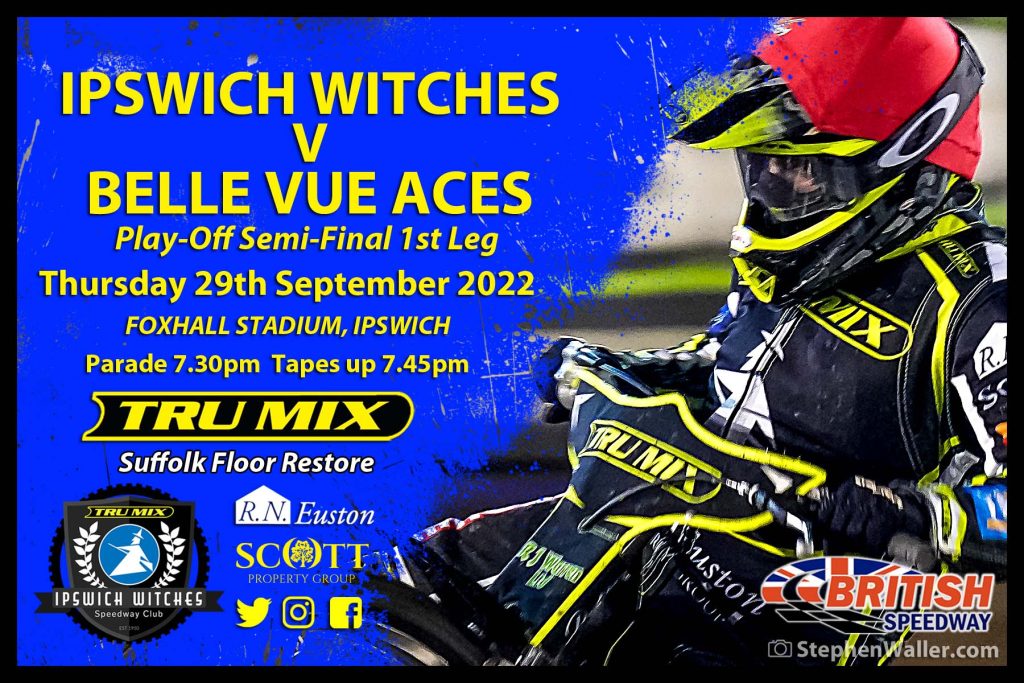 By Henry Chard
All the details ahead of our Premiership play-off semi-final first leg fixture with Belle Vue.
WHEN & WHERE
The 'Tru Mix' Witches host the Belle Vue Aces at Foxhall Stadium on Thursday 29th September in a Premiership play-off semi-final first leg fixture that starts at 7.30pm.
MEETING SPONSOR
Suffolk Floor Restore – Suffolk Floor Restore is a family run business that provide a professional stone and tile cleaning.
TEAMS
IPSWICH: 1. Jason Doyle 10.10 2. Aaron Summers 4.33 3. Danny King 6.54 © 4. Rohan Tungate 5.93 5. Troy Batchelor 5.82 6. Paul Starke 3.42 7. Anders Rowe (RS). Team Manager: Ritchie Hawkins
BELLE VUE: 1. Craig Cook (g) 8.40 2. Tom Brennan 5.38 (RS) 3. Matej Zagar 8.29 4. Charles Wright 6.43 5. Brady Kurtz 8.14 © 6. Jye Etheridge 4.94 7. Norick Blödorn 4.24. Team Manager: Mark Lemon
REFEREE: M. Bates
PREMIERSHIP TABLE
| | | |
| --- | --- | --- |
| Team | Meetings | Points |
| Sheffield | 19 | 43 |
| Ipswich | 19 | 43 |
| Belle Vue | 19 | 38 |
| Wolverhampton | 20 | 34 |
| King's Lynn | 19 | 24 |
| Peterborough | 20 | 13 |
PREMIERSHIP PLAY-OFF FIXTURES
SEMI-FINALS
Wolverhampton vs Sheffield (1st Leg – Oct 3), Sheffield vs Wolverhampton (2nd Leg – Oct 6)
Ipswich vs Belle Vue (1st Leg – Sep 29), Belle Vue vs Ipswich (2nd Leg – Oct 3)
TICKETS
Tickets are available to buy online (until 7pm on raceday) and on the gate and are priced at £20 for adults and £18 for concessions (65+). Children 16 and under go free. Official programmes are priced at £3 and are available at the stadium. Car parking is free for all supporters. Debit and credit card payments are accepted. Turnstiles open at 6.40pm.
THE STORY
The 'Tru Mix' Witches host the Belle Vue Aces in the first leg of the Premiership play-off semi-final on Thursday at Foxhall. Ipswich were deemed to finish second in the Premiership table with one league fixture outstanding at Sheffield, with the Tigers unable to complete their home schedule before the league's cut-off date meaning the league positions on 22nd September would determine the play-off fixtures. That meant it would be the Aces in the semi-final who finished third in the table and the Witches have been victorious in both league fixtures in Suffolk against the Manchester side this season, winning 47-43 and 50-40. Ipswich will look to build as big a lead as possible to take into the second leg at the National Speedway Stadium on Monday.
Thursday has come too soon for number eight Danyon Hume who has been a regular in the side this season at reserve, but he suffered a collarbone injury at the end of last month which is keeping him on the sidelines. Other than that absence the home side are at full strength with everyone involved knowing that a season's work boils down to this, with a place in the final the reward for the side that prevails over the next 30 heats of action.
FROM THE BOSS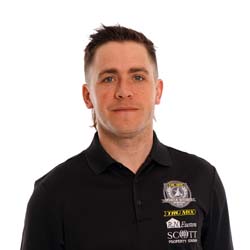 Ipswich 'Tru Mix' Witches team manager Ritchie Hawkins gives us his pre-match thoughts…
"We are ready for the play-offs now and our whole season has been geared towards these four meetings. Every decision made has been with an eye on these meetings, this is what it is all about. We are ready and have had a great league campaign and I am super excited to get underway. Belle Vue will be a tough test; they have got a great team together and we are going to need everyone there supporting us and our team has shown enough this year that it warrants that backing. We are excited to get going now.
"The season starts fresh in the play-offs; our home form has been inconsistent at best, and we need everyone to click now. Belle Vue have been in great form at home, so we are looking to win the meeting and build as big a lead as possible. Whatever happens, over two legs I think we can beat anyone in this league. We have been very good away from home, so it is not all on our performance on Thursday night, but we need to put in two great performances over two legs if we want to progress and we are more than capable of doing that.
"We have the same line-up as we've had towards the end of the season with the same riding order. We have kind of settled on that at the moment and it works best at home. Paul has a few rides this week for Glasgow which will help him to get a few meetings under his belt.
"We have had some great nights at Foxhall in recent years in the play-offs in front of big crowds. Having that atmosphere always gives the team a boost and I'm sure it will be the same on Thursday."
THE ACES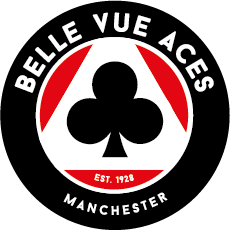 Belle Vue finished third in the Premiership table and although they have one outstanding fixture to complete, they would have been unable to catch Ipswich in second. Their success has been built on a perfect home record in the league with 10 wins from 10 and some thrashings handed out along the way. Their form on the road has been less impressive with just two wins on their travels, both at bottom side Peterborough. Their only other point away from home came in Suffolk early on in the year after a narrow defeat at Foxhall and a narrow defeat is the least the travelling Aces fans will be hoping for on Thursday night as they look to gain the upper hand ahead of the second leg in Manchester on Monday.
The Aces received a huge blow ahead of their play-off campaign, losing number one and Grand Prix rider Max Fricke to injury for the rest of the year after he suffered multiple injuries in a crash in Poland last weekend. Former Ace Craig Cook will guest at number one in the Australian's absence. Other than that, the visitors are at full strength for the fixture.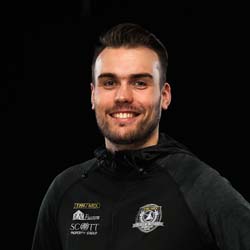 Digital Media Manager at Ipswich Speedway