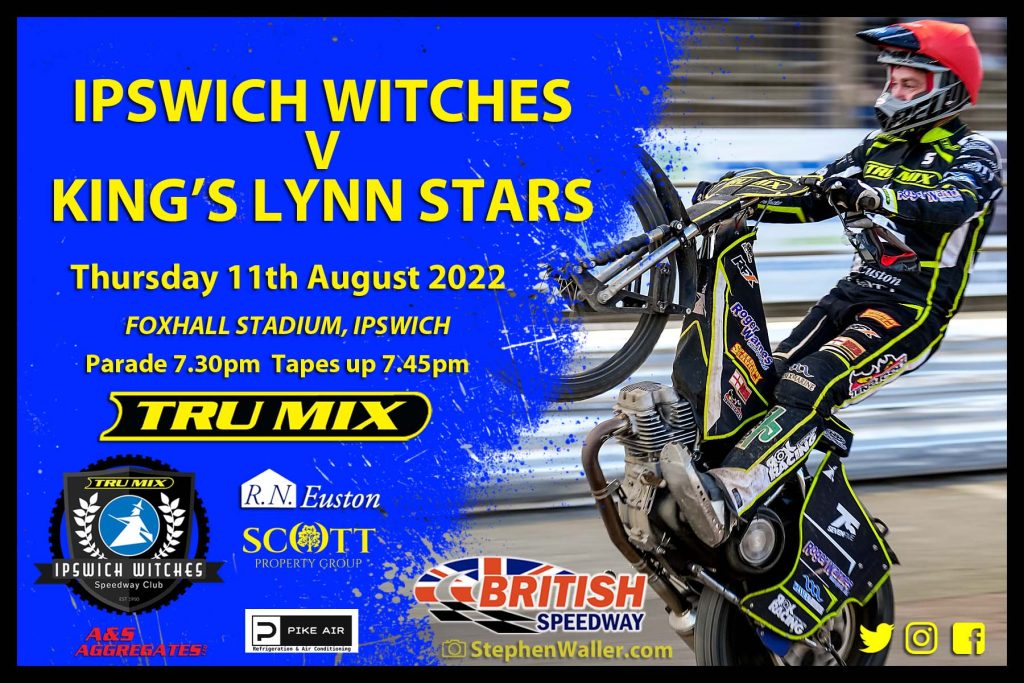 By Henry Chard
All the details ahead of our Premiership fixture with King's Lynn.
WHEN & WHERE
The 'Tru Mix' Witches host the King's Lynn Stars at Foxhall Stadium on Thursday 11th August in a Premiership fixture that starts at 7.30pm.
MEETING SPONSORS

A&S Aggregates Ltd – They are a trusted supplier of aggregates, landscaping materials and construction services for trade and public projects in Essex and throughout East Anglia. Since the company was founded over a decade ago, they have worked hard to achieve an unrivalled reputation for reliability and quality of service.

Pike Air– They provide comprehensive cover for your air conditioning, refrigeration, heat pump and ventilation systems.
TEAMS
IPSWICH: 1. Jason Doyle 10.47 2. Paul Starke 4.40 3. Danny King 6.77 © 4. Rohan Tungate 6.57 5. Troy Batchelor 6.43 6. Aaron Summers 4.14 7. Danyon Hume (RS). Team Manager: Ritchie Hawkins
KING'S LYNN: 1. Josh Pickering 7.82 © 2. Thomas Jorgensen 5.71 3. Richie Worrall 5.61 4. Nicolai Klindt 7.43 5. Richard Lawson 6.59 6. Frederik Jakobsen 5.04 7. Jason Edwards (RS). Team Manager: Alex Brady
REFEREE: C. Gay
PREMIERSHIP TABLE
| | | |
| --- | --- | --- |
| Team | Meetings | Points |
| Ipswich | 15 | 31 |
| Belle Vue | 14 | 29 |
| Wolverhampton | 14 | 27 |
| Sheffield | 12 | 26 |
| King's Lynn | 13 | 13 |
| Peterborough | 14 | 10 |
TICKETS
Tickets are available to buy on the gate and in advance online (until 7pm on raceday) and are priced at £20 for adults and £18 for concessions (65+). Children 16 and under go free. Official programmes are priced at £3 and are available at the stadium. Car parking is free for all supporters. Cash, debit and credit card payments are accepted on the night. Turnstiles open at 6.40pm.
THE STORY
The 'Tru Mix' Witches host the King's Lynn Stars at Foxhall Stadium in the East Anglian derby on Thursday evening in the Premiership. Ipswich sit top of the Premiership going into the fixture despite being heavily beaten by second placed Belle Vue on Monday night. The Witches won in Norfolk last week but know their opponents will be keen on revenge at a place they go well at, having narrowly lost 46-44 in Suffolk earlier in the season.
Ipswich track their new-look side in front of their home fans for the first time with Rohan Tungate and Aaron Summers making their first appearance of the season at Foxhall. Club asset Tungate has come in as replacement for the injured Erik Riss whilst Summers has replaced the suspended Ben Barker.
FROM THE BOSS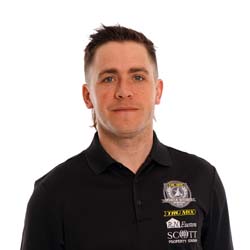 Ipswich 'Tru Mix' Witches team manager Ritchie Hawkins gives us his pre-match thoughts…
"Monday was a bad night, but we go into Thursday having been flying at home. It is a big meeting as always against King's Lynn being a derby. We have been in good form at home and need to carry that on. We have got a couple of new additions to the team since our last home meeting. It shouldn't take Rohan long to settle in and I'm sure we will all help Aaron to make sure he is on the pace as soon as possible.
"They are both experienced riders, Aaron has ridden at Ipswich a lot of times and is an experienced speedway rider, so it won't take him that long to get setup. Rohan has done many laps around Foxhall, the track is a bit different to when he rode for us before but actually, I think the changes will suit him. It is a lot easier to ride than it was back in the Championship days. The changes will really suit him so I think he will certainly enjoy it.
"King's Lynn are certainly not giving up hope on the play-offs and they will be desperate to get one over on us after we have won there twice this year. They are full of riders who really like Foxhall, so they are dangerous and pose a threat to us. We will need to be on our game to win."
THE STARS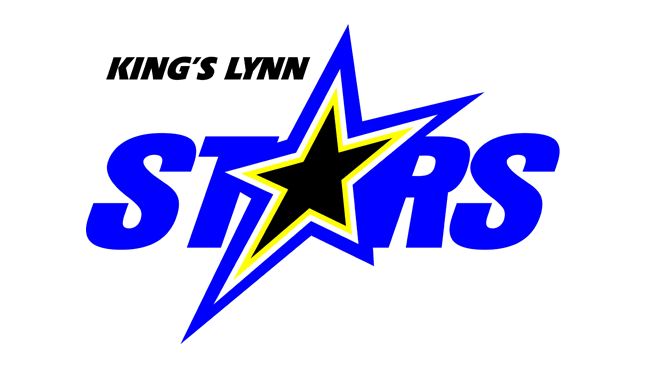 King's Lynn have it all to do if they are to make this season's top four after another disappointing campaign. The Stars sit fifth in the table 13 points off the play-off places with just seven fixtures remaining. It is almost must-win territory for the Norfolk side now who are yet to register an away win in the league, but they know victory in the East Anglian derby could be the boost their season needs.
The Stars have made two changes in recent weeks in a bid to turn their season around. Nicolai Klindt made his debut in the defeat at home to Ipswich last week and is a man that often enjoys his visits to Foxhall. This week, the visitors have also brought in Frederik Jakobsen at reserve to replace Lewis Kerr.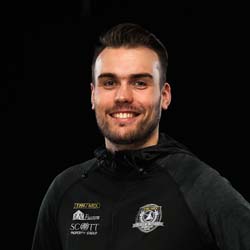 Digital Media Manager at Ipswich Speedway