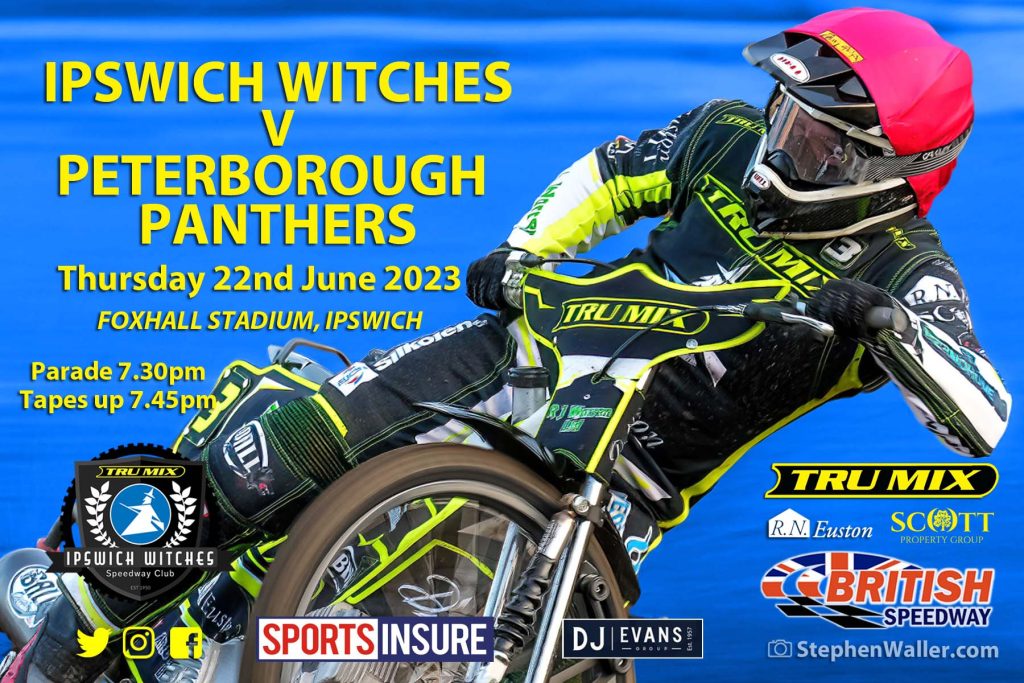 By Henry Chard
All the details ahead of our Sports Insure Premiership R1 fixture with Peterborough.
WHEN & WHERE
The Ipswich 'Tru Mix' Witches host the Peterborough Panthers at Foxhall Stadium on Thursday 22nd June in a Sports Insure Premiership R1 fixture that starts at 7.30pm.
MEETING SPONSORS

Scott Properties – Scott Properties is a self-funded Land Promoter operating throughout East Anglia and the South-East of England. Working closely with Landowners and Local Authorities, they manage the land promotion and planning process from initial site identification through to the sale of consented development sites. If you own land and would like to explore the potential for development, please contact the team at Scott Properties for an initial no obligation chat.

DJ Evans – The DJ Evans Group is a family run business with a history dating back more than a century. They are East Anglia's premier independent builder's/engineer's merchant and architectural ironmonger, offering products and materials from quality assured manufacturers across the industry.
TEAMS
IPSWICH: 1. Jason Doyle 10.13 2. Danyon Hume 4.00 3. Danny King 6.79 © 4. Erik Riss 6.14 5. Emil Sayfutdinov 9.40 6. Keynan Rew 4.00 7. Dan Thompson (RS). Team Manager: Ritchie Hawkins
PETERBOROUGH: 1. Niels-Kristian Iversen 6.77 2. Ben Cook 5.41 3. Benjamin Basso 6.09 4. Richie Worrall 6.25 5. Vadim Tarasenko 5.00 6. Hans Andersen 4.96 © 7. Sam Hagon (G) (RS). Team Manager: Rob Lyon
REFEREE: G. Allen
SPORTS INSURE PREMIERSHIP TABLE
| | | |
| --- | --- | --- |
| Team | Meetings | Points |
| Belle Vue | 14 | 24 |
| Wolverhampton | 10 | 17 |
| Leicester | 10 | 17 |
| Sheffield | 9 | 13 |
| Ipswich | 11 | 10 |
| King's Lynn | 11 | 7 |
| Peterborough | 9 | 2 |
TICKETS
Tickets are available to buy online (until 7pm on raceday) and on the gate and are priced at £22 for adults and £20 for concessions (65+). Children 16 and under go free. Official programmes are priced at £3 and are available at the stadium. Car parking is free for all supporters. Debit and credit card payments are accepted. Turnstiles open at 6.40pm.
THE STORY
The Ipswich 'Tru Mix' Witches entertain the Peterborough Panthers in the Sports Insure Premiership on Thursday evening. This fixture marks the halfway stage of the league season for the Witches, and they currently sit fifth in the table, knowing have they work to do in the second half of the campaign to catch the top four. Ipswich have already faced Peterborough at Foxhall this season in the Knockout Cup where they raced to a big 57-33 victory, and they know that nothing less than a win will do on Thursday before a two-week break from action. The Suffolk side are also in the driving seat to pick up their first aggregate bonus point of the campaign, having won at the East of England Arena by six points back in March.
Ben Barker's 28-day spell as cover for Erik Riss is now over and the German returns to the side for the first time since April 6 having recovered from long-term illness. Dan Thompson makes his home debut after replacing twin brother Joe last week in the 'Rising Star' position.
FROM THE BOSS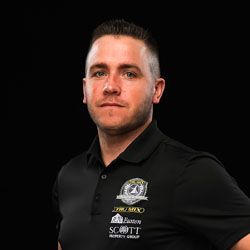 Ipswich 'Tru Mix' Witches team manager Ritchie Hawkins gives us his pre-match thoughts…
"It's nice to be back at Ipswich and we welcome Erik back into the team as well as new signing Dan. We've already won at Peterborough, and they are having a tough season again, but we can't afford to relax as we have not been good enough to be in a position to relax. We need to put in a thoroughly professional performance and get our first bonus point of the year to get three points. That will set us up for a run in the second half of the season and we need a big push if we want to make the play-offs.
"We need to put in a big performance the same as we did in our last home meeting which was really impressive. If we do that, we will get another victory, but we need it for the team because it has been a tough few weeks. We are back with our full one to seven and we can kick on from there.
"We are delighted to welcome Erik back; he has done a couple of meetings and is feeling better. We have had a long wait and he has had a tough time but I'm sure everyone will get behind him. I'm happy to see him back racing and I'm ready for him to kick on and have a good second half to the season."
THE PANTHERS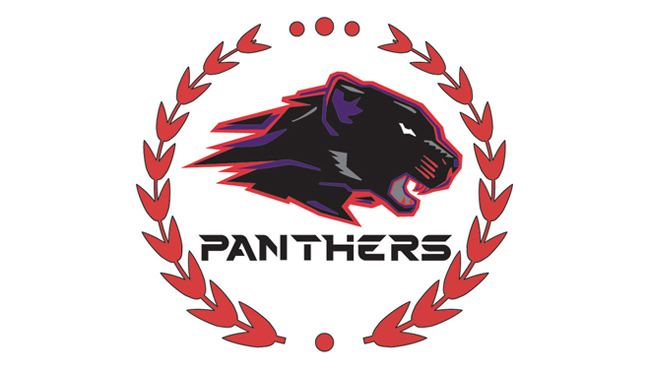 It would be an understatement to say that 2023 has not gone to plan for Peterborough. They sit bottom of the table with just two points to their name and barring a miraculous second half to the season are out of the race for the play-offs already. Their one victory so far this season has come at home against fellow strugglers King's Lynn.
In more positive news the team are now back to a full one to seven with Vadim Tarasenko coming into the team as the replacement for Nicki Pedersen who left the club in April. Niels-Kristian Iversen holds the track record at Foxhall and rides at number one for the visitors. Sam Hagon guests in place of the injured Jordan Jenkins in the Rising Star position.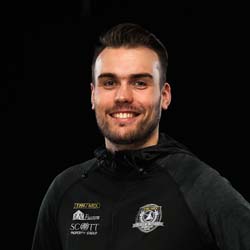 Digital Media Manager at Ipswich Speedway