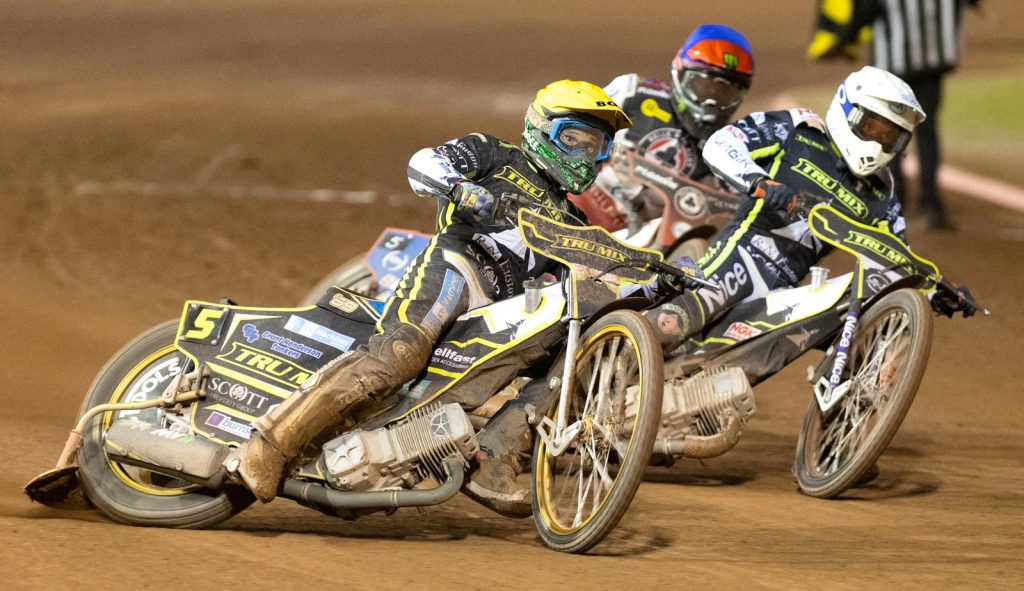 By Henry Chard
THE SCORES
BELLE VUE 51: Brady Kurtz © 10+1, Tom Brennan 7, Jaimon Lidsey 11+1, Charles Wright R/R, Dan Bewley 10+1, Norick Blödorn 10+1, Connor Bailey (RS) 3+2. Team Manager: Mark Lemon
IPSWICH 39: Emil Sayfutdinov 11, Erik Riss 0, Danny King © 8+1, Danyon Hume 2, Jason Doyle 9+1, Keynan Rew 7+1, Jack Smith (G) (RS) 2. Team Manager: Ritchie Hawkins
REFEREE: C. Gay
SPORTS INSURE PREMIERSHIP TABLE
| | | |
| --- | --- | --- |
| Team | Meetings | Points |
| Belle Vue | 24 | 44 |
| Wolverhampton | 24 | 38 |
| Sheffield | 24 | 37 |
| Ipswich | 24 | 34 |
| Leicester | 24 | 34 |
| Peterborough | 24 | 20 |
| King's Lynn | 24 | 9 |
PLAY-OFF DRAW
SEMI-FINALS
First Leg: Ipswich 54-36 Belle Vue. Second Leg: Belle Vue 51-39 Ipswich
First Leg: Wolverhampton 40-50 Sheffield. Second Leg: Sheffield vs Wolverhampton (Sep 28)
FINAL
Ipswich vs Sheffield or Wolverhampton
THE STORY
The Ipswich 'Tru Mix' Witches progressed to the Sports Insure Premiership play-off final after a dramatic aggregate victory over Belle Vue on Monday night at the National Speedway Stadium.
The Witches took an 18-point lead to Manchester after the first leg, with Jack Smith guesting for the injured Dan Thompson and Jason Doyle back from injury. The Aces were using rider replacement for the injured Charles Wright and needed a strong start to try and work their way back into the tie, but it was Ipswich who went ahead early on. The reigning champions battled back in fine style to pile the pressure on Ipswich and take it to a last-heat decider. However, Emil Sayfutdinov and Doyle came up with a race to remember in heat 15 to secure the club's progress into the play-off final. Sayfutdinov top scored with 11.
Sayfutdinov won a shared heat one before Keynan Rew produced a sensational ride to win heat two. Norick Blödorn led the race, but Rew kept building speed throughout the race on the outside line and blasted around the Aces rider on the final turn to take the victory in a 3-3. Skipper Danny King made the gate in heat three and went on and won the race as Jaimon Lidsey retired with machinery issues whilst in second on the opening lap, handing the away side a 2-4. Doyle made it four wins in a row for the away side with another three points in heat four as Smith picked up a valuable point for another heat advantage. That put the visitors 10-14 up on the night and 22 points ahead on aggregate.
Belle Vue levelled the score on the night with a 5-1 in heat five and it was a 3-3 in heat six as Brady Kurtz passed Doyle to win. Dan Bewley won heat seven ahead of King and Blödorn made a pass on Danyon Hume to get third for a 4-2. The hosts hit a maximum in heat eight to put them 27-21 up in the meeting and 12 points behind on aggregate.
Doyle led heat nine, but Lidsey got past the Ipswich man to win for the home team in a 4-2. Kurtz and Tom Brennan made the gate in heat 10 but King produced a smart move to pass Brennan and split the home pairing. Sayfutdinov stemmed the tide in heat 11 with a comfortable win ahead of Bewley as Rew and Blödorn changed positions all race for third, but it was the Ipswich man who made the move stick on the final turn for a heat advantage to the Suffolk side. Lidsey took the chequered flag in heat 12 getting past Rew to hit the front and King battled hard to relegate Blödorn to the back for a vital 3-3 which left the score 40-32 and 76-86 on aggregate, with Ipswich on the brink of confirming their spot in the final.
Belle Vue kept the tie alive in heat 13 as Kurtz won and Bewley passed both Sayfutdinov and Doyle in the same move to join his teammate for a 5-1 which put them just six points behind on aggregate with two to race. The home team then hit another maximum in heat 14 to take it to a last-heat decider, knowing another 5-1 would see them remarkably progress to the final. Heat 15, where do you start? The Aces pair of Bewley and Kurtz hit the front early on and looked like they might complete an unbelievable comeback but Doyle and Sayfutdinov had other ideas as Doyle went from fourth to first and was followed through the traffic by partner Sayfutdinov for a maximum which booked the Witches' place in the play-off final and sparked jubilant celebrations from the Ipswich riders, management and fans in attendance.
REACTION FROM THE BOSS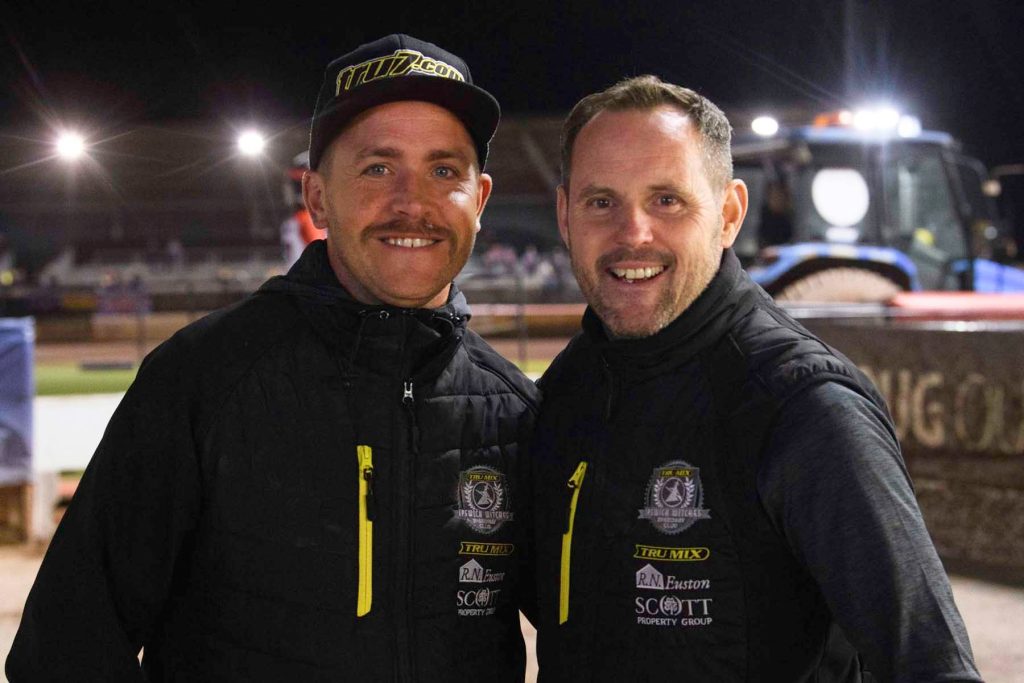 Ipswich 'Tru Mix' Witches team manager Ritchie Hawkins reflects on Monday's meeting at Belle Vue.
"What a night! It was only fitting that it came down to our top two to do the business in heat 15. What a ride from both of them and for Jason Doyle to step it up after what he has done for the club in the last two years showed what he is all about. It was phenomenal from them both and it is hard to put into words at the moment, but we need to enjoy tonight but we are only through the semis, and we have bigger meetings to come next week.
"I was delighted with the start we made to the meeting, but they are the champions for a reason, and they came back at us really strongly. I thought heat 11 would be the one that got us over the line as such, but they turned it around in heat 13 with a 5-1 which really put the pressure on. It swung our way again in heat 15 in an up and down night.
"When we go into heat 15 with those two you are nearly always feeling confident, a 3-3 is quite realistic for those two but the way the night had gone there was massive pressure on them. They stepped up and that is why they are two of the top riders in the world and that is what they live for. They rose to the occasion.
"It shows we have come a long way with what we have been through this year to get here. That has made us very strong, and I didn't see any panic when things were going wrong for us tonight. We just kept fighting for every point and they stuck to the task very well.
"It's looking like the final will be against Sheffield, they are going to be running with three guests probably and it could be a very different side to the one we faced in the Knockout Cup final, but we start at 0-0 and we will need to carry on our performances of late. We have come such a long way we don't want to let it slip now."
RIDER OF THE NIGHT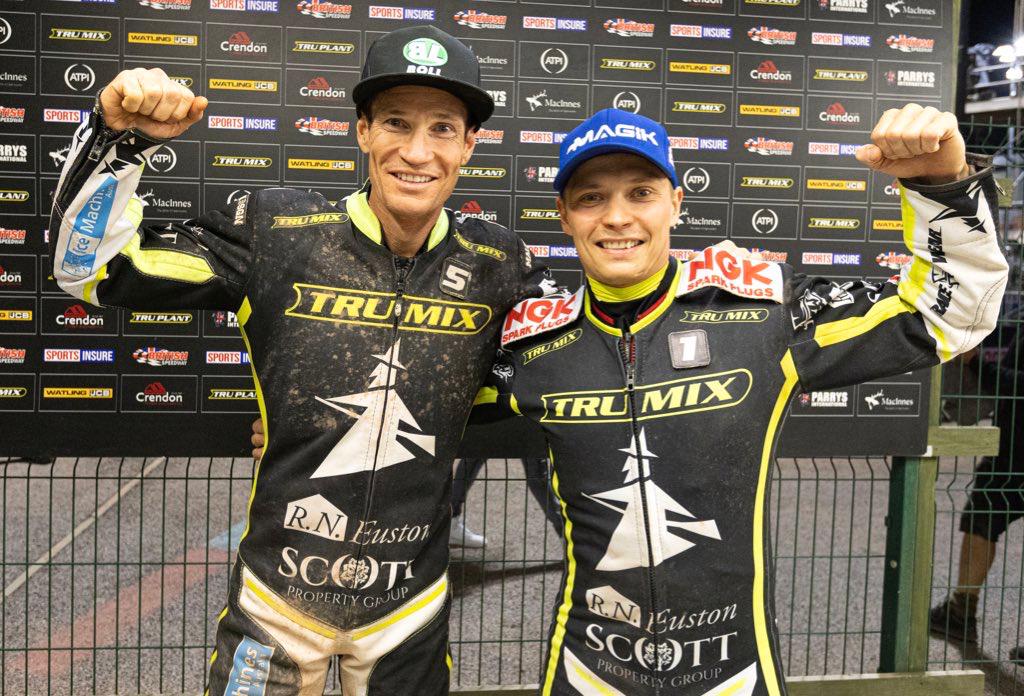 Two riders of the night, Sayfutdinov and Doyle were the heat 15 heroes for Ipswich producing one of the greatest races of all time to put Ipswich in the play-off final.
WHAT IT MEANS
Ipswich will race in the Sports Insure Premiership play-off final where they will face either Sheffield or Wolverhampton over two legs on 2nd and 5th October.
UP NEXT
The Ipswich 'Tru Mix' Witches will race in the Sports Insure Premiership play-off final first leg on Monday 2nd October. Please keep across our website and social media channels for confirmation on who we will face and where the first leg will be held.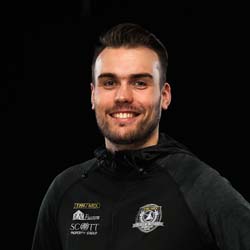 Digital Media Manager at Ipswich Speedway