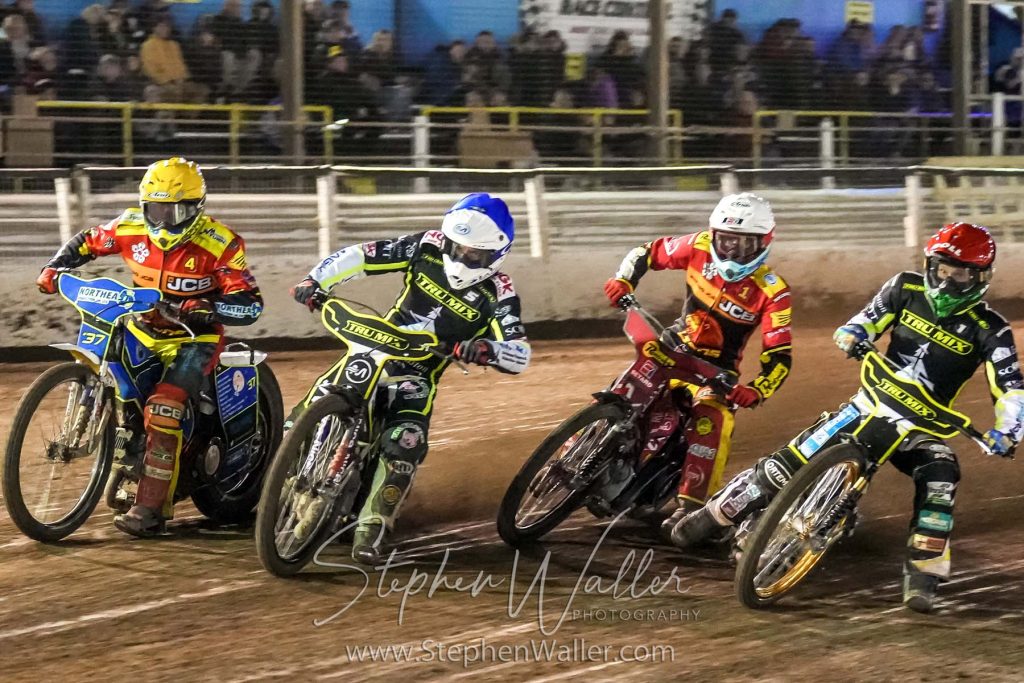 By Henry Chard
MEETING SPONSOR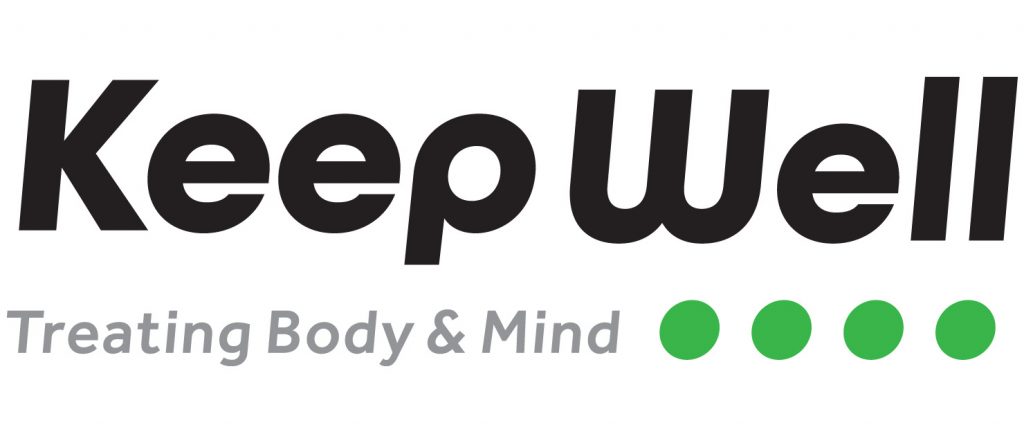 Keep Well – At Keep Well, they believe that good health and wellbeing comes from looking after both the body and mind. Using a combination of manual therapy, Pilates and Neuro Linguistic Programming, they want to help you to meet your personal goals.
THE SCORES
IPSWICH 48: Jason Doyle 14+1 (Paid Maximum), Keynan Rew 4, Danny King © 10, Erik Riss 2+2, Emil Sayfutdinov 12+1, Danyon Hume 4, Joe Thompson (RS) 2+2 Team Manager: Ritchie Hawkins
LEICESTER 42: Max Fricke 9+1, Justin Sedgmen 8+1, Richard Lawson 5+1, Chris Harris © 8+1, Nick Morris 7, Jake Allen 4+1, Dan Thompson (RS) 1+1. Team Manager: Stewart Dickson
REFEREE: P. Carrington
KNOCKOUT CUP DRAW
QUARTER-FINALS
Wolverhampton v Belle Vue
Ipswich 48-42 Leicester – First Leg
Sheffield 58-32 King's Lynn – First Leg
THE STORY
The Ipswich 'Tru Mix' Witches recorded a narrow victory over Leicester on Thursday night at Foxhall in their Knockout Cup quarter-final first leg tie.
It was the hosts' first fixture on home shale in 2023 and they were pushed all the way by the top-flight newcomers with no more than two points separating the teams all evening. That was until a 5-1 to the Witches in the final heat gave them a six-point advantage to take to the East Midlands for the second leg. Jason Doyle was unbeaten by an opponent all evening, scoring a paid maximum of 14+1.
A smart first turn by Doyle saw him hit the front to win the opening race of the night which ended in a 3-3. Lions reserve Jake Allen won heat two ahead of Danyon Hume, but all the action was at the back as Ipswich's Joe Thompson battled against his twin brother Dan for an all-important point. The pair exchanged passes throughout the race before the Witches 'Rising Star' made a move stick to ensure a share of the points. Skipper Danny King won a shared heat three before Emil Sayfutdinov cruised to victory in heat four on his Foxhall debut for the club, leaving the scores all square at 12-12.
Max Fricke won the opening lap battle against King to win heat five as the visitors edged in front with a heat advantage. It was soon level again though as Doyle won heat six and Keynan Rew capitalised on an error to nip into third. Sayfutdinov was a comfortable winner again in heat seven and the two sides could not be separated in heat eight as Justin Sedgmen took the chequered flag meaning the contest was level at 24-24.
Nick Morris won heat nine in another 3-3 before the hosts went in front for the first time on the night in heat 10 with Doyle picking up another three points ahead of Chris Harris in second and Rew in third for an Ipswich 4-2. However, Leicester then sprung a surprise in heat 11 and picked up a maximum as Sedgmen and Fricke managed to keep Sayfutdinov behind them for a 1-5. King won again in heat 12 but with Hume at the back, the Lions went into the final three races 35-37 up.
Doyle and Sayfutdinov turned the tie back in Ipswich's favour with a vital 5-1 in heat 13 before an action-packed heat 14. Harris was a clear winner and looked like he would be followed home by partner Allen, but first Hume got past the Australian into second and Erik Riss produced a great last lap to go under Allen into third, a result that kept the Suffolk side two points to the good going into the final race. Sayfutdinov and Doyle then recorded another 5-1 in the final race to seal the win on the night and give Ipswich a six-point lead heading into the second leg of the contest.
REACTION FROM THE BOSS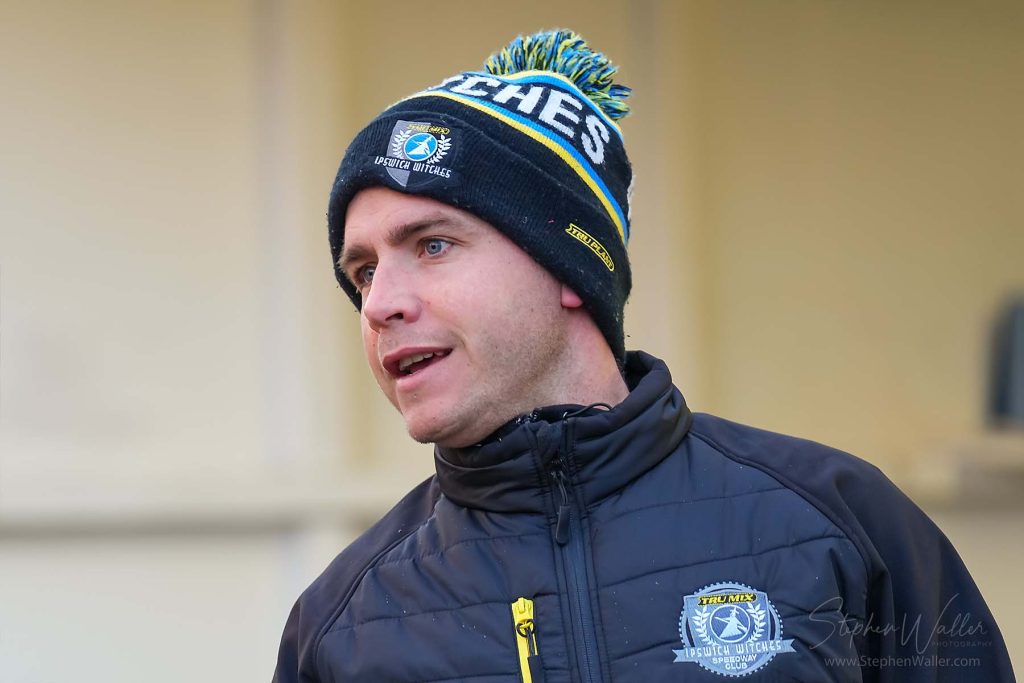 Ipswich 'Tru Mix' Witches team manager Ritchie Hawkins reflects on Thursday's win over Leicester.
"In a Knockout Cup tie, you would obviously like to get more than a six-point lead from your home leg, but it was opening night against a strong team, and we had three debutants around Ipswich, so I'm happy we got the win because I thought we were in a position that could have ended in defeat. A couple of points picked up in certain rides by the less experienced riders made the difference.
"I was very impressed with Keynan; he improved every race. He has not got a lot of experience to relate to this track and I think you could see enough from him tonight to see that he has a lot of potential to be a very good rider. I would give it until the summer and then we will see the best of Keynan and I was pleased with certain things he picked up on and how he improved.
"I was very happy with Joe and have been in both meetings. I think he has done very well, and provided a lot of excitement, some great racing with his brother. That is only his second meeting here and when he gets more confident and comfortable on this track, I think we have seen enough of him to know he can improve a lot. It was harsh on him that he only got three rides because he rode better than that and did well.
"Emil looked like he had been riding this place for ten years week in, week out. He has ridden this track twice and looked like a track expert, he was so quick. He is brilliant to have in the pits and what an addition to the team.
"Doyley was superb again and showed why he is number one and the best rider in the league, class really. You kind of expect it with him being so good last year but he was terrific again. We are led by a great top two, and they are proving to be a great pairing together. I don't suppose there will be many riders fancying turning up here and facing them both.
"It is good that there is not a long gap before we go to Leicester, it is a tricky, technical track. That will be tough for Keynan on his first visit there. From early showings, you would expect Emil to pick it up well, but it is not the easiest place to learn. It is going to be tough for us, but I feel we have a team capable of doing well there.
"Erik was under the weather tonight and that showed, he has started the season brilliantly and that was his first duff meeting, he wasn't himself tonight. Danny has started the season superbly, so we will go there confident in our side that we can put in a good showing and get a good result. We will do that going to every track in the country and are focused on getting through to the next round."
KEEP WELL RIDER OF THE NIGHT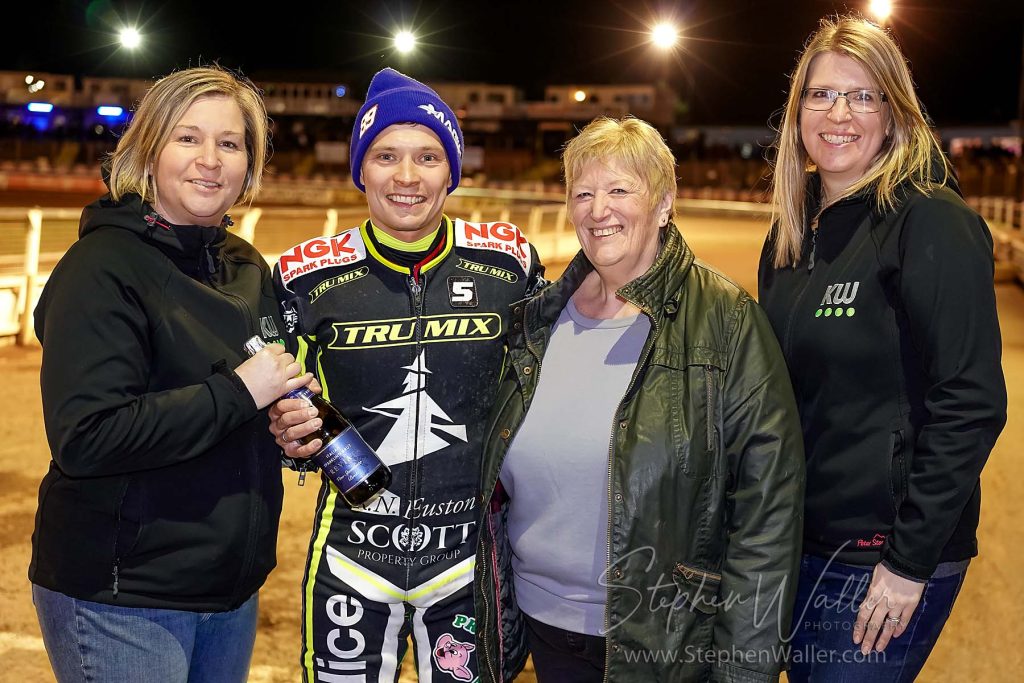 Sayfutdinov was the Keep Well choice after scoring 12+1 on his Foxhall debut for the club.
WHAT IT MEANS
Ipswich take a six-point lead into the second leg at Leicester which takes place on Monday 17th April.
UP NEXT
The Ipswich 'Tru Mix' Witches host the Belle Vue Aces at Foxhall Stadium on Thursday 13th April in the Premiership. Tickets can be purchased online in advance here and on the gate.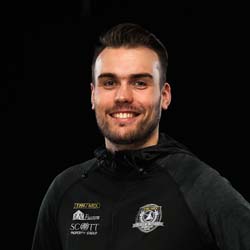 Digital Media Manager at Ipswich Speedway