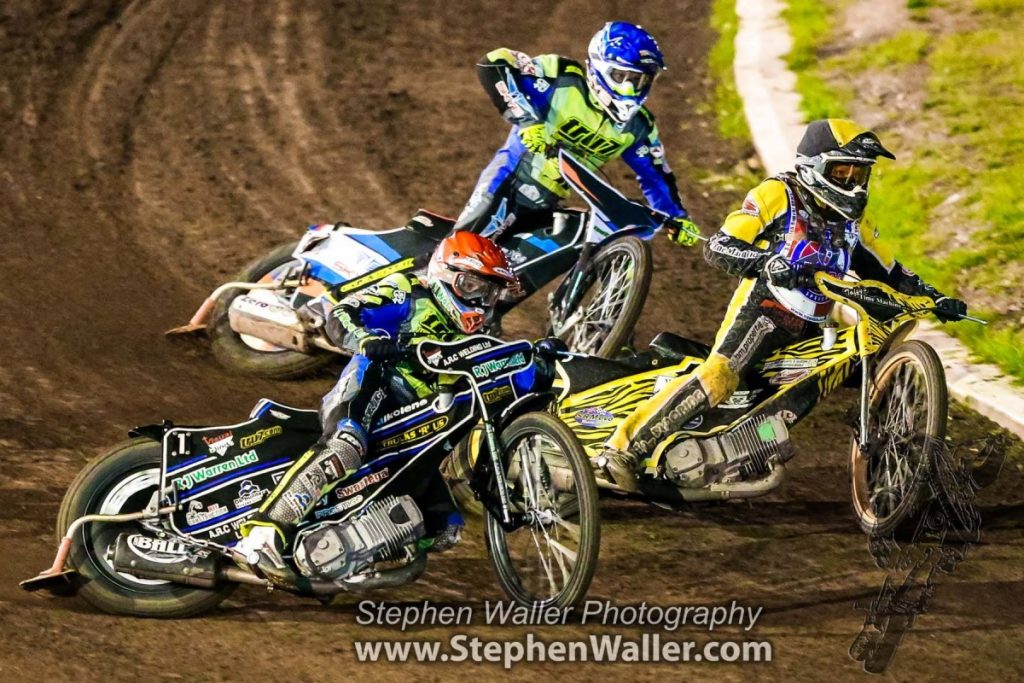 The 'Tru7.com' Witches came out on top of a tight encounter at Foxhall on Saturday night as they beat Redcar 51-39 in the Championship.
With a top four spot in their sights the Bears started well and took an early lead after heat three, a lead they held until heat six. The home side then reeled off a string of 4-2's to give them a six point lead going into heat 12. The away side then hit a 4-2 to reduce the lead to four points with three to race. It was the home duo of Rory Schlein and Danny King that proved their worth once again as they hit 5-1's in heat 13 and 15 to put some gloss on the final score. King top scored with a 14+1 paid maximum.
Heat one didn't get off to a clean start as all four were called back after an unsatisfactory start. The second attempt wasn't much better from a Witches point of view as Kyle Newman went through the tapes and was replaced by Nathan Greaves. When the race did get going King won with ease ahead of Jonas B Andersen with Greaves in third but Ben Barker passed the home reserve at the end of the second lap only to make an error on the final bend allowing Greaves to retake third for a 4-2. There was further delays in heat two as visiting guest Max Clegg broke the tapes on this occasion and went from 15 metres in the re-run. Danny Ayres was the winner but with Greaves and Connor Mountain behind him it was a 3-3. The Bears made their mark in heat three as Tero Aarnio and Charles Wright gated and recorded a 5-1 to put them ahead. Schlein won heat four as the points were shared, leaving the away side with an early 13-11 lead.
Barker won heat five in shared heat to maintain his side's lead before another tapes infringement in heat six. Jason Garrity was the culprit on this occasion and he was replaced by Ayres for the re-run. It looked like being the first 5-1 to the home side of the evening as Greaves and King hit the front but Greaves lifted on the second lap, allowing Ayres to come through for second but a 4-2 levelled the scores on the night. Once again in heat seven the home pair of Schlein and Mountain led early on but Wright passed the Witches number seven at the end of the opening lap with a 4-2 edging the Witches ahead. Mark Riss won heat eight with Andersen second as Mountain and Ayres battled it out for third. The Bears rider passed Mountain on the final turn only to fall meaning another heat advantage to Ipswich to give them a 26-22 lead.
Riss was out again in heat nine and took three points again after swooping round Garrity on the third and fourth turn of the opening lap to lead with Newman picking up a point for another 4-2. King was a winner again in shared heat ten as the run of 4-2's came to an end. Schlein won heat 11 as a 3-3 kept things tight. Things got even tighter after heat 12 as Wright won with Ayres picking up third for a Bears 4-2 making it 38-34 to the Witches with three heats to go.
Once again it was Schlein and King who came up trumps when it mattered and they recorded a 5-1 in heat 13 to put the home side on the brink of victory. The win was sealed in heat 14 as Newman got his first win of the evening in a 3-3. It was that duo of King and Schlein who were at it again in heat 15 for a 5-1 to put gloss on the score line and give the Witches a 51-39 win.
Ipswich 'Tru7.com' Witches 51
Danny King (c) 14+1 (Paid Max)
Mark Riss (g) 10
Kyle Newman 6+1
Rory Schlein 14+1
Nathan Greaves 4
Connor Mountain 3+1
Redcar 'SG Petch' Bears 39
Ben Barker (c) 4+1
Jonas B Andersen 6
Charles Wright 10+1
Tero Aarnio (g) 6+1
Jason Garrity 5
Max Clegg (g) 0
Danny Ayres 8+2
Championship Table
| | | |
| --- | --- | --- |
| Team | Pl | Pts |
| Sheffield | 30 | 76 |
| Witches | 32 | 69 |
| Glasgow | 28 | 59 |
| Redcar | 31 | 55 |
| Edinburgh | 28 | 54 |
| Newcastle    | 30 | 42 |
| Peterborough | 29 | 38 |
| Workington | 25 | 37 |
| Scunthorpe | 32 | 31 |
| Berwick | 33 | 24 |
RN Euston Construction Rider of the Night: Danny King
Next Meeting: C2 7th September vs Berwick (home)