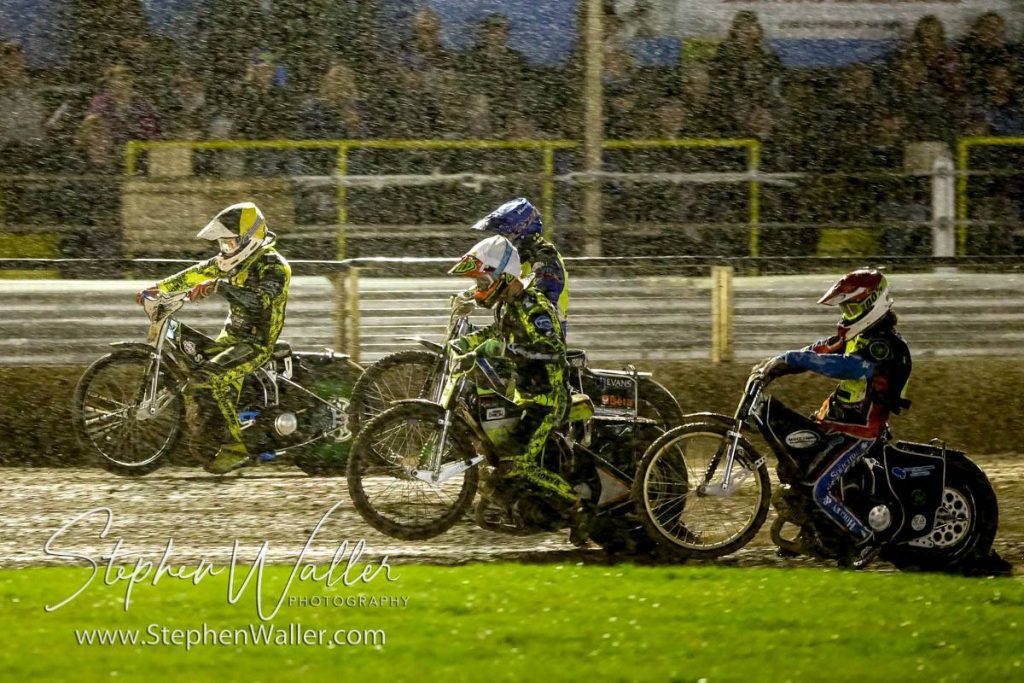 The scores
Abandoned – Result does not stand
Ipswich 16: Richard Lawson (g) 8, Drew Kemp 4, Nico Covatti 2, Cameron Heeps © 1+1, Mark Riss 1, Coty Garcia 0.
Berwick 20: Nicolaj Busk Jakobsen 5, Kevin Doolan © 4+1, Aaron Summers 4+1, David Howe 3, Theo Pijper 2+1, Dany Gappmaier 2, Jye Etheridge 0.
Championship table
| | | |
| --- | --- | --- |
| Team | Meetings | Points |
| 1 Peterborough | 17 | 38 |
| 2 Glasgow | 17 | 33 |
| 3 Edinburgh | 17 | 32 |
| 4 Lakeside | 15 | 32 |
| 5 Ipswich | 18 | 31 |
| 6 Berwick | 17 | 30 |
| 7 Workington | 15 | 30 |
| 8 Newcastle | 16 | 24 |
| 9 Scunthorpe | 19 | 24 |
| 10 Redcar | 18 | 20 |
| 11 Sheffield | 19 | 16 |
The story
The 'Tru Plant' Witches suffered a frustrating abandonment on Thursday at Foxhall as their Championship meeting with Berwick was called off after six heats.
The riders came out and gave the track a go for six heats in the drizzle as the Bandits built a four point lead but as the rain got heavier, there was no option but to abandon the meeting. The result does not stand and the fixture will be re-arranged.
The meeting started in damp conditions with the rain spitting onto the track as home guest Richard Lawson won heat one but Cameron Heeps finished at the back as the points were shared. Drew Kemp continued his fantastic start to his Ipswich career with a win in heat two but it was another 3-3 as Coty Garcia failed to score. Jye Etheridge was excluded from heat three after touching the tapes and was replaced by Theo Pijper. The experienced David Howe made the gate in the re-run to win ahead of Nico Covatti as Mark Riss was relegated to the back resulting in a heat advantage to the visitors. Lawson won again for the Witches in heat four as Kemp picked up third to level the score at 12-12.
The rain was starting to get heavier and Covatti fell in heat five as the away side were awarded a 5-1 with Kevin Doolan and Aaron Summers at the front. Nicolaj Busk Jakobsen won heat six ahead of Lawson and Heeps to maintain their lead before the meeting was halted due to the worsening conditions. A downpour followed and flooded the track and the decision was taken to abandon the meeting much to the frustration of everyone at the stadium.
A new date for the fixture will be announced soon, with details of re-admission and refunds below.
From the top
'Tru Plant' Witches Promoter Chris Louis reacts to Thursday's abandonment.
"It was the forecast in most cases but some forecasts said we wouldn't get it. We tried to get it on with it being this stage of the season and the cut-off date approaching. The track initially was fine and both teams were more than willing to give it a go, even through the persistent rain in heats three and four. They carried on and Christina Turnbull did all she could do and I have no complaints. In the end it poured down and we couldn't go on."
Re-admission and refunds
In accordance with the British Speedway Policy, a £6 discount will be available upon showing your ticket from the Berwick meeting at one of the remaining meetings at Foxhall this season. In the case of abandonment before heat 10, £1 is taken off the re-admission price for every heat that was run at the original staging. In this case, six heats were raced and therefore there is a £6 discount on re-admission with this ticket. Adult tickets will be £10 and Concessions will be £7.
Should you be unable to attend another meeting at Foxhall this season, you can apply for a refund by sending your ticket to us with a stamped addressed envelope and we will refund you accordingly in line with the above conditions. Our address is Ipswich Speedway Foxhall Stadium Foxhall Road Ipswich Suffolk IP4 5TL.
The above policy given to us, was in fact misinterpreted on Thursday evening. However, Promoter Chris Louis will honour the above conditions that were released on Thursday night and the discounts above will remain in place on this occasion. In the case of future rain-offs, please head to https://ipswichwitches.co/tickets/ for all the information on re-admission and refunds.
Play-off picture
Here is how the table currently stands with the top four making the play-offs. See below for all of the remaining fixtures for each team.
Peterborough – 38 points: Berwick (H), Workington (A), Lakeside (A)
Glasgow – 33 points: Ipswich (A), Lakeside (A), Edinburgh (H)
Edinburgh – 32 points: Lakeside (H), Glasgow (A), Berwick (H)
Lakeside – 32 points: Edinburgh (A), Glasgow (H), Newcastle (H), Peterborough (H), Workington (A)
Ipswich – 31 points: Berwick (H), Glasgow (H)
Berwick – 30 points: Ipswich (A), Peterborough (A), Edinburgh (A)
Workington – 30 points: Redcar (H), Newcastle (H), Peterborough (H), Newcastle (A), Lakeside (H)
Next meeting
The Witches host Glasgow on Thursday 13th September in a Championship fixture.