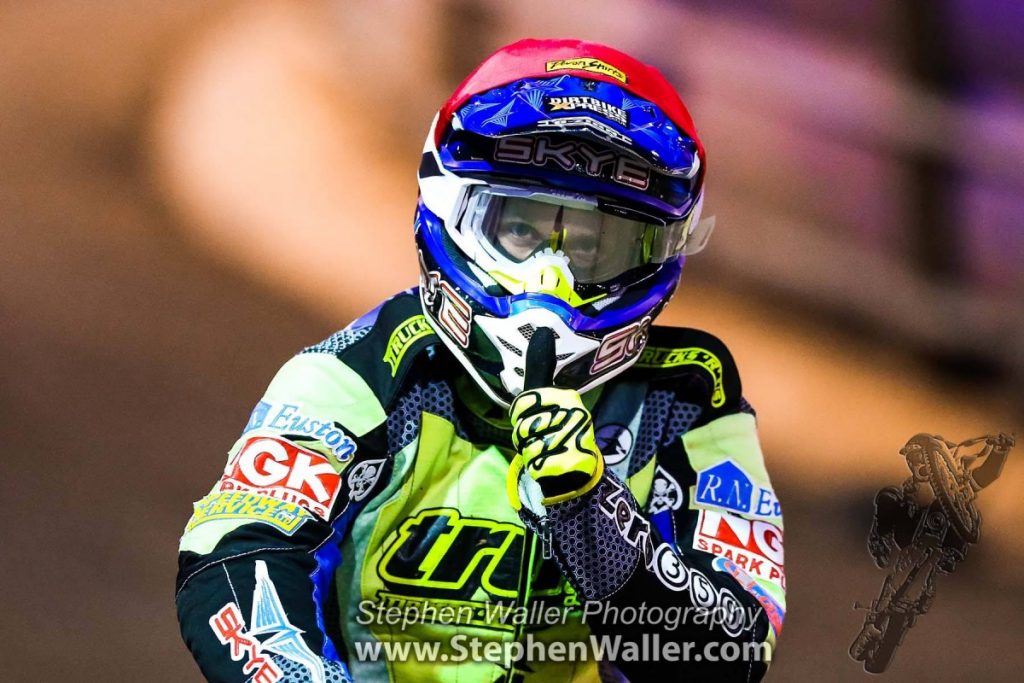 'Tru7.com' Witches heat leader Rory Schlein says the 2017 Ipswich team is one of the most enjoyable sides he has ridden in.
The Witches have qualified for the end of season Play-Offs in the Championship and face Edinburgh at Foxhall on Thursday and the Australian has loved every minute of the season so far.
"It has been one of the most enjoyable sides I have ridden in for a long time," said Schlein. "There are a lot of characters and we all get on really well and I couldn't have asked for a better team to come back into. Even if you have a bad meeting all the lads pick you back up, even the young fellas are part of the banter and the morale of the whole team all year has been great.
"It has been a fun feeling all year round and we are always taking the mickey out of each other and I think having our backs to the wall has been key to keeping a smile on our faces and pushing through the tough times and getting results."
The 33-year-old is also involved in the Premiership Play-Offs with Wolverhampton and says it is great to be involved at the business end of the season.
"We got rained off on Monday at Belle Vue with Wolves in the Premiership Play-Offs but it is a good feeling to be involved in the end of season meetings. It makes you realise you have had a good run and the team has been pretty successful. I always look forward to the Play-Offs and enjoy them. They are pressure cooker meetings and we give it 110%."
The Darwin-born rider says the Play-Off system could work out well for the Witches and says it is part of modern day speedway.
"For the fans it makes it more interesting and adds a little bit more drama. Fairness wise, the old format was probably better but because we have had so many injuries this season it could benefit us. We've had our backs to the wall all season and we finished second overall so at the end of the day if we end up winning it goes in our favour. Everyone knows the goalposts have been shifted but Play-Offs are part of modern day speedway."
Rooboy won the treble with Coventry Bees in 2007 and says no last places was key to their play-off success.
"Being part of that team was pretty special and we won the treble that year. Our motto when we got to the final was 'no last places'. With no last places you can't get a heat advantage against you. That was it, we were riding for every point. It depends on the style of the meeting as well and where you are at. I can go pretty well at Edinburgh and it will all depend on how the boys are feeling on the night. At home we should be ok but we know Sam (Masters) goes really well round Ipswich and the Riss brothers too. If we ride to our capability and potential then we should win at home."
Schlein says you can't get caught up in the pressure surrounding the end of season shootout but is hoping to put pressure on opponents Edinburgh come Thursday evening.
"You have to treat it like any meeting because if you let the pressure get to you that is when it starts playing with your head. It is no different to any meeting, it just means if you don't get it right in these two meetings then your season is over! Other than that it's the same process, it is 30 heats and I think it is good going first at home because if we can build up a big lead then the pressure is on Edinburgh going into Friday."
The Monarchs are the only side to defeat the Witches at Foxhall in 2017 but the Witches number five says that won't be a factor on Thursday.
"It doesn't play on your mind really, I think we have beaten better sides at home this season. We were not good enough at the end of the day that night. They have got good riders there is no doubt about that but we know if we perform to our capabilities we should get a home win.
Schlein's form in 2017 has been excellent after coming back from injury, increasing his average from 7.17 to 8.60 in the Championship and the two-time Elite League Riders' champion is just enjoying racing at this stage of the season again.
"It is just nice that we are able to ride at this stage of the year because that hasn't been the case for a while. I haven't changed the way I look at it, I didn't set any goals. I just wanted to be competitive and scoring points and we knew if I did that then we would have a successful run with the teams we are in. That is pretty much what we have been doing."
With two titles still on the line for both Wolves and Ipswich and the Championship Pairs and Riders' Individual Championship to come it could be a successful end to the year for Schlein.
"No pressure then! Like I said it is great, we knew if we could get a bit of luck with injuries and get a clean bill of health that I was going to score points, as did Ritchie (Hawkins) and Chris (Louis). It was the same at Wolves, they knew bringing me in after my start to the season that as long as we had some luck, I say luck because that goes a long way in speedway, that I am capable of scoring points and I have proven that this year."
Words: Henry Chard
Championship Play-Off semi-final
21.09.17 Ipswich v Edinburgh
22.09.17 Edinburgh v Ipswich
Schlein Profile
Date of Birth: 1 September 1984, Darwin, Australia
British career
2001-02 Edinburgh, Sheffield II
2003-04 Edinburgh, Belle Vue
2005-07 Coventry
2008 Coventry, Ipswich
2009 Coventry
2010 Coventry, Peterborough
2011-12 Belle Vue
2013-16 King's Lynn
2017 Wolverhampton, Ipswich
Honours:
South Australian State U16 Champion: 1998, 1999, 2000
Australian U16 Champion: 2000
Australian U21 Champion: 2003,2004
South Australia State Champion: 2004, 2005, 2006, 2007
Elite League Riders' Champion: 2011, 2013
World Cup Record
7 meetings, 36 points, 1 Bronze medal
2017 Witches form
Meetings: 38
Rides: 187
1st: 93
2nd: 51
3rd: 25
4th: 18
Points: 409
BP: 18