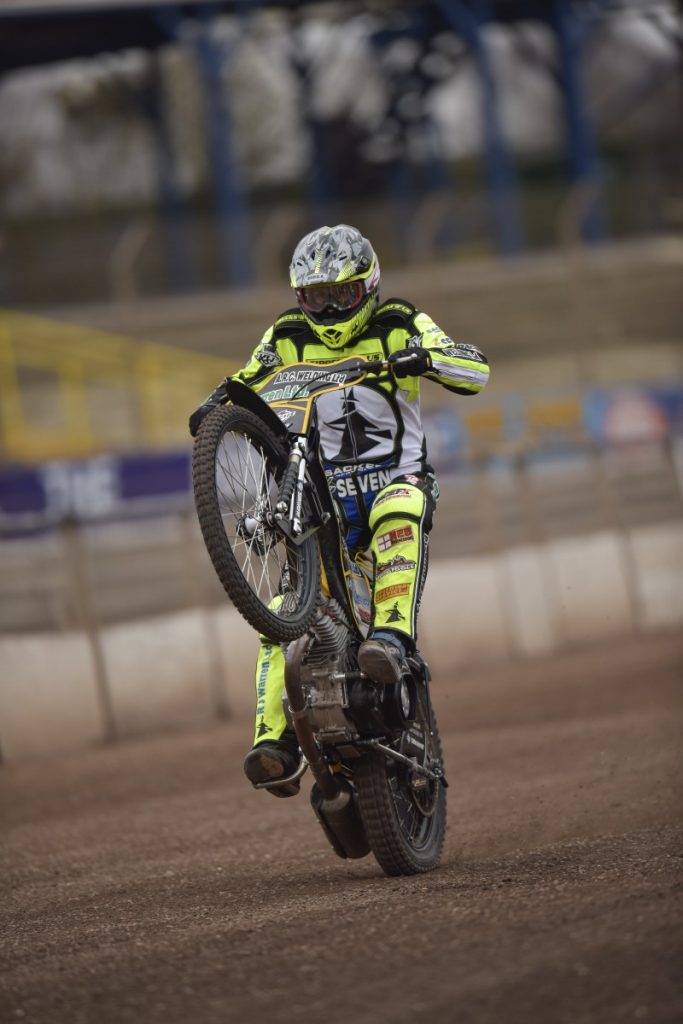 It's been a brilliant month for the team and for me personally although it is frustrating as a team that we have found our form so late. We realise that it's going to be a tough push to make the play-offs and the result at Sheffield hurt us a little because we really needed that win. I know we got a draw but a win would have made things a lot easier for us.
The team has really kicked on with the last set of set changes, bringing Ben (Barker) and Joe (Jacobs) in seems to have turned our season around. Certainly with Joe in the team he gives us some strength at reserve which we have lacked all year. Ben is Ben, he goes out and gives 100% every race to win and you can't ask for more than that.
People keep telling me about the run of maximums at Foxhall and I don't think I've ever done anything like it before in my career, not that I can remember anyway! Everyone keeps going on about it but I try not to think about it. I just go out and want to win every race I'm in and I've been going really well at Ipswich and it shows. It's not something I'm trying to break records for or anything, I'm just going about my business.
Danyon (Hume) has been named as the new number seven and he is someone I know very well. I've been really impressed with Danyon's progress this year. Last year he did a full season in the National League and really struggled, finishing on a three point average. This year he is nearly at a seven point average and now he has got his Premier League debut, so what a ten months it's been for him. He's been involved with us all year right from pre-season training so he knows everyone and everyone knows him and it's nice to see that his form has got him an opportunity at this level.
We've got three important away meetings this month and it is do or die time now with two of them this weekend (Workington & Glasgow). We will know a little more about where we are sitting after those two meetings. It's a shame we've left it so late because they are two very tough meetings and we need points from them. I believe with the team we have got we can beat anyone home or away though. We need to get ourselves sorted, no excuses and do our job.
The World Cup was great, it's been such a long time since GB won a medal and it's an honour to have one. It's something a lot of riders will never get the opportunity to do and I can now say I've done it and it's been a good few months for me really.
Tai (Woffinden)and many others in the sport have called for progression on and off the track to ensure we are challenging for top spot year in year out on the world stage. The problem is always the same, not enough Brits are riding abroad and we need that to happen. Racing in England and racing on the continent are two very different things and if you want to be a successful Speedway rider you need to be doing both and there are just not enough Brits out there. That's what punishes us, in our own country we are absolutely fine but when we go to these big events abroad we get eaten up.
The thing is you have to go over and do it off your own back a little bit. You need to go over there and show them what you can do, they are not just going to hand you a chance until you prove yourself. The cost of doing that is expensive and it's a long way to go just to have a practice. It comes down to what you want out of it and the best thing I would advise young riders to do is to go out there and get some individual meetings and show your worth and you never know it might lead to a contract the following season.
A hot topic in the sport at the moment is starting, movement at the start, rollers and re-runs! It's a bit of a vicious circle really because referees think that if riders are moving then they will hold the tapes longer but what they need to understand is that these bikes are not designed to keep still for very long and the longer they hold the start the more people are going to move. I don't know why there is so much of it lately, it just seems that's the way it is and you're always going to get it in Speedway. What we want is more consistency in refereeing.
The way the bikes are designed now and the way riders start is different and you are on edge all the time. It's like sitting at a junction on biting point waiting to pull away. You've only got to move your foot, or in our case hand, a centimetre and the clutch is engaged. We're sitting on biting point waiting for that thing to move so if the rider next to you moves it puts you off and you jump and if someone else sees you jump they jump too. You are just looking for that movement at the start!
All the best,
Danny