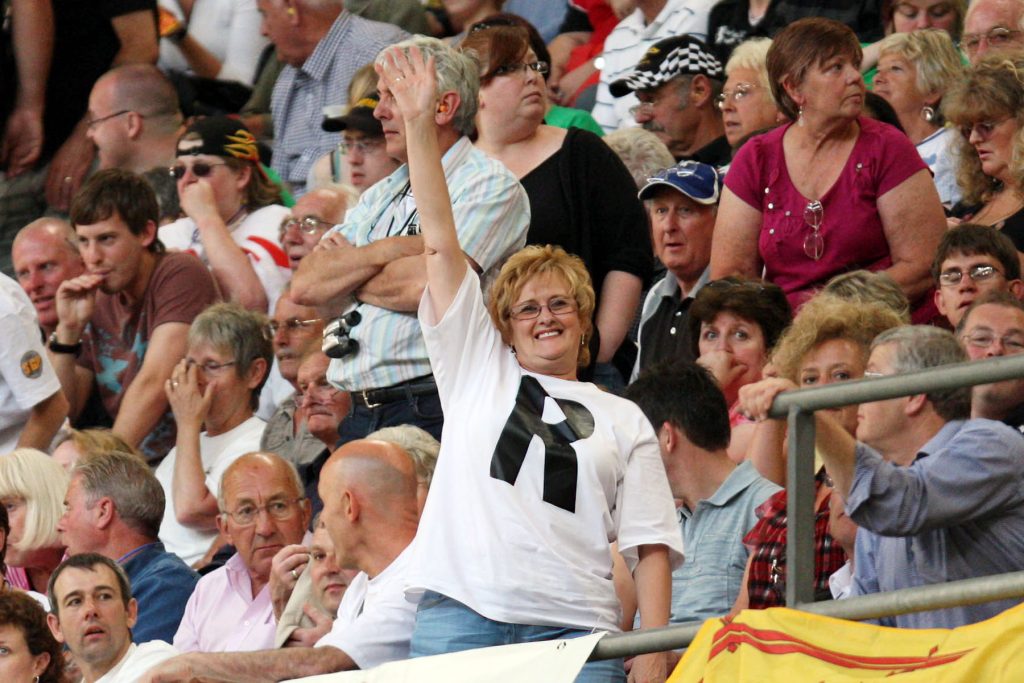 Those that attended our televised meeting against the Sheffield Tigers will have paid their respects in a minute's silence to a very special lady in our Ipswich Speedway family. Sadly, on Sunday 15th May, Christine Ellis passed away following a short illness. Christine, the wife of track man Bob, has been a huge part of our family run club for more years than I can remember. To some she was the season ticket co-ordinator, to some the Cardiff coach tour organiser, to some a Supporters Club committee member, secretary and coach trip co-ordinator, programme seller, pit refreshment lady, rider changing room cleaner, look, I think you will be getting the idea by now!
The club meant everything to Christine and Christine meant everything to all of us involved, especially dad and me, who along with husband Bob have been the beating heart of the Ipswich Witches for oh so long. Willing to throw herself wholeheartedly into anything that needed doing, Christine was one of those rare, kind, caring, hardworking people who was never afraid to speak her mind and shoot from the hip. A loving wife, mother and grandmother who is deeply missed by so many of us. My thoughts are with Bob and Christine's family. I know she will be looking down on me with a smile that says 'watch it you' when I say rest in peace Chris, a true Witch through and through. I will miss you. X
Chris Louis
For nearly twenty years Chris ran the Ipswich Supporters On Tour annual trip to Cardiff for the British Grand Prix – it was my privilege to accompany and assist her with this season highlight.
I could sit here all day recounting the stories and anecdotes from all those years, suffice to say they will remain with me forever as very, very happy memories of time spent with a dear, dear friend.
My heartfelt condolences go out to Bob, Jason, Russell and all family and friends.
A truly remarkable lady, who I was honoured to call a friend – and who will always have a special place in my heart.
God bless Chris, rest in eternal peace xXx
Kevin Long
There can't be many who have attended Foxhall regularly over the last 25 years who will have not known Chris Ellis. From her involvement in the supporters club, to programme hut lady, most fans will have met her at some point, and such was her personality and welcome, they will have regarded her as a friend.
Never one to be idle, Chris was at the forefront of many things involving the club's supporters and taking control and running the Witches' annual weekend trips to the British Grand Prix will perhaps be how she will best be remembered by many.
No mean feat to run a weekend away, filled with fun and merriment for all those involved, but you never heard a bad word from anyone who had travelled away on one of the coach trips, to take in the sport's premier event.
The image above taken back in 2009 sums Chris up to me. The Witches contingent were sat high above bend three at the Millennium Stadium. From a distance I had spotted the Witches fans and kept one eye on them looking for a shot.
When I spotted Chris through my camera, glancing my way, one wave was all it took to instigate the response I was looking for. I've no idea how Chris managed to see me, but she jumped to her feet full of excitement and enthusiasm and waved back, before alerting the rest of the club's supporters beside her to also acknowledge me. It was a great moment.
Sleep well Chris. Your fun and laughter will be missed by many,
Stephen Waller