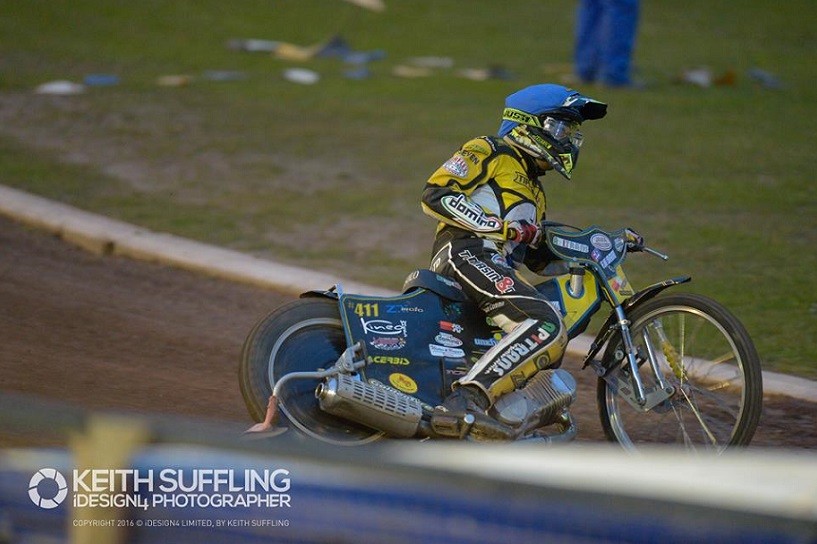 The 'Tru7.com' Witches return to Foxhall on Saturday as they host the Redcar Bears in the Premier League (7.30pm).
It's been two weeks since the Witches were in action at home when they narrowly beat Edinburgh to get their first points of the season. Since that victory the Witches have suffered two contrasting defeats in the League Cup and Premier League against Peterborough. In the final League Cup tie of the group the Witches suffered a last gasp defeat to the Panthers after an impressive showing. However, in the league fixture on Monday the Witches were soundly beaten and will be looking to put things right on Saturday.
The Witches will be without Lewis Kerr who is riding for his Elite League club Lakeside on the same evening and so have drafted in Scunthorpe's Ryan Douglas as a guest. Kerr's absence means that James Sarjeant will move back to number two with Douglas riding at four for the Witches.
Redcar have also had a disappointing start to the campaign and sit just one point above the Witches in the table in 11th place. The Bears lost six of their seven meetings in May and will be looking to have a better month in June as they face Newcastle and Somerset before coming to Foxhall. The away side will be at full strength and will be hoping for a better performance than when they last were in Suffolk where they lost 65-25 last season.
Team Manager Ritchie Hawkins says he is expecting a much improved performance on Saturday for the fans.
"We've spoken about Monday and everyone knows it's not good enough," said Hawkins. "As a team we need to put that to one side and focus on Saturday and we need to put in a big performance for all the fans. I know we are expected to win but everyone has to put in a performance as well."
Hawkins says a team meeting was held following Monday's defeat but is looking to move on from that starting with Redcar.
"We had a long team meeting after Monday and they know it's not acceptable for a Witches side but we have put that to bed straight away and we are looking at how we can improve from there. There is no point in dwelling on our start to the season and it's about making the rest of it better."
Ryan Douglas comes in for Lewis Kerr on Saturday and the boss says he is not taking the Bears lightly despite their poor form.
"We've got Ryan Douglas coming in when we could have taken the cheaper option of Rider Replacement. We know we are favourites with Redcar in a bad run of form but we know it's going to be a tough meeting still and with Ryan in hopefully he will go well as he has gone well at Ipswich before.
"They've (Redcar) not had a great start to the season but you've still got to take them seriously as all the riders at Premier League level are capable but I expect us to win and win convincingly and for everyone to put in a big performance. Every rider has got to put in a big performance individually."
Meeting Sponsor: RN Euston Construction
Ipswich 'Tru7.com' Witches:
1. Danny King (c) 9.27
2. James Sarjeant 4.58
3. Morten Risager 7.04
4. Ryan Douglas (g) 6.59
5. Nico Covatti 7.74
6. Paco Castagna 3.13
7. Oliver Greenwood 3.00
Team Manager: Ritchie Hawkins
Redcar 'SG Petch' Bears:
1. Lasse Bjerre (c) 7.68
2. Jacob Bukhave 7.00
3. Hugh Skidmore 6.70
4. David Bellego 6.17
5. Jonas B Andersen 5.92
6. Simon Nielsen 4.53
7. Lee Payne 3.00

Team Manager: Brian Havelock
Premier League table
| | | |
| --- | --- | --- |
| Team | Pl     | Pts   |
| Peterborough | 8 | 17 |
| Sheffield | 8 | 16 |
| Glasgow | 7 | 13 |
| Somerset | 4 | 13 |
| Newcastle | 5 | 11 |
| Plymouth | 5 | 10 |
| Rye House | 5 | 10 |
| Workington | 6 | 8 |
| Edinburgh | 5 | 8 |
| Berwick | 6 | 6 |
| Redcar | 5 | 4 |
| Witches | 5 | 3 |
| Scunthorpe | 5 | 3 |
Last five home results v Bears
30.05.15 W65-25
21.05.14 W41-34 (A-A after 12 heats)
10.08.13 W59-31
08.06.12 W46-44
28.04.11 W50-40

Bears last five:
PL Rye House 55-37 Bears
PL Berwick 46-44 Bears
KOC Bears 40-50 Glasgow
LC Newcastle 60-31 Bears
KOC Glasgow 60-29 Bears