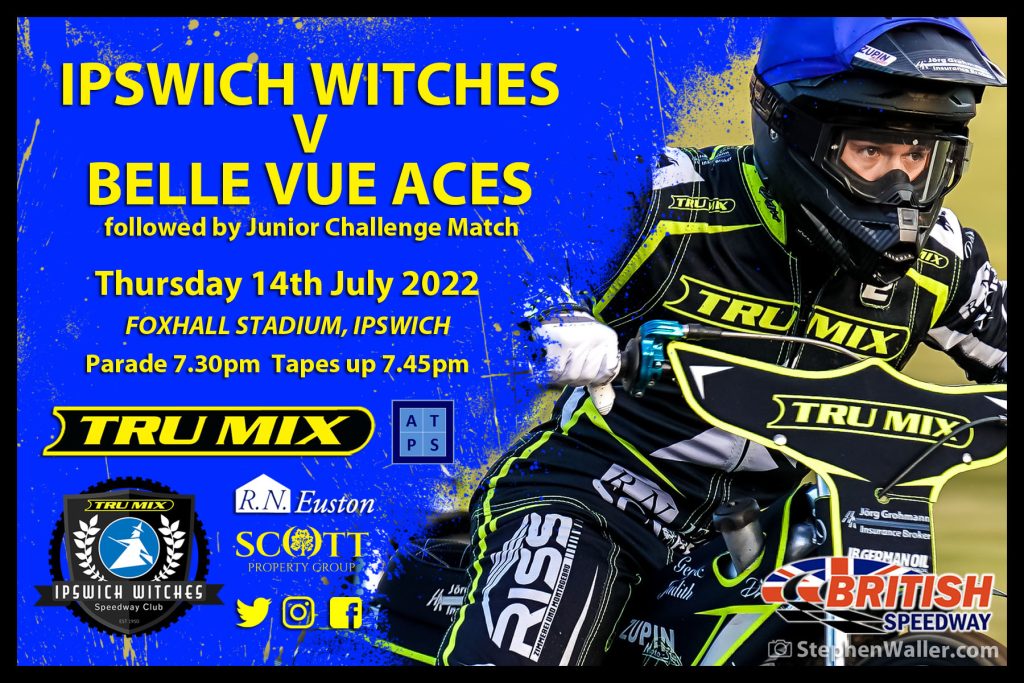 By Henry Chard
All the details ahead of our Premiership fixture with Belle Vue.
WHEN & WHERE
The 'Tru Mix' Witches host the Belle Vue Aces at Foxhall Stadium on Thursday 14th July in a Premiership fixture that starts at 7.30pm.
MEETING SPONSORS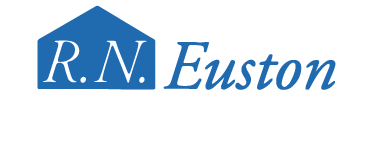 RN Euston – RN Euston Limited has supplied steel framed buildings in East Anglia for over 40 years. Established by Ray Euston the business has grown steadily over the years and now Ray works in partnership with his son Mark. The company is based in Suffolk and work all over East Anglia where they have gained a reliable reputation.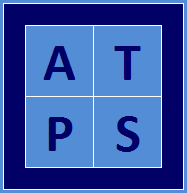 ATPS Construction – ATPS is a superior and prestigious, well-established company providing a comprehensive range of professional groundwork and construction services. They operate throughout the United Kingdom to an impressive portfolio of both domestic and commercial clients, some of whom are very high-profile players in the Hospitality, Leisure, Retail, Finance and Banking sectors.
TEAMS
IPSWICH: 1. Jason Doyle 9.95 2. R/R for Paul Starke 4.85 3. Danny King 7.95 © 4. Ben Barker 4.69 5. Troy Batchelor 6.17 6. Erik Riss 4.62 7. Danyon Hume (RS) 8. Jacob Clouting. Team Manager: Ritchie Hawkins
BELLE VUE: 1. Matej Zagar 8.12 2. R/R for Charles Wright 6.11 3. Brady Kurtz 7.95 © 4. Tom Brennan 4.73 (RS) 5. Max Fricke 7.84 6. Zach Cook (g) 4.66 7. Norick Blödorn 4.00. Team Manager: Mark Lemon
JUNIOR CHALLENGE TEAMS
IPSWICH RESERVES: 1. Jacob Clouting 2. Sam Woods 3. Josh Warren 4. Danyon Hume. Team Manager: Ritchie Hawkins
PETERBOROUGH THUNDERCATS: 1. Matt Marson 2. Max Perry 3. Sam Bebee 4. Arran Butcher. Team Manager: Jason Pipe
REFEREE: C. Durno
PREMIERSHIP TABLE
| | | |
| --- | --- | --- |
| Team | Meetings | Points |
| Belle Vue | 11 | 23 |
| Ipswich | 11 | 22 |
| Wolverhampton | 11 | 21 |
| Sheffield | 9 | 20 |
| Peterborough | 11 | 10 |
| King's Lynn | 9 | 9 |
TICKETS
Tickets are available to buy on the gate and in advance online (until 7pm on raceday) and are priced at £20 for adults and £18 for concessions (65+). Children 16 and under go free. Official programmes are priced at £3 and are available at the stadium. Car parking is free for all supporters. Cash, debit and credit card payments are accepted on the night. Turnstiles open at 6.40pm.
THE STORY
The 'Tru Mix' Witches host the Belle Vue Aces on Thursday evening at Foxhall in the Premiership. It has been 10 days since Ipswich were last in action, winning at Wolverhampton last time out before Jason Doyle and Danny King were victorious in the third round of the Pairs at King's Lynn last Thursday. It's a top of the table clash in Suffolk with the Aces holding top spot just one point ahead of the Witches in second.
The hosts will be without Paul Starke after he suffered thumb ligament damage in a crash at Sheffield with rider replacement in operation at number two. Troy Batchelor moves back to the number five position with skipper Danny King back at number three. The two sides met in Suffolk back in May with the Witches coming out 47-43 winners.
The Premiership fixture will be followed by a six-heat junior match between the Ipswich Reserves and Peterborough Thundercats.
FROM THE BOSS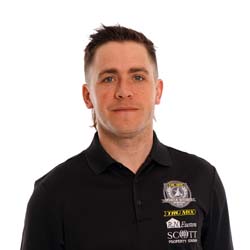 Ipswich 'Tru Mix' Witches team manager Ritchie Hawkins gives us his pre-match thoughts…
"It was a great week on the road last week so it will be nice to get back home in front of our own fans and it is another top of the table clash. We go into it with confidence after last week but fully aware that we have been sneaking meetings at home. Belle Vue are also in very good form, we are probably the two most in-form teams at the moment so we will need to up our game to get another win.
"Starkey was aiming to be back, and we are giving him as much time as we can, but it will be R/R as he is unable to make it. With that being the case, we can cover it pretty well with Erik at reserve.
"Ben has had another 10 days to recover. I thought he did great at Wolverhampton but that 10 days will certainly help his fitness levels. We know what we are going to get from Ben and I'm sure these 10 days will have helped.
"If we can all perform on the same night then hopefully, we will be capable of getting a more comfortable victory than we have done. We are fully aware that if we are not on top of our game then Belle Vue will be a massive test. We will need to perform very well against a strong side.
"I'm sure Bob and Chris will be working hard to keep as much water as possible in the track. I thought the track in our last home meeting was the best it has been this season for us. It suited us so if we can get it as close to that again as possible considering the conditions, we will be very happy."
THE ACES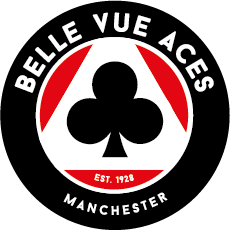 Belle Vue went top of the Premiership on Monday night after they walloped bottom side King's Lynn 61-29 at the National Speedway Stadium. Their home form has been impeccable with six wins from six, but they have just one away win to their name so far, something they will be looking to improve on in the second half of the season, starting at Foxhall.
The visitors have a powerful top end led by former GP star Matej Zagar, with current Grand Prix rider Max Fricke and captain Brady Kurtz providing strong back up. Rising Star Tom Brennan has moved into the main body of the team which means Jye Etheridge drops to reserve. However, Etheridge picked up an injury this week and Zach Cook guests in his place. Rider replacement will be in operation for Charles Wright.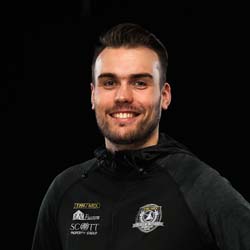 Digital Media Manager at Ipswich Speedway